From the Open-Publishing Calendar
From the Open-Publishing Newswire
Indybay Feature
View other events for the week of

11/27/2016
Meeting-Lessons Of The Elections, Trump, Unions And The Working Class
Date

Sunday November 27

Time

1:00 PM

-

4:00 PM

Import this event into your personal calendar.
Location Details
San Francisco Main Public Library-Latino Room B Ground Floor
100 Larkin St. near Market and Civic Center BART Station
San Francisco

Event Type

Meeting

Organizer/Author
United Public Workers For Action

11/27 SF Meeting: Lessons Of The Elections, Trump, Unions And The Working Class

What Is Happening, What Does It Mean And How Do We Fight Back

Sunday November 27, 2016 1:00 PM

San Francisco Main Public Library-Latino Room B Ground Floor

100 Larkin St. near Market and Civic Center BART Station

San Francisco

Speakers:

George Wright, Retired Professor Skyline College AFT 1493

Angela Bibb-Barrett, Chief Steward NALC 214

Kristin Jones, United Teachers Of Richmond UTR

Arto Rinteela, UBC Millwrights Local 102 rank and file member

Rick Baum, AFT 2121 member CCSF Faculty

Lisa Milos, UCSF CWA UPTE Local 9119 member

Brenda Barros, SEIU 1021 SF General Hospital Chapter Chair

The election of the most reactionary president in the history of the United States is a threat to all working people, unions, minorities and youth. Tump has announced he will round up 2 to 3 million immigrant workers and they have plans to privatize all public services and destroy organized labor. He is already appointing neo-facists, anti-semites and racists like Stephen K. Bannon to top positions. This is a dangerous situation for all working people in the US and around the world. Charter privatizers and union busters are also on a rampage to total destroy public education, the post office and the question is where are our unions and the labor movement?

This forum will report on the what happened in the election and what working people and the unions need to do to defend ourselves including protecting public services, stopping privatization and defending against the epidemic of racist attacks on African Americans, Latinos, Muslims, native Amerians and Asians.

For more information

United Public Workers For Action

http://www.upwa.info

(415)282-1908

NALC214 SF Postal Workers Demand "Bring Back Angela" Stop The Workplace Bullying

https://youtu.be/c8kw1kNB7Yc

San Francisco NALC 214 postal carriers and supporters on October 19, 2016 picketed the Evans St. USPO station to demand the immediate reinstatement of chief steward Angela Bibb-Merritt. Merritt and other stewards have been bullied and harrassed by management to intimidate the workforce.

San Francisco postal bosses and managers have a long history of workplace bullying and even violence against postal workers.

Chief steward Angela Bibb-Merritt was terminated without pay for representing the members on the job and she reported that workers are even afraid to take their 30 minute unpaid lunch.

Additional media:

http://postalemployeenetwork.com/news/2009/05/federal-administrative-judge-has-harsh-words-for-san-francisco-usps-management/ https://www.youtube.com/watch?v=pnjd823fJU8 https://www.youtube.com/watch?v=VGFpntWcKts

Production of Labor Video Project

http://www.laborvideo.org

Stop Workplace Bullying-Speakout & Rally At SF City Hall For A Healthy Workplace

https://youtu.be/gRy7hkKolrU

On October 17, 2016 as part of Bullyfree Workplace Week, bay area workers spoke out about the epidemic of workplace bullying and how it is affecting them on the job. This has created a toxic workplace for many workers in San Francisco and throughout the United States.

The rally which took place in front of San Francisco City Hall included many CCSF workers who talked about the conditions at work and the refusal of management to rectify the systemic bullying going on. Workers also discussed racist incidents on the job and the role this playing in harassment and bullying.

Also a statement was read by Federal OSHA investigator and lawyer Darrell Whitman who was investigating retaliation against whistleblowers at the Whistleblower Protection Program and he and other AFGE union members were bullied and fired for trying to do their jobs. He also tried to handle the cases of bullied Wells Fargo workers but the agency refused to investigate and defend Wells Fargo workers.

The event was endorsed by SEIU 1021 San Francisco COPE, Stop Work Place Bullying Group, United Public Workers For Action and Bullyfree Workplace.

For more information

http://www.stopworkplacebullyinggroup.org http://www.bullyfreeworkplace.org http://www.healthyworkplacebill.org http://www.upwa.info

Production of Labor Video Project

http://www.laborvideo.org

United Teachers Of Richmond UTR Opposes Charters & Privatization Including Beller Caliber Charter School

https://youtu.be/FUER2mOFzEU

The NEA CTA United Teachers Of Richmond has voted to oppose charters and privatization and will be organizing an education campaign in Richmond and nationally to fight the destruction of public education. Kristyn Jones on the UTR executive board talks about the role of charters and Ron Beller of the Caliber Schools which wants to build a non-union charter at the Adams school in Richmond. This interview took place on May 25, 2015 at a WCCSB meeting to discuss approval of a new Caliber charter school in Richmond at the Adams school site.

Additional video:

https://www.youtube.com/watch?v=Kk9n36VzQ14 https://www.youtube.com/watch?v=VWO_zxwxZQg https://www.youtube.com/watch?v=TrmgFgfoFPw

Production of

Labor Video Project

http://www.laborvideo.org

Added to the calendar on Tuesday Nov 15th, 2016 10:43 PM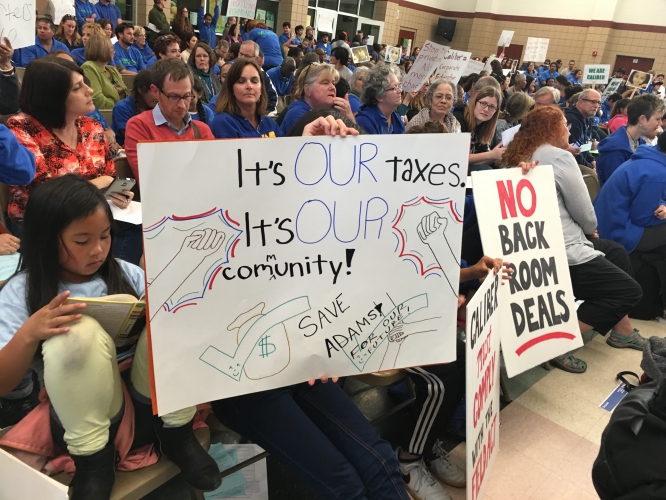 Richmond UTR Teachers and community members opposed the sale of the 8 acre Adams Middle School to vulture capitalist and Caliber charter school owner Ron Beller and his wife Jennifer Moses. The California Charter School Association and billionaires like Reed Hastings owner of Netflix are privatizing public education for profits.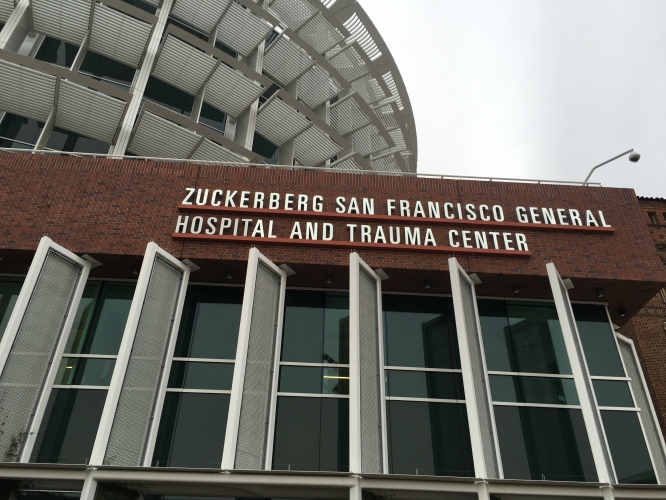 With the support of corporate controlled SF Mayor Ed Lee a drive is taking place to privatize public healthcare in SF General. Zuckerberg who is privatizing the internet through Facebook is also privatizing public education in California
We are 100% volunteer and depend on your participation to sustain our efforts!
Get Involved
If you'd like to help with maintaining or developing the website, contact us.