From the Open-Publishing Calendar
From the Open-Publishing Newswire
Indybay Feature
Thousands United Nationally to Stop Dakota Access Pipeline
WASHINGTON, November 15, 2016 — Thousands gathered today in all 50 states and Washington, D.C., for a national day of action at President Obama's Army Corps of Engineers offices to call for the permanent rejection of the Dakota Access Pipeline, currently under the threat of the Trump presidency. This call to action from indigenous leaders in Standing Rock was in response to increased violent repression from militarized police as the pipeline company continues construction on sacred land, despite a voluntary hold by the Army Corps. Photo: Demonstrators protest the Dakota Access Pipeline project today in San Francisco. (Courtesy of 350.org)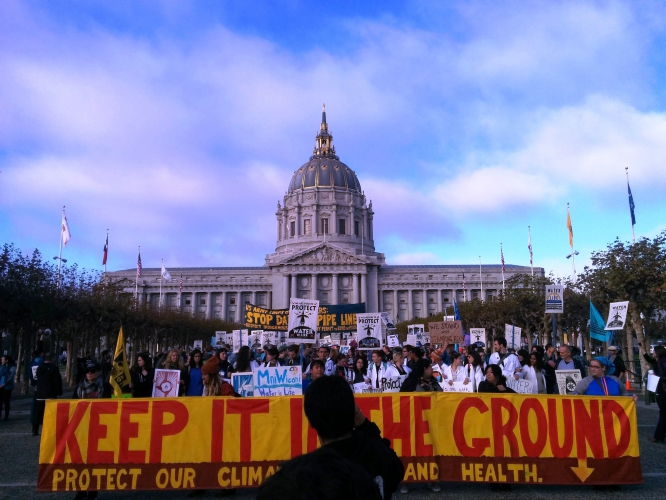 This mass mobilization highlighted the growing importance for President Obama to reject the Dakota Access Pipeline while he is in office. Additionally, the rallies were a powerful opportunity for allies across movements to unite in solidarity with Indigenous peoples in Standing Rock and to strengthen the resistance movement to fight against fossil fuels and white supremacy under the Trump administration.
Photos from today's event are available here:
https://www.flickr.com/photos/350org/sets/72157660771239648/
The Indigenous Environmental Network, Honor the Earth and the Native Organizers Alliance were joined by thousands of people standing in solidarity with Indigenous peoples at Standing Rock, and with the support from other climate and social justice groups across the country, including 350.org, Grassroots Global Justice Alliance, National Nurses United, Hip Hop Caucus, CREDO, BOLD Alliance, Greenpeace USA, Idle No More, Beyond Extreme Energy, Rainforest Action Network, Stand.earth, Oil Change International, Our Revolution, Center for Popular Democracy, Powershift Network, Defenders of the Land, Earthworks, People's Action, Food and Water Watch, Justice and Witness Ministries, United Church of Christ, Center for Biological Diversity, Daily Kos, Natural Resources Defense Council, Arab American Institute, Sierra Club, Iraq Veterans against the War, Ruckus Society, Friends of the Earth, Climate Hawks Vote and many more.
Quotes from protest supporters:
Dallas Goldtooth, "Keep It in the Ground" organizer with Indigenous Environmental Network: "All across the country, we are bringing the proverbial fires of the Oceti Sakowin to the doors of the U.S. Army Corps, demanding action to stop this bakken oil pipeline. Now is the time for the White House administration and its Department of Army to support Indigenous rights and sovereignty by rescinding the pipeline permits and ordering a full EIS. We all stand in solidarity with Standing Rock, because we know this is a fight worth winning."
Kandi Mossett, campaign organizer with the Indigenous Environmental Network: "Now, perhaps more than ever before, we must come together to send a unified message that we will continue to stand in solidarity for the protection of all life and its beautiful diversity. We've come too far to be set back now; our strength is in our unity and our love for each other which creates a bond that can never be broken. Join us in our fight to defend the sacred and protect the water. Now is the time to take action."
Tara Houska, national campaigns director with Honor the Earth: "There are communities going underwater from rising seas. Cancer clusters, destruction of sacred places. Indigenous people being attacked by dogs, maced, shot with rubber bullets. Climate change is happening now. Dakota Access is bulldozing burial grounds and hurting water protectors now. The delays and noncommittal statements from the Obama administration are disappointing to say the least. We want answers. Conduct an Environmental Impact Statement. Halt the construction of this destructive project."
Judith Le Blanc, member of the Caddo Nation of Oklahoma and Director of the Native Organizers Alliance: "The native-led standoff with DAPL has changed everything in the struggle to save Mother Earth. We have over a thousand 'Flints' in Indian Country for generations. Stopping the DAPL pipeline is the next step for protecting our water, Flint's water and making access to clean water a human right for all."
Bill McKibben, cofounder of 350.org: "When elders at Standing Rock asked people from around the country to turn out in support of their campaign, I knew that people around the country would answer their call. Their encampment is the moral center of the continent right now, and it's good to have some of that spirit across the nation today."
Josh Nelson, deputy political director at CREDO: "Today's action shows that the brave indigenous leaders resisting the Dakota Access pipeline at Standing Rock have massive grassroots support in all 50 states. With a racist climate change denier poised to enter the White House, the Obama administration must do everything in its power to defend indigenous rights and stop disastrous fossil fuel infrastructure projects like the Dakota Access pipeline."
Dr. Gabriela Lemus, president of Progressive Congress Action Fund: "Progressive Congress Action Fund stands in solidarity with the Indigenous people at Standing Rock in their brave battle to protect sacred land. The battle against the Dakota Access Pipeline symbolizes our collective future and ultimate survival of the generations to come."
Taylor McKinnon with the Center for Biological Diversity: "The Dakota Access Pipeline is a dangerous affront on Indigenous rights and our collective water and climate futures. We stand in solidarity with the Standing Rock Sioux tribe and all sacred site struggles by calling on President Obama to kill the Dakota Access Pipeline once and for all."
Susan Casey-Lefkowitz, Natural Resources Defense Council: "The stakes have never been higher in our work to secure a more just future. NRDC stands in solidarity with our Indigenous sisters and brothers resisting the Dakota Access Pipeline, and we support their right to preserve their heritage, their water, and their sovereignty. The company building the pipeline is willing to desecrate the water, the land, and sites held sacred by the Standing Rock Sioux tribe. This is not a new story. It is time to end the harm of fossil fuel extraction, and transition to a clean energy future."
Wenonah Hauter, executive director, Food & Water Watch: "At this critical juncture, President Obama has a golden opportunity to strengthen his legacy on protecting our climate and standing up for indigenous rights. He can do it simply by ending this hazardous, unjust pipeline project once and for all. He can and he must."
The Center for Biological Diversity is a national, nonprofit conservation organization with more than 1.1 million members and online activists dedicated to the protection of endangered species and wild places.
http://www.biologicaldiversity.org/news/press_releases/2016/dakota-access-pipeline-11-15-2016.html
Center for Biological Diversity
http://www.biologicaldiversity.org/
We are 100% volunteer and depend on your participation to sustain our efforts!
Get Involved
If you'd like to help with maintaining or developing the website, contact us.