From the Open-Publishing Calendar
From the Open-Publishing Newswire
Indybay Feature
View other events for the week of

11/11/2016
SF Japan Consulate Speak-out-Evacuate The Families and Children Of Fukushima & Stop NUKES
Date

Friday November 11

Time

3:00 PM

-

4:00 PM

Import this event into your personal calendar.
Location Details
275 Battery St.
San Francisco, CA
Event Type

Protest

Organizer/Author
No Nukes Action Committee

11/11 SF Japan Consulate Speak-out-Evacuate The Families and Children Of Fukushima And Stop The Cover-up

Friday November 11, 2016 3:00 PM

275 Battery St./California St.

San Francisco

On November 11, 2016 there will be a speak out at the Japanese consulate to call for the immediate evacuation of the children and families of Fukushima. The Abe government which now runs TEPCO continues to cover-up the dangers of radiation and is also still attempting to restart Japan's nuclear power plants. The Abe government has told the people of Japan and the world that the Fukushima crisis has been overcome and there is nothing to worry about despite the fact that radioactive material continues to contaminate the area and the Pacifica ocean.

The Japanese people are growing increasingly angry at the lies and also the massive costs of containing the crisis and the tens of thousands of bags of contaminated waste as well as the thousands of tanks of contaminated water.

Even NHK has been running programs about the unbridled costs of the 7,000 workers which are still employed at the plant to keep it "under control"

The people of Japan need to know that American people stand with them in defending the people of Fukushima and also opposing any restarting of the nuclear plants.

The government has also passed a secrecy law that is being used against the press to silence journalists and also is openly violating the anti-war constitution Article 9. More any more Japanese people are angry about this reactionary and dangerous path by the Abe government.

Speak Out and Rally initiated by

No Nukes Action Committee

http://nonukesaction.wordpress.com/

Radioactive contaminant levels can't be read at 31 Fukushima temp waste sites

http://mainichi.jp/english/articles/20161024/p2a/00m/0na/017000c

October 24, 2016 (Mainichi Japan)

Japanese version

FUKUSHIMA -- It may be impossible to measure the radioactive contaminant concentrations of water leeching from soil and other waste produced by the Fukushima nuclear disaster cleanup at 31 temporary waste storage sites in Fukushima Prefecture due to a planning flaw, a Board of Audit inspection has found.

The cleanup waste is put in bags, put in piles and covered with a waterproof tarp at the temporary disposal sites. These piles are built atop a low convex mound of earth, which is also covered with a tarp and is supposed to funnel the water leeching out of the waste into underground tanks. Contaminant concentration measurements are then taken from these tanks.

However, though many temporary disposal sites have been built on soft ground such as agricultural land, apparently no provisions were made for land subsidence -- the earth being pushed down by the pressure of the waste bags -- during planning.

The Board of Audit chose 34 of the 106 disposal sites in the prefecture for inspection. The 34 sites were spread across five municipalities, had waste piles five to six bags (or about 5 meters) high, and had been established in the four years up to fiscal 2015. Of these, the earth beneath the waste stack had subsided -- going from convex to concave -- at 31 sites, meaning contaminated water was also not flowing into the storage tanks. It is possible the water is collecting in the tarps.

There are 15 such sites in the Fukushima Prefecture town of Kawamata, five in the town of Namie, four each in the city of Tamura and the village of Iitate, and three in the town of Naraha. The subsidence of the earth bases hasn't been confirmed, but the Board of Audit has pointed out that if contaminated water is pooling in the tarps, it could impact future operations to move the waste to a mid-term storage site. It has also called on the Environment Ministry, which operates the sites, to take necessary measures to rectify the problem.

The ministry told the Mainichi Shimbun, "The stacks are designed so that contaminated water won't escape even if the land underneath subsides, and no harm has been done by the treatment of the water. The waste bags themselves have been replaced with waterproof versions, but we would still like to consider ways to reinforce the ground (under the piles), such as by using sand in the middle."

Japan Abe's Lies and Cover-up -Car wash septic tanks emerge as radiation threat in Fukushima "companies that install the septic tanks know about the radiation problem, they couldn't go public about it for fear of losing customers."

Car wash septic tanks emerge as radiation threat in Fukushima

http://www.japantimes.co.jp/news/2016/11/06/national/car-wash-septic-tanks-emerge-radiation-threat-fukushima/#.WCAqrxS_K-Q

KYODO

NOV 6, 2016

Highly radioactive sludge is turning up in septic tanks at car washes in Fukushima Prefecture, and the readings are as much as seven times higher than the government's limit, auto industry officials say.

While the government-set limit is 8,000 becquerels per kilogram, some of the sludge is giving off 57,400 becquerels per kg, a document obtained by Kyodo News says.

The source of the radioactivity is believed to be ash and soot that stuck to vehicles shortly after the triple core meltdown at the Fukushima No. 1 nuclear power plant in March 2011, the officials said Saturday.

Fukushima Prefecture has some 1,700 auto maintenance facilities where a growing number of septic tanks are reaching capacity, they said, adding that the amount of tainted sludge accumulated from washing cars likely weighs several thousands of tons.

To the prevent the septic tanks from overflowing, some of the maintenance facilities are manually scooping up the mud, which has prompted industry groups to warn authorities about the health hazards workers face, the officials said.

The Japan Automobile Dealers Association, Japan Automobile Service Promotion Association and Japan Light Motor Vehicle and Motorcycle Association have been urging the central government and Tokyo Electric Power Co., which manages the defunct Fukushima No. 1 plant, to address the issue.

But their calls for action have not been heeded, the Environment Ministry and the utility admitted.

The issue has failed to gain attention until now in part because the decontamination law only requires that companies report on radiation levels in sewage sludge and incinerated ash, not other waste products.

Although the companies that install the septic tanks know about the radiation problem, they couldn't go public about it for fear of losing customers.

Added to the calendar on Monday Nov 7th, 2016 7:21 AM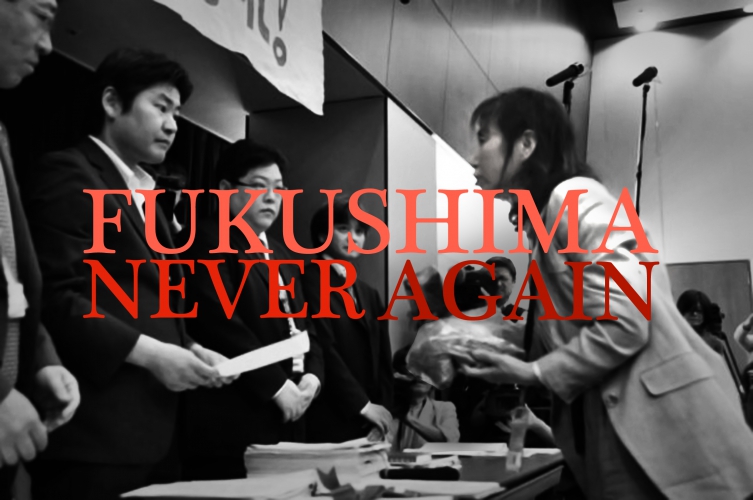 The majority of the people of Japan want the nuclear plants to stay shut but this is being ignored by the Abe government.
We are 100% volunteer and depend on your participation to sustain our efforts!
Get Involved
If you'd like to help with maintaining or developing the website, contact us.