From the Open-Publishing Calendar
From the Open-Publishing Newswire
Indybay Feature
View other events for the week of

11/16/2016
SF Protest To Reinstate NALC 214 Chief Steward Angela Bibb-Merrit and To Stop Workplace Bu
Date

Wednesday November 16

Time

4:30 PM

-

5:30 PM

Import this event into your personal calendar.
Location Details
US Federal Building 90 7th St. at 7th and Mission Streets, SF

Event Type

Protest

Organizer/Author
NALC 214

11/16 SF Protest To Reinstate NALC 214 Chief Steward Angela Bibb-Merrit and To Stop Workplace Bullying

The rally will be held at 4:30 pm on Wed. Nov. 16, 2016 at the US Federal Building 90 7th St. at 7th and Mission Streets, SF

For submission to San Francisco Labor Council

Resolution to Defend NALC Local 214 Chief Steward Angela Bibb-Merritt and Resist Workplace Bullying -- Rally Wed. Nov. 16, 2016 at SF Federal Building

Whereas, there has been a growing practice of workplace bullying against San Francisco postal workers, endangering their health and safety and impacting their families, and

Whereas, workplace bullying is being used as part of a plan to privatize and destroy the Post Office and other public services, with the goal of eliminating public jobs, as well as to intimidate rank and file workers and as a union busting tactic. However, shop stewards, the front line of the unions, are in many cases putting up a determined resistance to these management abuses, and

Whereas, NALC Local 214 Chief Steward Angela Bibb-Merritt has been issued an emergency suspension and notice of removal, for representing the members of her union and defending workers who have experienced workplace bullying. In addition, other NALC Local 214 shop stewards have been targeted for retaliation for their union activities, and

Whereas, American Federation of Government Employees steward, SF Labor Council delegate, and OSHA Whistleblower Protection Program investigator Darrell Whitman has been targeted by management for his fight against workplace bullying at the agency, retaliated against for doing his job, and ultimately terminated by his employer, and

Whereas, many workers at Wells Fargo bank reported being bullied by management and ordered to engage in fraudulent practices concerning customer bank accounts, and then being retaliated against or fired for resisting or refusing to engage in the fraudulent practices pushed by the bank, and

Whereas, every worker has a right to a healthy and safe workplace, free of management abuse.

Therefore be it resolved, that the San Francisco Labor Council calls on the San Francisco Postmaster to immediately drop the discipline and reinstate National Association of Letter Carriers #214 Chief Steward Angela Bibb-Merritt with full back pay, and

Be it further resolved, that we support a solidarity rally and speak-out to demand reinstatement of Chief Steward Angela Bibb-Merritt, and to build resistance to workplace bullying in the Post Office and elsewhere. The rally will be held at 4:30 pm on Wed. Nov. 16, 2016 at the US Federal Building at 7th and Mission Streets, SF, and

Be it finally resolved, that the SF Labor Council send letters to Congresswoman Nancy Pelosi, Senator Diane Feinstein and Senator Barbara Boxer, calling on them to write the SF postmaster to urge the reinstatement of NALC 214 Chief Steward Angela Bibb-Merritt, and to initiate Congressional and Senate hearings on the epidemic of workplace bullying against workers in the Post Office and other public agencies, as well as at private-sector work sites.

Submitted by National Association of Letter Carriers, Golden Gate Branch 214

NALC214 SF Postal Workers Demand "Bring Back Angela" Stop The Workplace Bullying

https://youtu.be/c8kw1kNB7Yc

San Francisco NALC 214 postal carriers and supporters on October 19, 2016 picketed the Evans St. USPO station to demand the immediate reinstatement of chief steward Angela Bibb-Merritt. Merritt and other stewards have been bullied and harrassed by management to intimidate the workforce.

San Francisco postal bosses and managers have a long history of workplace bullying and even violence against postal workers.

Chief steward Angela Bibb-Merritt was terminated without pay for representing the members on the job and she reported that workers are even afraid to take their 30 minute unpaid lunch.

Additional media:

http://postalemployeenetwork.com/news/2009/05/federal-administrative-judge-has-harsh-words-for-san-francisco-usps-management/ https://www.youtube.com/watch?v=pnjd823fJU8 https://www.youtube.com/watch?v=VGFpntWcKts

Production of Labor Video Project

http://www.laborvideo.org

"They Are Bullying Carriers" SF NALC 214 Stewards Speak Out At SF Labor Council

https://youtu.be/LI3ZrADYCwc

NALC 214 chief steward Angela Bibb-Merritt and Louis Bradford spoke about the epidemic of workplace bullying and discrimination against union stewards. These presentations were made at the San Francisco Labor Council on 10/24/16.

Additional media:

https://www.youtube.com/watch?v=c8kw1kNB7Yc http://postalemployeenetwork.com/news/2009/05/federal-administrative-judge-has-harsh-words-for-san-francisco-usps-management/ https://www.youtube.com/watch?v=pnjd823fJU8 https://www.youtube.com/watch?v=VGFpntWcKts

Production of Labor Video Project

http://www.laborvideo.org

WW11-1-16 BFT-AFT Teacher & Steward Crowell On PAR and NALC 214 Steward Angela Bibb-Merritt Bullying And Union Busting At SF Post Office

https://soundcloud.com/workweek-radio/ww11-1-16-bftteacher-crowell-par-and-nalc214-steward-bullying-and-angela-bibb-merritt

WorkWeek first hears from some trade unionists who are supporting the Standing Rock Sioux tribe in North Dakota. Next WorkWeek investigates the discrimination and harassment of African American, Latino and senior teachers in the Berkeley Unified School District with Berkeley Federation of Teachers BFT Steward Brian Crowell who has been fighting the Peer Assistance & Review PAR program. The program which includes the union leadership in the BFT has harassed and fired African American and Latino Teachers as well as senior teachers. Crowell was also put in the PAR program to retaliate against him for exposing the illegal actions of PAR.

Next WorkWeek looks at the epidemic of workplace bullying and targeting of shop stewards at the United State Post Office USPO in San Francisco with chief shop steward of Local 214 steward Angela Bibb-Merritt who was suspended by management for defending her fellow workers. Management is targeting the shop stewards in order to terrorize and intimidate the members.

Additional media:

https://www.youtube.com/watch?v=XEkVLwAyIwo http://www.eastbayexpress.com/oakland/berkeleys-unequal-punishment-of-teachers/Content?oid=3879777 https://www.youtube.com/watch?v=Yt38tXaJ6dQ https://www.youtube.com/watch?v=mHhVxvNt3vY https://youtu.be/LI3ZrADYCwc https://occupyoakland.org/wp-content/uploads/2016/09/Grievance-of-Yvette-Felarca1.pdf https://www.youtube.com/watch?v=jg2giLt6Fu4 http://www.berkeleyside.com/2015/11/04/racist-threats-posted-on-berkeley-high-library-computer/ https://www.youtube.com/watch?v=c8kw1kNB7Yc http://postalemployeenetwork.com/news/2009/05/federal-administrative-judge-has-harsh-words-for-san-francisco-usps-management/ https://www.youtube.com/watch?v=pnjd823fJU8 https://www.youtube.com/watch?v=VGFpntWcKts

Production of WorkWeek Radio

workweek [at] kpfa.org https://soundcloud.com/workweek-radio

Added to the calendar on Friday Nov 4th, 2016 1:19 AM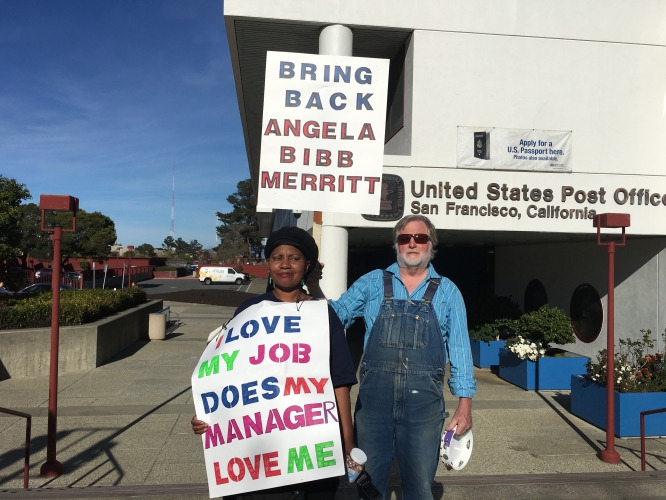 The San Francisco US Post Office management are terrorizing and seeking to remove all shop stewards and thereby destroy the union. NALC 214 Chief Steward Angela Bibb-Merritt has been suspended from her job for defending the postal workers and the workplace bullying must be stopped for the health and safety of the workers.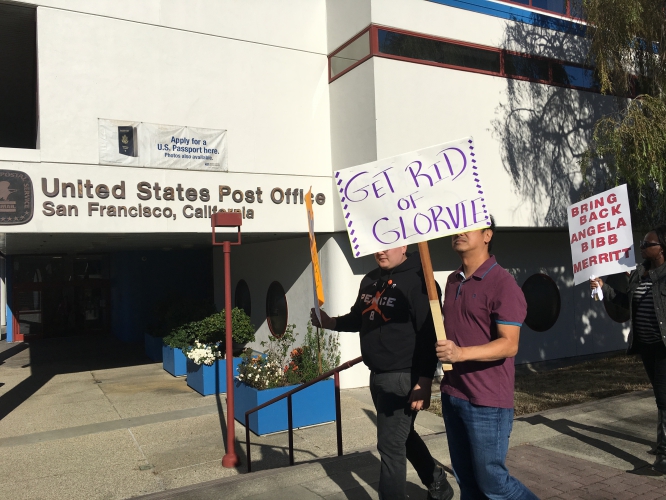 NALC Local 214 is calling for a rally and speak out to demand the rehiring of Chief Shop steward Angela Bibb-Merritt who has been targeted by management for speaking up and defending her fellow workers. An epidemic of workplace bullying is going on throughout the country and one of the most recent is the 5300 Well Fargo workers who were bullied and harrased as well as ordered to commit felonies by opening up over 2 million fake accounts. These bankers have yet to be prosecuted and jailed for banking fraud and ordering illegal activity
We are 100% volunteer and depend on your participation to sustain our efforts!
Get Involved
If you'd like to help with maintaining or developing the website, contact us.