From the Open-Publishing Calendar
From the Open-Publishing Newswire
Indybay Feature
Oakland High Schoolers Join Kaepernick in National Anthem Protest
As dozens of athletes across the country are joining 49ers quarterback Colin Kaepernick in his national anthem protest, one group of young protestors has grabbed the nation's attention.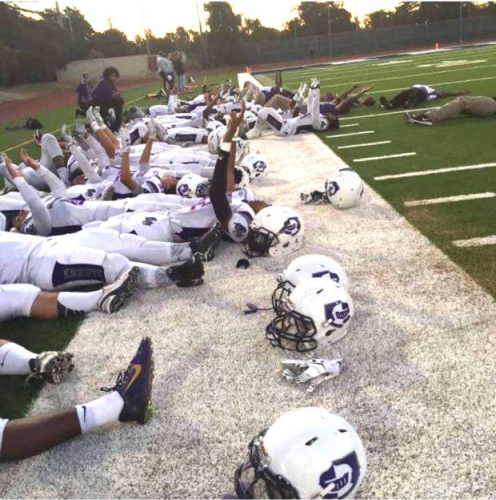 [Photo: Castlemont players lie on their backs with their hands up during the anthem while Kaepernick takes a knee. Twitter/kirkmorrison]



Students at the Oakland Unified School District (OUSD) have been particularly vocal about their opposition to a lack of police accountability and the unfair treatment of Black and Brown people at the hands of law enforcement.

In the past few weeks, football players at Castlemont High School and members of the OUSD honor band have held protests similar to Kaepernick's during national anthems.

Castlemont High School gained national attention two weekends ago when its football players kneeled with their fists raised during the pre-game national anthem.

Then, the weekend before last, Kaepernick came to visit the players before an away game, offering them words of support and appreciation for their action.

"You are important. You make a difference. This matters and everything you do matters," Kaepernick told the students in a locker room before the game.

Kaepernick later knelt down beside the Castlemont team as they held another national anthem protest, during which the players laid on the ground with their hands raised.

According to Castlemont's athletic director, Traivon Soto, students and faculty held a number of discussions before their initial protest to talk about all sides of the issue.

"We talked about Kaepernick kneeling for the American flag and do you agree and disagree and why," Soto told the Post.

"We teach life skills and talk about social issues at Castlemont because in a lot of ways students are deprived of resources," he said. "We try to have discussion to make kids aware of what it's like once they leave high school."

Social justice issues are prevalent at the high school, which has ethnic studies as part of its curriculum, and the players have received a lot of positive support from their peers and administration.

Two weeks ago, members of the OUSD honor band held a similar action by kneeling down on one knee near the end of their performance of the national anthem at an Oakland A's baseball game.

As the song ended with the words "land of the free and home of the brave," students took a knee, "as if to say, no we're not all free but we're brave and we're going to do this," said Zachary Pitt-Smith, music director at Edna Brewer Middle School, which participated in the protest.

Both protests have been widely praised by the greater Bay Area community, but they have also received backlash from those who claim that students are too young to understand issues of police brutality.

Pitt-Smith, however, says those claims are unfair to students whose experiences may be personally tied to issues of state violence.

"These kids are savvy and they live in somewhat violent communities and come from all walks of life," he said.

"A lot of times they're looked down upon in the general community as not informed or not old enough to vote. This (protest) gave the students a voice."
Photo courtesy of OUSD
We are 100% volunteer and depend on your participation to sustain our efforts!
Get Involved
If you'd like to help with maintaining or developing the website, contact us.