From the Open-Publishing Calendar
From the Open-Publishing Newswire
Indybay Feature
Pesticide Applications Near Elementary School Launch Community Into Action
Applications near Amesti Elementary bolster demands for new protections for schoolchildren. Figure: Fumigant application near Amesti Elementary & Pacific Coast Charter School on Sat., Sept. 10.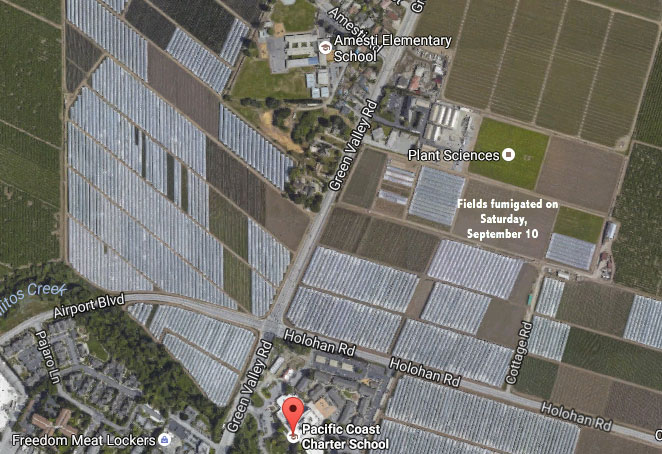 Watsonville, CA, September 12, 2016 – The application of two highly hazardous agricultural pesticides just 900 feet from a Watsonville elementary school only hours before school was to start on Monday was rescheduled to the weekend after strong outcry from local parents and educators. This is one of three applications to take place within close proximity of the school this week.
Staff at Amesti Elementary School recently learned of the plan to apply a combination of the carcinogenic fumigant pesticides chloropicrin and 1,3-dichloropropene (Telone) on fields owned by Plant Sciences near the school. In addition to their toxicity, fumigants pose a particular hazard because of their tendency to drift from the fields where they are applied to neighboring homes and schools, and because they can linger in the air for days after application. Adding to community concern, a recent UCLA study found that when these fumigants are used together they can combine to increase cancer risk by more than just their sum.
Two of the three applications were scheduled for weekend dates but the second application was originally scheduled for this Monday morning, shortly before students were to arrive at school. On Friday afternoon, concerned parents, staff and administrators appealed to the Santa Cruz County Agricultural Commissioner, who responded swiftly and worked with the grower to reschedule the Monday application to this Sunday when children and school staff were not expected to be present.
The situation has many parents and children's health advocates increasingly worried about pesticide applications near schools. "These chemicals are known to be extremely harmful to children and have no business being used anywhere near schools, even over the weekend," said Sarah Aird, Co-Director of Californians for Pesticide Reform.
Although pesticide applicators are required to notify neighboring school districts, parents are often unaware of planned applications. "Parents like myself need a better way to know when these applications are planned so we can respond effectively to protect our children," said Julie Vanner, parent and teacher at Amesti Elementary. "What would have happened if the community hadn't mobilized so rapidly? A nearby application just hours before students and staff arrive at school? This serves as an urgent reminder of the need for buffer zones and bilingual, community-wide notification around the places where kids live, learn and play."
The state Department of Pesticide Regulation (DPR) has been under mounting pressure to increase protections for schoolchildren since 2014, when the California Department of Public Health released a report showing that more than 140 pesticides of public health concern are regularly used near California public schools. Latino schoolchildren are almost twice as likely to attend one of the most impacted schools, according to the report. Amesti Elementary School is 96% Latino and is surrounded on nearly all sides by agricultural fields.
New state regulations for pesticide use near schools have been nearly two years in the making, and are expected to be announced this month. Parents, school staff and children's health advocates are calling for the regulations to include one-mile, full-time buffer zones free from pesticides of public health concern around all public schools, preschools and daycares in the state.
"It's an injustice that another school year has started, and regulations are still not in place to protect kids from the known and very severe health harms associated with agricultural pesticides," said Margaret Rosa, Intervention Teacher at Amesti. "Farmworker communities all over the state are letting DPR know that we expect them to do their job —which is to protect all Californians regardless of race or place."
Exposure to pesticides also impacts school staff, many of whom have worked at the same school for decades. "Many teachers, especially during pregnancy, are fearful, knowing that prenatal exposure has been linked to increased risk of childhood cancers as well as other ailments. They often feel forced to choose between the work they love and their and their families' long-term health," said Sarah Henne of the Pajaro Valley Federation of Teachers. "It's time to make the move to healthy, sustainable farming practices."
Plant Sciences intends to apply a third round of these fumigants a little more than 300 feet from Amesti Elementary School on Saturday, September 17.
Figure Source: Google Maps and Plant Sciences' Notice of Intent To Apply Restricted Materials, September 2016
Californians for Pesticide Reform is a diverse, statewide coalition of over 190 member groups working to strengthen pesticide policies in California to protect public health and the environment. Member groups include public and children's health advocates, clean air and water groups, health practitioners, environmental justice groups, labor, education, farmers and sustainable agriculture advocates from across the state.
http://www.pesticidereform.org/
We are 100% volunteer and depend on your participation to sustain our efforts!
Get Involved
If you'd like to help with maintaining or developing the website, contact us.