From the Open-Publishing Calendar
From the Open-Publishing Newswire
Indybay Feature
View other events for the week of

9/18/2016
Event for Demand of Animal Welfare Act against Animal Cruelty in India
Date

Sunday September 18

Time

3:30 PM

-

6:00 PM

Import this event into your personal calendar.
Location Details
Union Square, San Francisco
Event Type

Class/Workshop

Organizer/Author
Shilpi Dewan

I am having an event in SF on 18th September, for passing Animal Act in parliament against animal cruelty in India. India Unites for Animals', the movement, is being launched in over 45 cities in India, and 20 cities worldwide, on 18th September, 2016.

I am looking for people to show up at the event I am having in San Francisco on 18th September. It is for passing Animal Act in parliament against animal cruelty in India and stop ANIMAL ABUSE IN INDIA.

San Francisco is an important city for the Indian government; so any presence will go a long way in passing the bill. Would love you to please come and give us strength.

This will lead to stricter punishments against cruelty towards animals. Presently a Criminal can get away by paying a fine of 50 Rs, irrespective of the severity of the crime.

'India Unites for Animals', the movement, is being launched in over 45 cities in India, and 20 cities worldwide, on 18th September, 2016.

Please sign this online petition to show your support -

http://bit.ly/IUFAnimals-Form

This is our event page, happening on 18th September 2016 in San Francisco, at Union Square, 3.30 pm to 6.00 pm - /

https://www.facebook.com/events/522887451242532/

Added to the calendar on Sunday Sep 4th, 2016 6:24 PM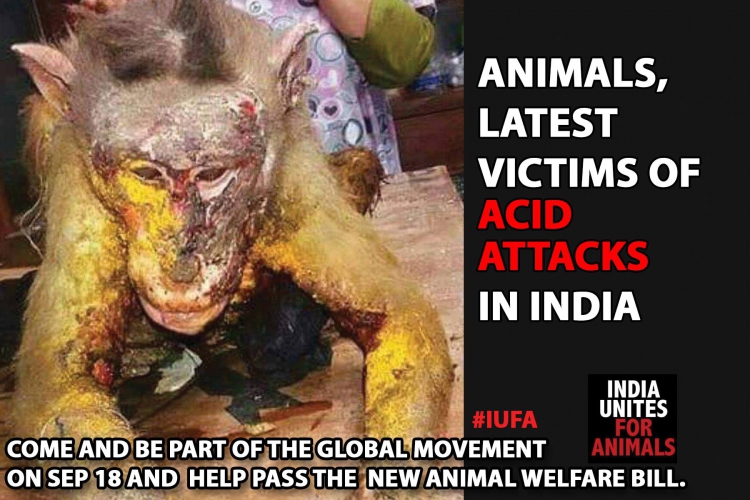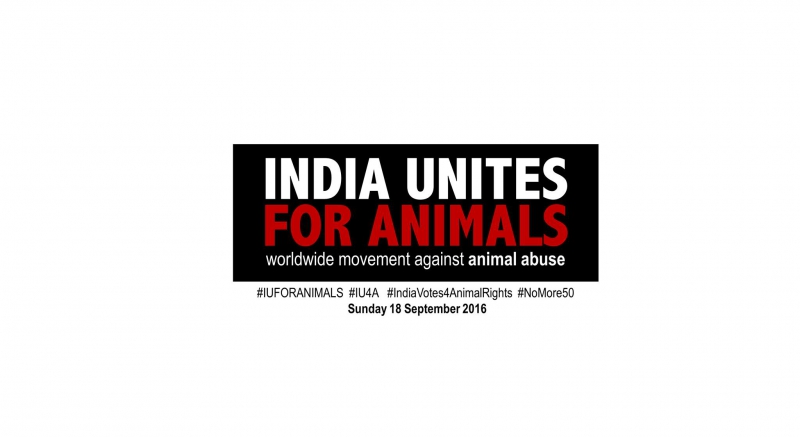 This event is to create awareness on the need for an updated and comprehensive animal welfare policy in India. An animal welfare policy covers pets, stray animals, farm animals, lab animals, wildlife and even animals raised for food. While India does have the Prevention of Cruelty to Animals Act (PCA), its laws on animal-abuse have become archaic because the PCA Act has not been adequately updated since it was enacted in 1960. A first instance of animal abuse has a fine of only AUD 0.9, US$0.75 or 0.58 GBP, which does not even act as a deterrent. As animal lovers from around the world, we are gathering on 18 September to protest against animal cruelty in India and to request the Government of India to introduce an updated animal welfare policy in the country at the earliest.
Please sign this form to show your support -
http://bit.ly/IUFAnimals-Form
Do read below for further details.
**************************
India is known the world over as a country where cow is considered holy and sacred, where animals are worshiped in the form of gods such as Ganesha, a land of Gandhi and Buddha, of Yoga and Ahimsa, a country that loves peace!Sadly, this is no longer true. Not for its animals.
Over the last few months, India has seen its worst ever in animal abuse. From cases such as puppies being burnt alive to mass killing of dogs, from a horse beaten to death to a five month old puppy being thrown from a terrace.
These recent cases make our blood boil but what is more worrisome is that India is promoting animal cruelty in the name of progress. Penguins, declared endangered species and native of foreign lands, are being brought to its zoos; wildlife such as Nilgai, wild boars, rhesus monkeys are being culled by hundreds declaring them as vermin; an aquarium consisting of 450 different species of marine life, mostly brought in from other countries, is being built; one of the largest animal testing facilities in Asia that will house all animals from rabbits to primates, mice to horses, is being built on 100 acres of land. While beef is said to be banned in a few states within India, beef and leather exports have increased so much that it has placed India on the number one spot in the world....! Do you see a pattern here? India is ruthlessly exploiting animals in the name of progress.
We want to change this. We want India to know that this abuse, exploitation and oppression of animals is not going to be tolerated. We recognize that animal suffering is universal and whether it happens in another country or here in the US, it will be opposed.
As citizens of the world, we will protest against any kind of abuse that is meted out to animals. We have to let India know that animals are no longer voiceless and without representation. That India needs to stop promoting abuse in the name of progress. India will lose its face and reputation in the world as a peace loving country if its animals are suffering.
However, these changes can only take place if we show that we stand united for animals and in big numbers. Therefore animals lovers in more than 50 cities across the world are coming together on September 18th world over for the first ever, biggest ever, protest that is the launch of a worldwide movement against animal abuse.
It's about letting the world know that we animal lovers are running out of patience, that enough is enough and suffering of animals will be acceptable no more! It is about telling India about the need for strict laws, and law enforcement for animals. This is the largest ever protest conceived and planned of such magnitude - people from all over the world coming together to say NO MORE! If this won't be heard and moved, what else will?
No matter where you live, which animal you love, which organization you run or support and what your other priorities are... JOIN THE BIGGEST REVOLUTION IN AND FOR ANIMALS IN INDIA, A FIGHT FOR ANIMAL RIGHTS. Of the world rising together as one unified force!!
Participate. Propagate. Promote the event!!
https://www.facebook.com/events/522887451242532/
We are 100% volunteer and depend on your participation to sustain our efforts!
Get Involved
If you'd like to help with maintaining or developing the website, contact us.