From the Open-Publishing Calendar
From the Open-Publishing Newswire
Indybay Feature
Sin Barras Issues Letter Concerning Medical Care at the Santa Cruz Jail
On August 12, the organization Sin Barras issued a letter that calls for the County Health Services Agency to resume responsibility for medical care in the Santa Cruz Jail.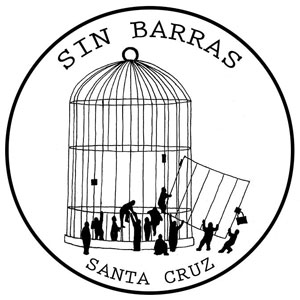 Letter Concerning CFMG Contract
The poor quality of medical care for incarcerated people at the local jail remains an ongoing concern. Sin Barras believes that the County Health Services Agency should resume responsibility for jail medical care; outsourcing this essential service in 2012 has cut costs but hurt these people. Short of that, the 2016 renewal of the contract with the for­ profit medical provider CFMG (California Forensic Medical Group) is an opportunity to achieve better medical outcomes for these individuals. It is imperative not to miss this opportunity. The Civil Grand Jury issued three special reports since CFMG's takeover of jail medical care recommending changes to the jail's medical procedures that would save lives, but most of these changes continue to be rejected by the Sheriff's Department. The Sheriff's Department states that the safety of those in the jail is their highest priority, but in the past four years, while under contract with CFMG, multiple preventable deaths have occurred in the jail that can be described as "murders by negligence."
Last year, 23­year­old Krista DeLuca died in the county's care from dehydration, electrolyte imbalance, and pneumonia as she was detoxing from opiates. These withdrawal symptoms are not fatal in circumstances where patients receive proper medical attention. It was inadequate care that killed Krista DeLuca, not her opiate addiction. From the Grand Jury Report of June 8th, 2016: "The Grand Jury strenuously reasserts that significant revisions must be made to existing jail policies and procedures and to the contract with the medical services provider to prevent future deaths."
We ask that the Board of Supervisors and the Sheriff's Department take action to implement the Grand Jury's Recommendations listed below:
- Review the existing contract and evaluate the performance of CFMG from 2012-­2016 with the assistance of qualified medical personnel (Recommendation 3)
- In the new contract:
* Provide independent oversight of CFMG and their contract by medically qualified professionals (Recommendation 2)
* Allow an independently retained medical provider to escalate medical care under life ­threatening emergency circumstances (Recommendation 4)
* Delete the requirement that CFMG pay up to $15,000 per imprisoned person for transfer to hospital care from the contract (Recommendation 5)
* Require that CFGM obtain and maintain accreditation from the California Medical Association­ Institute for * Medical Quality for adult detention facilities (Recommendation 7)
- Require the Sheriff­- Coroner to make a comprehensive report of every jail death available to the public (Recommendation 1)
- Implement recommendations to ensure that those who are incarcerated and detoxing from opiates are provided proper medical care, including:
* Having the Health Services Agency determine compliance with the Detoxification Treatment requirements of Title 15, Section 1213 (Recommendation 6)
* Use an objective measurement of opiate detoxification stages (Recommendation 8)
* Revise policies for procedures and symptoms necessitating immediate transfer to a hospital or other medical facility (Recommendation 9)
* Establish clear guidelines for when those incarcerated should be given a higher level of care (Recommendation 10)
* Revise the policies and procedures for Detoxification of Chemically Dependent incarcerated individuals to meet or exceed federal guidelines (Recommendation 11)
We have the power to stop preventable deaths from happening by working together to enact the changes recommended by the Grand Jury and by ensuring that the new standards are followed, subject to community oversight. It is our collective responsibility to ensure the safety of incarcerated people, and we have not yet done so. In addition, Sin Barras is aware that there are many issues with imprisoned people having access to proper care, such as being provided timely access to physicians or medication they need. Withholding adequate medical care should not be part of the punishment of being incarcerated. We urge the Board and the Sheriff's Department to ensure access to adequate and timely medical care. We request that the approval of the new contract be part of the regular agenda and open for public comment during the Sept 13th meeting of the Board of Supervisors.
­Sin Barras
About Sin Barras
Founded in 2012, Sin Barras, 'without (prison) bars' in spanish, is a community-based group out of Santa Cruz, CA. that works to build coalitions to eradicate the prison industrial-complex. We hold weekly meetings every week that are open to everyone.
http://sinbarras.org/
https://www.facebook.com/sinbarras/
We are 100% volunteer and depend on your participation to sustain our efforts!
Get Involved
If you'd like to help with maintaining or developing the website, contact us.