From the Open-Publishing Calendar
From the Open-Publishing Newswire
Indybay Feature
View other events for the week of

9/22/2016
Killing Ed Screening In Berkeley - Film That Exposes Gülen Cult Charter Schools
Date

Thursday September 22

Time

7:30 PM

-

9:00 PM

Import this event into your personal calendar.
Location Details
Landmark Shattuck Cinemas
2230 Shattuck Avenue, Berkeley, CA, US, 94704
Event Type

Class/Workshop

Organizer/Author
United Public Workers For Action

Killing Ed, a documentary film exposes the Muhammed Fethullah Gülen Cult And HIs Publicly Funded Charter Schools Including In N. California. Discussion to follow the film.

9/22 Killing Ed Screening In Berkeley Landmark Shattuck Cinema Theater-The Film That Exposes the Muhammed Fethullah Gülen Cult And HIs Publicly Funded Charter Schools Including In N. California

Spread the word about this event to help make it happen.

Killing Ed

Promoted by United Public Workers for Action

http://www.upwa.info

Thursday, September 22 7:30PM - 9:34PM

at Landmark Shattuck Cinemas

2230 Shattuck Avenue, Berkeley, CA, US, 94704, US (map)

$12.00 General

PENDING This event will only happen if 93 more people reserve a ticket.

Reserve Your Tickets

To Reserve Tickets

https://www.tugg.com/events/121725

Find Your Tickets

Going

9

Needed

93

Deadline: September 08

49days 2h 15m 10s

The Event Program

• Introduction

• Movie presentation of Killing Ed

KILLING ED is a new documentary feature film that exposes a shocking truth: that one of the largest networks of taxpayer-funded charter schools in the U.S. are a worst-case-scenario—operated with questionable academic, labor, and H1-B visa standards by members of the "Gülen Movement" – a rapidly expanding, global Islamic group whose leader, Fethullah Gülen, lives in seclusion in the Pocono Mountains of Pennsylvania.

KILLING ED enlightens its audiences everywhere with a shocking, first-hand look inside the schools while revealing the corruption of those attempting to privatize our public schools through education 'reform' in America.

Read more +

• Q&A to Follow

Event Info

Join Us! Announcing the East Bay premiere of KILLING ED. This 94 minute documentary feature exposes the immigration fraud, H1-B visa violations, gender/pay discrimination against teachers and other alleged misdealings by the operators of the largest charter school networks in the USA - the Gülen Movement.

These charter schools operate 149 schools generating over $500M in tax-payer funds each year. With over 60,000 students at locations including California (Magnolia charter schools) and Texas (Harmony charter schools), the film shows the 'worst-case scenario' in the effort to privatize public education in America.

https://www.facebook.com/killinged/

Additional Links

http://perimeterprimate.blogspot.com http://charterschoolscandals.blogspot.com

Government of Turkey wants Fremont school board to reject Gulen run charter school-Religious Cult Running Magnolia US Publicly Funded Charter School Chain?

http://www.contracostatimes.com/news/ci_29430450/turkey-wants-fremont-school-board-to-reject-charter-school

By Rebecca

Parrrparr [at] bayareanewsgroup.com

POSTED: 01/25/2016 03:00:23 PM

FILE In this March 15, 2014 file photo, Turkish Muslim cleric Fethullah Gulen, sits at his residence in Saylorsburg, Pennsylvania, United States. A U.S.-based Muslim cleric, who has become Turkish President Recep Tayyip Erdogan s chief foe, went on trial in absentia in Istanbul on Wednesday, Jan. 6, 2016 accused of attempting to overthrow the government by instigating corruption probes in 2013 that targeted people close to the Turkish leader. Gulen and 68 other people, including former police chiefs, have been charged with attempting to overthrow the Turkish republic through the use of violence, leading a terrorist organization and "political espionage." Prosecutors are seeking life imprisonment for Gulen and others. (AP Photo/Selahattin Sevi, File) ( Selahattin Sevi )

FREMONT -- A Southern California charter school wants to expand into Fremont, despite a history of financial problems and accusations of it being linked to a controversial Turkish cleric, which its leaders emphatically deny.

In a bizarre twist, an attorney representing the Turkish government spoke against the Magnolia Public Schools charter application at a recent Fremont school board public hearing, saying it has ties to Turkish cleric Fethullah Gulen. John Martin of Amsterdam & Partners in Washington, D.C., also alleged that Magnolia was not factual in its application.

Magnolia's chief executive officer called the accusations strange and baffling.

"He seems to believe that we are associated with a religious group, which we are not," Magnolia CEO Caprice Young said at the Jan. 13 school board meeting.

"We're not affiliated with anything but educating public school students in California," Young said Friday. The school has straightened out its finances, she said.

The Fremont school board on Wednesday will consider Magnolia Public Schools' request to open a kindergarten-through-12th-grade school. District staff is recommending the petition be denied.

Fremont Unified did not investigate possible connections between Magnolia and the Gulen movement, Superintendent James Morris said.

"We did our analysis of the charter based on the merits of the petition that (was) submitted," he said.

Advertisement

Martin said his law firm was hired by the Turkish government to investigate Gulen and his movement. That investigation led him to Magnolia schools, he said.

Followers of Gulen, a Muslim imam, have U.S. charter schools that emphasize math and science. Martin and others, including the American magazine the New Republic, allege those include Magnolia. There have been accusations of improper use of public funds and importing Turkish teachers in other states, but Magnolia has not been linked to those investigations.

Gulen's followers are believed to operate schools, universities, corporations, nonprofits and publications around the world, according to articles in the New Republic.

Young said she was mystified by the Gulen accusations. Magnolia's founders did include Turkish immigrants who are progressive Muslims who "believe in peace and interfaith dialogue and who see education as a priority, and Gulen is not the only world leader who is professing these things," Young told the Orange County Register.

In 1999, while in the United States, Gulen was charged in Turkey with trying to create an Islamic government. Since then, he has lived in Pennsylvania.

DISTRICT STANCE

The school district's staff report lists three reasons it is recommending the charter petition be denied: Magnolia is unlikely to be successful; the petition does not have enough valid signatures; and it does not have comprehensive descriptions of everything required in a charter petition.

The staff report noted that, at a recent public hearing, no parents, students, teachers, district staff members or residents spoke in support of the petition. Several speakers raised concerns about the petitioners and the petition, according to the staff report.

Charter schools are public schools, funded with taxpayer dollars.

Magnolia emphasizes science, technology, engineering and math, and reports high student achievement and test scores.

"We were approached by a group of parents who saw success of our Santa Clara school," Young told the board regarding Magnolia's interest in Fremont.

In Santa Clara County, Magnolia Science Academy won a five-year renewal of its school's charter in 2013 despite concerns about its finances. But the board did compliment the school on its academics.

Enrollment at Magnolia's San Jose school has declined for several years, dropping to 25 percent of projected students in 2015, when it moved from Santa Clara.

Los Angeles Unified School District tried to close three of the eight Magnolia schools because of financial problems, according to the Los Angeles Times. A 2015 state audit confirmed problems with spending controls, but also found that Los Angeles Unified did not give the schools time to get their finances in order before revoking the charters.

Magnolia has addressed the concerns mentioned in the state audit, said Young, a former Los Angeles school board member who was named Magnolia CEO last year.

"We've made some big changes. I contracted out all our accounting to a professional firm. I hired a new chief financial officer," she said.

During the period the state audited, Magnolia hired a number of employees who were not U.S. citizens, primarily from Turkey, according to the state.

"As you know, there's a tremendous shortage of math and science teachers," Young said.

Magnolia submitted charter school applications in several Southern California school districts late last year and many of the teacher signatures on Magnolia's Fremont application also appear on those petitions, according to the staff report. Eight of the teachers live in Los Angeles County and work at other Magnolia schools. Magnolia is aware of the problems with teacher signatures and has withdrawn its petition in other districts, the staff report said.

"What we want to do is make sure our top teachers become seed teachers in our new schools so that what's good about one Magnolia school becomes good about other Magnolia schools," she said.

Martin, the attorney, questioned why Magnolia has only had one local meeting with parents at the Islamic Center of Fremont. The staff report also noted the single gathering.

"Despite asserting the intent to target Latino students, its single outreach effort did not result in signatures reflecting meaningful interest in enrolling Latino students," the report said.

Young said if the charter was approved, there would be outreach enrollment meetings throughout Fremont.

"We're a public school; we're secular," she said. "We make a point of welcoming all students and all families."

Contact Rebecca Parr at 510-293-2473 or follow her at Twitter.com/rdparr1.

Fremont Unified School Board

When: 6:30 p.m. WednesdayWhere: 4210 Technology Drive, Fremont

Fremont school district denies Magnolia charter application

http://www.mercurynews.com/bay-area-news/ci_29442711/fremont-district-denies-magnolia-charter-application

By Rebecca

Parrrparr [at] bayareanewsgroup.com

POSTED: 01/27/2016 09:17:33 PM PST1 COMMENT| UPDATED: ABOUT 22 HOURS AGO

FREMONT -- A Southern California charter school's application to expand into Fremont was rejected Wednesday night.

The Fremont school board unanimously denied the application, agreeing with the district staff recommendation to turn down the petition.

Magnolia Public Schools had asked to withdraw its application to address staff concerns before a vote was taken, but the district was not legally required to accept the request, Superintendent James Morris told the school board before the vote.

Magnolia has had a history of financial problems, but those have been addressed, according to its CEO, Caprice Young.

An attorney representing the Turkish government spoke against the charter application during a recent public hearing, saying it has ties to Turkish cleric Fethullah Gulen, which its leaders deny.

"Magnolia is not affiliated with or supported by Fethullah Gulen," wrote Dan Woods, an attorney with a law firm representing Magnolia Educational and Research Foundation. Woods' remarks were in a letter sent Tuesday to the Anaheim Union High School District demanding that it retract a news release linking Magnolia to Gulen.

The lengthy staff report listed three reasons it recommended the charter be denied: Magnolia is unlikely to be successful, the petition does not have enough valid signatures and it does not have comprehensive descriptions of everything required in a charter school application.

Advertisement

"We agree with some, we disagree with others," Young said of points brought up in the staff report. She asked for time to address the district's concerns over the application.

Magnolia emphasizes science, technology, engineering and math.

The staff report did not address accusations of possible links to Gulen, an Islamic imam who stresses education and whose followers have started U.S. charter schools that focus on math and science. The Gulen movement has been investigated for possible misuse of public funds through its secular charter schools; however, Magnolia has not been linked to those investigations.

But Steve Zeltzer, of United Public Workers for Action, expressed concern that the Turkish government would have interest in a charter school application in Fremont.

"This has no place in Fremont," said Zeltzer, who spoke against the petition.

Magnolia held a single Fremont community outreach meeting before submitting the petition, the staff report said.

"Despite asserting the intent to target Latino students, its single outreach effort did not result in signatures reflecting meaningful interest in enrolling by Latino students," the staff report said.

That single meeting was at the Islamic Center of Fremont, said John Martin, of Amsterdam & Partners, a Washington, D.C., law firm representing the Turkish government. He said his firm was hired to investigate the Gulen movement, and that led him to Magnolia Public Schools.

Young said in an interview that Magnolia was approached by some Fremont parents seeking school alternatives.

The staff report said the petition is "not realistic" in indicating it will reach out to low-income families while also saying it will not provide transportation to and from school except for students with special needs.

"The lack of transportation likely creates a barrier to enrollment for low-income students whose parents may not be in a position to transport them to and from school every day, whether due to lack of personal transportation, work schedules, competing child care needs or other reasons," the report read.

The petition was not tailored to Fremont, but was a stock form presented to several districts to allow Magnolia to expand, according to the staff report.

Magnolia can appeal Fremont's denial of its application to the Alameda County Office of Education board.

Contact Rebecca Parr at 510-293-2473 or follow her at Twitter.com/rdparr1.

Gulen Controlled Magnolia Public School Charter Unanimously Rejected By Fremont Unified School Board

https://www.youtube.com/watch?v=JWLdIyDSrkc

The Fremont School District board unanimously rejected a Magnolia Public School charter proposal. The Magnolia Pubic School chain's application was also opposed by members and leaders of the Fremont Unified District Teachers Association who argued that it was top heavy with administrators and would lead to the introduction of substandard education practices in the district.

Magnolia Public School CEO Caprice Young had tried to withdraw the application after they learned that the school board was going to reject it but the board refused to allow them to withdraw it. At a previous meeting, a lawyer from the Turkish government also opposed the charter and argued that the chain was controlled by Fedullah Gulen a religious Iman who had previously supported the Erdogan government but now is being prosecuted for trying to overthrow the government. Magnolia Public School CEO Young denied that the chain had any ties to the Gulan movement.

Young was previously the founder of the California Charter Association which has been funded by the Walton Foundation, Broad Foundation, Gate and KIPP Foundation and other billionaires who are seeking to privatize public education in California and throughout the country.

The board voted unanimously to reject the charter application and CEO Young promised to return with a new applications.

For more information:

http://gulencharterschools.weebly.com http://www.contracostatimes.com/news/ci_29430450/turkey-wants-fremont-school-board-to-reject-charter-school http://www.latimes.com/local/lanow/la-me-ln-magnolia-charters-20150108-story.html http://www.santacruzsentinel.com/general-news/20160128/fremont-school-board-denies-magnolia-science-academy-charter-permit http://www.schoolsmatter.info/2011/10/when-capricious-young-says-no.html http://www.theatlantic.com/education/archive/2014/08/120-american-charter-schools-and-one-secretive-turkish-cleric/375923/ http://truthinmedia.com/exclusive-fbi-whistleblower-and-teacher-expose-islamic-gulen-movement-infiltrating-u-s-through-charter-schools/ http://magnoliascienceacademy.blogspot.com/2015/11/caprice-young-new-superintendent-of.html

ttps://notocharterschools.files.wordpress.com/2015/08/defend-public-ed-statement.pdf

https://www.oag.ca.gov/system/files/initiatives/pdfs/15-0114%20%28Repeal%20Charter%20Schools%29.pdf? https://rally.org/RepealCharterSchoolLaws

Additional Video:

https://www.youtube.com/watch?v=y6zZ_4121tA https://www.youtube.com/watch?v=rVzWzHOshgc https://www.youtube.com/watch?v=pGU_Y7gZctQ https://www.youtube.com/my_videos?o=U&sq=Gulen

Production of Labor Video Project

http://www.laborvideo.org

Gulen Cult Film 'Love Is A Verb' Protested in Berkeley-STOP Public Funding To Gulen Schools And All Charters NOW!

https://youtu.be/Bk1I2khGFb4

A protest was held at the Berkeley screening of the film "Love Is A Verb" on February 11, 2016. The film which was screened by the Fedullah Gulen controlled Pacifica Institute is a propaganda film supporting the religious Gulen movement. Fedullah Gulen runs one of the largest chain of charter schools in the US.

Using the privatization of education through the use of publicly funded and privately run charter schools this cult has received hundreds of millions of public funds on their national chain of charter schools. They use the schools to recruit students to their cults through free trips to Turkey.

For more information and media:

http://gulencharterschools.weebly.com http://www.contracostatimes.com/news/ci_29430450/turkey-wants-fremont-school-board-to-reject-charter-school http://www.latimes.com/local/lanow/la-me-ln-magnolia-charters-20150108-story.html http://www.santacruzsentinel.com/general-news/20160128/fremont-school-board-denies-magnolia-science-academy-charter-permit http://www.schoolsmatter.info/2011/10/when-capricious-young-says-no.html http://www.theatlantic.com/education/archive/2014/08/120-american-charter-schools-and-one-secretive-turkish-cleric/375923/ http://truthinmedia.com/exclusive-fbi-whistleblower-and-teacher-expose-islamic-gulen-movement-infiltrating-u-s-through-charter-schools/ http://magnoliascienceacademy.blogspot.com/2015/11/caprice-young-new-superintendent-of.html

ttps://notocharterschools.files.wordpress.com/2015/08/defend-public-ed-statement.pdf

https://www.oag.ca.gov/system/files/initiatives/pdfs/15-0114%20%28Repeal%20Charter%20Schools%29.pdf? https://rally.org/RepealCharterSchoolLaws

Additional Video:

https://www.youtube.com/watch?v=y6zZ_4121tA https://www.youtube.com/watch?v=rVzWzHOshgc https://www.youtube.com/watch?v=pGU_Y7gZctQ https://www.youtube.com/my_videos?o=U&sq=Gulen http://www.ustream.tv/recorded/82091006

Production of Labor Video Project

http://www.laborvideo.org

The Man Accused of Inspiring Turkey's Coup Is Behind the Largest Charter-School Chain in America

https://www.thenation.com/article/the-man-accused-of-inspiring-turkeys-coup-is-behind-the-largest-charter-school-chain-in-america/

The schools have been investigated for corruption.

By George JosephTwitterJULY 19, 2016

Turkish Muslim cleric Fethullah Gulen sits at his residence in Saylorsburg, Pennsylvania, United States. (AP Photo / Selahattin Sevi, File)

Until last Friday, most Americans had probably never heard of Fethullah Gülen—the controversial Sunni cleric now accused of fomenting a coup attempt in Turkey. But the aged cleric, currently exiled in the Poconos, Pennsylvania, has far greater influence on US society than most realize.

Since 2002, Gülen-affiliated foundations have quietly built up the largest charter-school network in America, with over 130 schools in 26 different states nationwide. This rapid buildup is troubling, however, since financial records suggest the cleric's charter-school network has routinely funneled public-education dollars to its own members, often with unclear benefit to students.

The last time the Gülen movement made national news was in the summer of 2014, after the FBI raided the offices of a Gülen-linked charter operator, Concept Schools, seekinginformation about companies it had contracted with under the federal E-Rate program for its schools across the Midwest.

The charter operator's disbursal of E-Rate dollars for school-technology installation was highly suspect, since the service provider in question, Core Group, had E-rate contracts, amounting to over $2.87 million, only from these Gülen-linked charter schools. According to the Chicago Sun-Times, Department of Education investigators claimed that the Gülen charter operator, Concept Schools, had violated government bidding rules, funneling over $5 million in E-Rate funds to firms with ties to the operator.

The last time the Gülen movement made national news was the 2014 FBI raid of a Gülen-linked charter school operator.

FBI investigation notwithstanding, an analysis of E-Rate records suggests that similar funneling schemes continue to to this day in Gülen-linked schools across the country.

Between 2012 and 2015, Apex Educational Services, Inc. applied for 18 E-Rate contracts. All were from Gülen-linked charter-school chains in California and Colorado. While Apex Educational Services, Inc. presents itself as an independent education-technology firm, according to a 2013 IRS filing, Apex is listed as a property of the Gülen-affiliated Sonoran Science Academy in Chandler, Arizona. Furthermore, the contact provided for Apex Educational Services, according to the USAC federal contract database, is Nuriles Sopolov, a former IT manager at another Gülen-linked charter school in Las Vegas.

Similarly, between 2010 to 2014 Brighten Technologies earned roughly $670,000 from 23 E-Rate contracts from the Gülen-linked Texas charter chain Harmony Public Schools. Founded and staffed by former Harmony computer-science teachers, 94 percent of Brighten Technologies' E-Rate applications were for Harmony Public Schools' contracts, as of 2014. And across the country, tech and construction firms tied to the Gülen movement have made millions from contracts from the generous contracts of Gülen-linked charter schools.

"This movement became what it became not because of the genius or otherworldly truths pontificated by Fetullah Gülen, but because of their ability to rationalize a particular brand of Islam in such a way that produced material reward," says Joshua Hendrick, a sociology professor at Loyola University, who notes that the network's pervasive self-dealing is called "friendship marketing."

This self-dealing also extends to offers of employment, often to Turkish university graduates, who do not necessarily have significant teaching experience.

As the The Philadelphia Inquirer pointed out, Gülen schools are among the nation's highest users of H1B visas, receiving 684 approvals for visas in 2009, outpacing corporate multinationals, such as Google, which only got 440 that year. Similarly, from 2001–15, the Texas Gülen chain, Harmony Public Schools, filed 3,280 visa applications for numerous positions, including physical education teachers, English teachers, human-resources managers, superintendents, and counselors, which would not seem to be hard to fill from the domestic labor pool.

Amsterdam & Partners, a law firm representing the Turkish government, estimates such H-1B expenditures may have cost the Gülen Texas schools over $6.5 million in public funds.

While the network's schools cite a supposed lack of qualified teachers in the United States, Hendricks points out that journalists should be asking why the schools seem only able to find these high-caliber instructors in Turkey. And some parents and students claim these teachers are not always experienced, and sometimes struggle to communicate in English.

Christian Fifi-Culp, a former student at the Gülen-linked Harmony Academy of Science, switched back to a traditional public school after one year. "I don't think any of the teachers were good," says Fifi-Culp. "A lot were pretty terrible…. at my public school now I have teachers who have been there a long time and want to teach kids, whereas at Harmony a lot of teachers were new to it and didn't seem dedicated."

"This is an economic network that provides jobs for recent graduates, who themselves are coming up through the network from some Turkish network," notes Hendrick, who argues that the Gülen movement's self-dealing is to be expected, given the nature of the charter-school sector.

"By creating an environment that thrives off the private model of education, this is clearly one result that's going to happen…," says Hendrick, "The school-choice movement in the United States created an opportunity by providing public dollars where private capital would have previously been secured."

Added to the calendar on Sunday Jul 31st, 2016 4:24 PM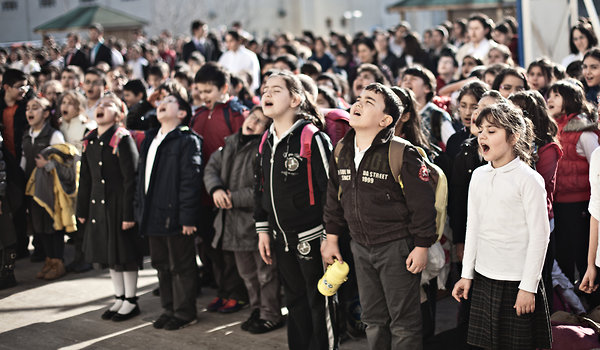 Muhammed Fethullah Gülen religious cult gets more than $500 million dollars a year for his publicly funded charter schools in the US including in California.

The Muhammed Fethullah Gülen cult runs schools in Oakland, Sacramento and Santa Clara.
We are 100% volunteer and depend on your participation to sustain our efforts!
Get Involved
If you'd like to help with maintaining or developing the website, contact us.