From the Open-Publishing Calendar
From the Open-Publishing Newswire
Indybay Feature
View other events for the week of

8/ 6/2016
SF Mime Troupe "Schooled"
Date

Saturday August 06

Time

2:30 PM

-

5:00 PM

Import this event into your personal calendar.
Location Details
UCSC - Porter College Quad
1156 High Street, Santa Cruz, 95064
Event Type

Concert/Show

Organizer/Author
Lawrence Helman
Email
lhelman [at] sbcglobal.net
Phone
(415) 661- 1260

August 6 & 7 (Saturday & Sunday), 2:30 PM

SF Mime Troupe "Schooled"

at UCSC - Porter College Quad

1156 High Street, Santa Cruz, 95064

*Bring your beach chair or blanket.

FREE Theater / Donations Appreciated

The play, "Schooled" deals with the Education system and it's a musical!

The SF Mime Troupe is CA born and bread.

This is the 57th season for the Tony Award-winning Theatre Company.

Synopsis:

Education. It's like the weather: everyone has an opinion but nobody does anything about it. That's how Lavinia Jones feels about her son Thomas' new school, Eleanor Roosevelt High. Decades of funding cuts have resulted in old textbooks, crumbling classrooms, and underpaid teachers, making Roosevelt exactly the sort of public school that has failed students time and time again. Isn't it time for something… efficient? And efficient is exactly what Fredersen Babbit, from Learning Academy for Virtual Achievement (LAVA Corp.), promises to bring to the district. New Technology, remote learning, computer-generated teachers –LAVA promises to put the "virtual" in achievement! But with kids learning from home, do we need all these empty schools? And with privatization on the line, a Wall Street heavy hitter on one side and a feisty octogenarian teacher Ethel Orocuru on the other, suddenly the next School Board election is more about a hidden agenda than the open curriculum. Are schools the last chance for democracy, or is education the next frontier for profit? Can we trust a politician's public/private plan to replace an out-of-date system, or is there something even more sinister than privatization going on behind the doors of LAVA? And wait - when did the hall monitors start wearing brown shirts and arm bands? When it comes to the real plan for the future of education – and of our democracy - are we all about to get... Schooled?

For press materials and high resolution color press photos, visit:

http://www.sfmt.org/Press/index.php

TRAILER:

https://youtu.be/rp1SKMgqiKo

Website:

http://www.sfmt.org

Facebook:

https://www.facebook.com/sfmimetroupe

Instagram:

http://www.instagram.com/SFTroupers

Twitter:

http://www.twitter.com/SFTroupers

Added to the calendar on Thursday Jul 28th, 2016 3:55 PM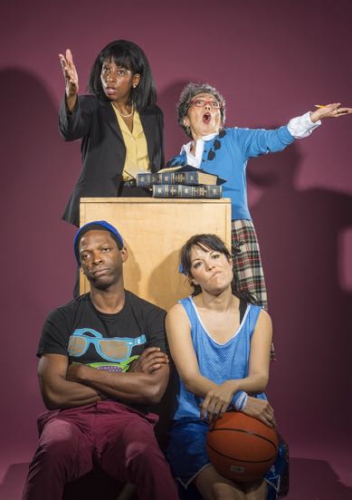 Santa Cruz Dates:
UC Santa Cruz, Porter Quad (new location)
Sat., Aug. 6 - 3:00 pm show (Music 2:30)
Sun., Aug. 7 - 3:00 pm show (Music 2:30)
UC Santa Cruz - 1156 High St., Santa Cruz, 95064 Ticket Info: FREE (donation)

Education. It's like the weather: everyone has an opinion but nobody does anything about it. That's how Lavinia Jones feels about her son Thomas' new school, Eleanor Roosevelt High. Decades of funding cuts have resulted in old textbooks, crumbling classrooms, and underpaid teachers, making Roosevelt exactly the sort of public school that has failed students time and time again. Isn't it time for something… efficient? And efficient is exactly what Fredersen Babbit, from Learning Academy for Virtual Achievement (LAVA Corp.), promises to bring to the district. New Technology, remote learning, computer-generated teachers –LAVA promises to put the "virtual" in achievement! But with kids learning from home, do we need all these empty schools? And with privatization on the line, a Wall Street heavy hitter on one side and a feisty octogenarian teacher Ethel Orocuru on the other, suddenly the next School Board election is more about a hidden agenda than the open curriculum. Are schools the last chance for democracy, or is education the next frontier for profit? Can we trust a politician's public/private plan to replace an out-of-date system, or is there something even more sinister than privatization going on behind the doors of LAVA? And wait - when did the hall monitors start wearing brown shirts and arm bands? When it comes to the real plan for the future of education – and of our democracy - are we all about to get... Schooled?

You don't need a PhD to know that this equation, preposterous a year ago, is a frightening reality today. History students learn that strong-arm fascism and its despotic leaders have occurred with ugly regularity throughout time. Unfortunately, without that knowledge, we are doomed to live the "yes" answer to that classic essay question, "Does history repeat itself?" Today, with a system that pushes the bottom line rather than critical thinking, our educators are struggling to teach the lessons that will empower our citizens and revitalize our democracy.

Right now the hottest ticket on Broadway is a history lesson. And at the SF Mime Troupe we are more committed than ever to use our stage as a classroom and our classrooms as stages, showing and telling the stories of these challenging times, while helping others to create and perform real stories of their own.

This summer in Schooled, the SF Mime Troupe tackles the crisis in education itself. We examine the dangers to a public liberal education, the larger forces behind them, and their threat to our participatory democracy. Playing multiple characters, Rotimi Agbabiaka, Velina Brown, Lisa Hori-Garcia and Keiko Shimosato Carreiro, represent various players in this tug of war with the minds of our children (and future voters) at the heart of it. Written by Michael Gene Sullivan and Eugenie Chan with songs by Ira Marlowe, Schooled reflects our passion for this subject as teachers, parents, and citizen artists - a passion that will be shared in post-show discussions with our audiences and community leaders.


Schooled is written by Michael Gene Sullivan and Eugenie Chan.
Music & lyrics by Ira Marlowe.
Directed by: Michael Gene Sullivan
Music director: Daniel Savio
Musicians include: William Durkee, Dominic Moisant, and Daniel Savio.
We are 100% volunteer and depend on your participation to sustain our efforts!
Get Involved
If you'd like to help with maintaining or developing the website, contact us.