From the Open-Publishing Calendar
From the Open-Publishing Newswire
Indybay Feature
Demonstration says "Enough!" "Stop Killing!" "Stop killing black people!" at town clock
Demonstrators stood at the town clock Friday to protest recent police killings across the country.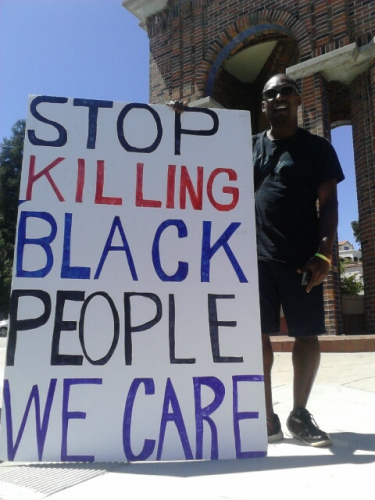 2:45 pm, July 8 2016 - Santa Cruz, CA

A multiracial group of demonstrators stood beneath the clock tower at Water and North Pacific today as afternoon flowed by with periodic honks of support. Their messages were simple, but powerful. One, leaning against a sapling, read "STOP KILLING - STOP HATE - WALK WITH US IN PEACE" while another, carried by a black man in an olive green suit and grey hat simply read "STOP KILLING." This man, Curtis Reliford, began the demonstration and supporters and friends came out to be present with him.

"I'm out here because of the events in Orlando, Baton Rouge, Minneapolis," said Raneta Pomeroy, a fellow parishioner of Mr. Reliford's from Peace United Church. "I can't let him stand out here by himself," she said.

For Pomeroy, the demonstration is personal. "I'm in a black gospel choir, we sing black gospel music. We visit predominantly black churches here and in Monterey. We are so welcomed and people are so kind to us. I have to be out here." Pomeroy is white.

Despite her her experiences within the black communities she visits, Pomeroy has a closer connection to the killings in Minneapolis and Baton Rouge. Her daughter and grandson are black and she says, "It keeps me up at night knowing, the fear of what his life can be as a black man," in reference to her grandson. "I wonder will he feel "less than" a white person? what will he experience, like racism? what will his safety be?"

Isaac Collins, a lyricist present at the demonstration, shared his insights as well. He carried a sign which stated "STOP KILLING BLACK PEOPLE - WE CARE."

"I didn't have to come out here," he said, "You know, it's a crazy time to be black in America. I don't think if I have kids, that they'll make it… It's hard for us to be out here. I've been in Santa Cruz for 11 years. I'm out here because I care."

Collins expressed frustration with the state of affairs he sees facing black Americans in relations with police, saying, "How come we're locking people up instead of making community programs?"
He also identified a disconnect between his own outlook on the recent killings and that of white people he knows. "When I talk to white friends they see this as something that just happens. It just 'happened' again."

The demonstration also attracted the attention of some nearby visitors, George and Ivanna, both in Santa Cruz for the day from San Jose. George, a young Latino man, expressed solidarity and understanding with the event. "We're not black but we had to support, you know, it's a black person today, a brown person tomorrow. One day it'll just come down to your wealth status."

George said he had his own negative experiences with police where he lives. "In east San Jose, cops assume things. I get stopped and cops automatically ask are you carrying drugs?"

With dejection he said, "You know, they told us in first grade to treat people with respect."

But George felt the demonstration was a good thing for Santa Cruz to see. "For someone to hold this event, it will give Santa Cruz a different point of view from what they see on the major news stations."

By 4pm, the demonstration still went strong. Curtis - who could not be interviewed due to his duties keeping the event organized - had changed into work clothing, stood at the same corner waving an enormous American flag and dancing along with the other people present. Though the events commemorated were terrible, the atmosphere at the clock was still joyous.



We are 100% volunteer and depend on your participation to sustain our efforts!
Get Involved
If you'd like to help with maintaining or developing the website, contact us.