From the Open-Publishing Calendar
From the Open-Publishing Newswire
Indybay Feature
State prosecutors hit Gerawan with fresh complaint
Visalia, Calif., June 30, 2016 — Two months after the full Agricultural Labor Relations Board issued a unanimous 81-page decision decisively finding Fresno-based tree fruit grower Gerawan Farming Inc. guilty of repeatedly violating California's farm labor law, state prosecutors issued a new complaint against the giant company alleging serious and repeated violations of the law.
The fresh complaint accuses Gerawan, among other things, of illegally supporting the drive to decertify—or get rid—of the United Farm Workers, telling workers to lie to ALRB agents, unlawfully excluding many workers from the benefits of a union contract and refusing to bargain in good faith.
ALRB Acting Regional Director Delia Martinez in the state agency's Visalia office issued the new complaint (tantamount to an indictment) on behalf of Julia Montgomery, the ALRB general counsel (or chief prosecutor), alleging that Gerawan once again violated the Agricultural Labor Relations Act through the following illegal acts.
• "By providing material assistance to anti-UFW protests in Sacramento or Visalia…Gerawan unlawfully coerced, restrained and interfered with its employees in the exercise of their rights… [See P. 11 of the new complaint from state prosecutors,
http://www.ufw.org/pdf/6212016gerawan.pdf
]
"Gerawan Materially Assisted in anti-UFW Protests" [See P. 7 of the new complaint]
"In 2014, Gerawan allowed, and continues to allow, busses to park at its office in Madera, California to pick up nonsupervisory employees in the middle of the work day to travel to anti-UFW protests in Visalia or Sacramento…" [See P. 7 of the new complaint] "In 2014, Gerawan allowed busses to enter its fields in Ridley, California to [pick] up non-supervisory employees to travel to protests." [See P. 8 of new complaint] "Gerawan has permitted Jesse Rojas, a non-Gerawan employee, to enter Gerawan's work area during lunchtime to distribute leaflets notifying employees of upcoming anti-UFW protests…" [See P. 8 of the new complaint]
"Gerawan committed and continues to commit an unfair labor practice…by coercing, restraining and interfering with its employees in the exercise of their rights under…the [law] to freely choose whether to support the UFW or support a decertification petition." [See P. 11 of the new complaint]
• "Gerawan Told Employees to Lie to Board Agents" [See P. 6 of the new complaint] "Gerawan committed and is continuing to commit an unfair labor practice…by threatening employees and instructing them to provide false information to the ALRB….[and by doing so] unlawfully interfered with its employees' right to participate in the ALRB's investigation of Gerawan's unfair labor practices and their right to engage in union and protected concerted activities in violation of the [law]." [See Ps. 10 & 11 of the new complaint]
"On or about July 29, 2013, Gerawan supervisor employee CB Nunez gathered approximately 20 members of his crew for a meeting before the start of the work day. During the meeting, CB Nunez held out a petition to decertify the UFW…" [See P. 6 of the new complaint] "On approximately July 29, 2013, CB Nunez approached two of his employees and told them that if someone from the ALRB or from Gerawan management came and asked questions that they should say that CB Nunez was not present during any meeting where the [decertification] petition was discussed." [See P. 7 of the new complaint]
• "By proposing and insisting that the UFW agree to exclude [farm labor contractor] employees from the terms and benefits of any [union contract], Gerawan violated its duty to bargaining in good faith over terms and conditions of employment for its bargaining unit employees." "[Under the law] the bargaining unit at Gerawan is composed of all Gerawan agricultural employees." [See Ps. 9 & 10 of the new complaint]
• "[B]y communicating that [Gerawan] questioned its obligation to bargaining with the union [and] communicating that it viewed the union's claim of being its employees' bargaining representative as dubious, Gerawan signaled that it was not entering bargaining negotiations with a mind open to reaching an agreement and that any negotiations were to be perfunctory…" [See P. 9 of the new complaint]
• "By failing and/or refusing to provide the UFW with relevant and accurate information, including, but not limited to, employee contact information and Gerawan's financial information…Gerawan interfered with and limited the UFW's ability to communicate with Gerawan employees and effectively bargain with the company on their behalf in violation of the Act…" [See P. 9 of the new complaint]
"During the period of November 2012 to January 2013, the UFW documented over 2,000 addresses provided by Gerawan that were either non-existent, non-residential or where the employee did not live." The UFW repeatedly asked Gerawan for correct employee addresses. [See Ps. 5 & 6 of the new complaint] "On Sept. 18, 2013, the UFW notified Gerawan that the most recent employee list [it provided] contained 2,994 incorrect addresses and asked that the addresses be corrected. To date, Gerawan has not corrected the addresses submitted by the UFW. Gerawan's failure to provide correct addresses has hindered the UFW's ability to communicate with its members and interfered with the Gerawan employees' ability to communicate with their bargaining representative." [See P. 6 of the new complaint]
The new complaint from the ALRB General Counsel's office will be set for a formal hearing before a state administrative judge.
The April 15, 2016 ruling by the full farm labor board affirmed the 192-page Sept. 17, 2015 judgment by ALRB Administrative Law Judge Mark R. Soble after hearing sworn testimony from 130 witnesses in 2014 and 2015. The ruling by the Sacramento-based ALRB sets aside the Nov. 5, 2013 election to attempt to decertify the UFW and dismissed the decertification petition. [See full farm labor board decision:
https://alrb.ca.gov/legal_searches/decisions/42_1(2016).pdf
]
In his concurring opinion last June, ALRB Chairman William B. Gould IV wrote, "The voluminous record and numerous findings of the [administrative law judge] in this case clearly established the illegal conduct of Gerawan, and the fact that it is guilty of extensive misconduct under the ALRA [Agricultural Labor Relations Act]" (See P. 79).
United Farm Workers
http://www.ufw.org/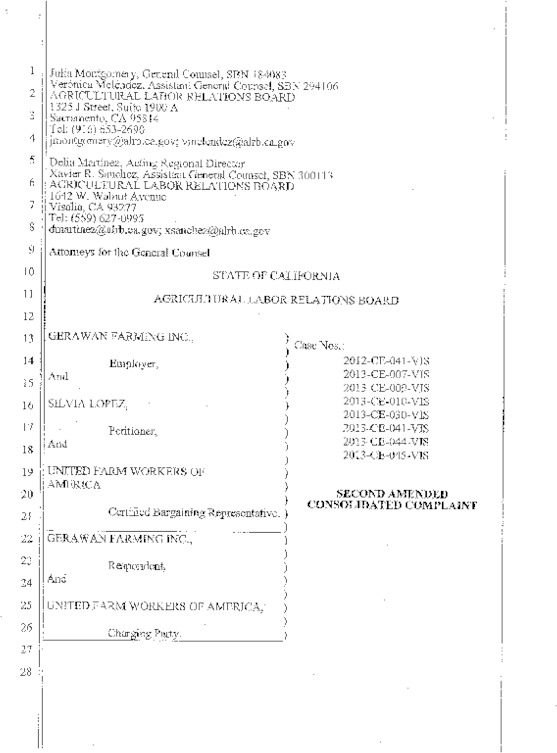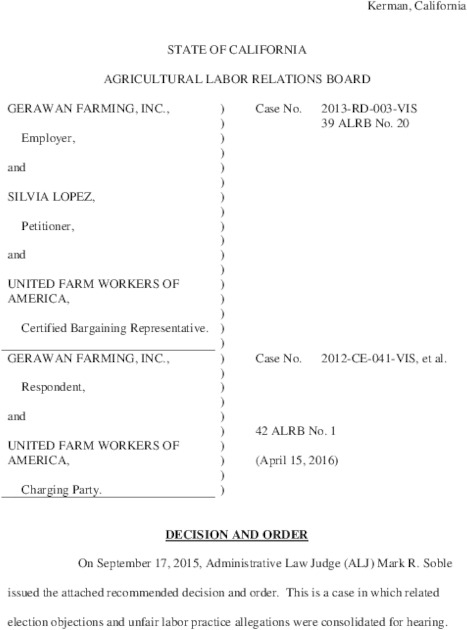 We are 100% volunteer and depend on your participation to sustain our efforts!
Get Involved
If you'd like to help with maintaining or developing the website, contact us.