From the Open-Publishing Calendar
From the Open-Publishing Newswire
Indybay Feature
Patient Advocates Denounce Sonoma Sheriffs for Raids on Medical Cannabis Manufacturers
"Thousands of California patients woke up today fearing for the future of their medicine" said Don Duncan, California Director of Americans for Safe Access. "It is time for local authorities to address perceived violation of regulations by means of civil penalties instead of criminal action. The path taken by Sonoma law enforcement yesterday is counterproductive to moving cannabis businesses towards licensing and regulatory compliance."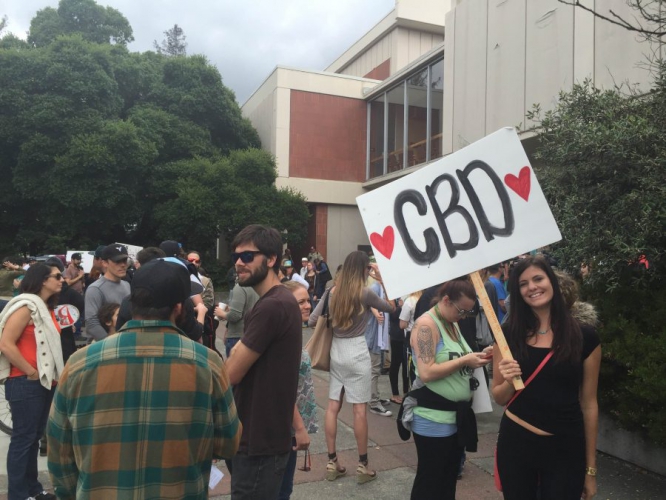 [ Rally for Patients' Rights at the Sonoma County Superior Courthouse on June 16, 2016. Photo by
Benjamin M. Adams
, Culture Magazine ]
Press Release
Americans for Safe Access
For Immediate Release: June 16, 2016
Patient Advocates Denounce Sonoma Sheriffs for Raids on Medical Cannabis Manufacturers
Calls for Civility for Businesses Seeking Pathway to Licensing Under State Law
Sonoma, CA - Yesterday, Sonoma Sheriffs and the Drug Enforcement Administration (DEA) conducted raids on Care By Design (CBD Guild) production facilities in Santa Rosa, California and Sonoma County, seizing equipment, computers, product, and financial paperwork. One of the organization's founding patient members, Dennis Hunter, was arrested and charged with a felony for manufacturing a controlled substance by chemical extraction and is being held on a $5 million bond in Sonoma County jail.
[Update: Dennis Hunter was released.]
Law enforcement cited a suspicion of manufacturing hash oil using butane extraction methods as a basis for their actions. A CBD company spokesman denies that they use butane in their extraction processes, and instead, employ carbon dioxide in extracting the oil. The Medical Marijuana Regulation & Safety Act (MMRSA) allows for production, preparation, propagation, or compounding of manufactured medical cannabis or medical cannabis products by extraction methods, or independently by means of chemical synthesis or by a combination of extraction and chemical synthesis. According to the Santa Rosa Press Democrat, "Santa Rosa Fire Marshal Scott Moon said he spent hours Wednesday evaluating the Circadian Way laboratory and found many code problems, including improper storage of hazardous materials such as ethanol and accumulation of hazardous waste."
"Violations pertaining to the proper storage of solvents and waste materials associated with the manufacturing of non-cannabis based botanical products are not uncommon", said Kristin Nevedal, Director of ASA's Patient Focused Certification program. "However, such violations in the non-cannabis botanical sector are enforced through a combination of fines and specified corrective actions. Only in extreme cases would immediate closure of the facility also be required."
"Thousands of California patients woke up today fearing for the future of their medicine" said Don Duncan, California Director of Americans for Safe Access. "It is time for local authorities to address perceived violation of regulations by means of civil penalties instead of criminal action. The path taken by Sonoma law enforcement yesterday is counterproductive to moving cannabis businesses towards licensing and regulatory compliance."
A statement released yesterday by CBD Guild reports "Care By Design and its affiliates have worked tirelessly over the past years to ensure that its facilities, employees, company policies and procedures are in full compliance with city, county and state laws. The company has pursued a policy of full transparency, providing dozens of state and local officials with tours of its cultivation and extraction facilities, and administrative offices."
"If a business is working towards compliance and being transparent with state and local authorities in the process, they should be applauded as a model for others to do the same," said Duncan. "They should not have to fear or be subjected to criminal action. Yesterday's actions undertaken by law enforcement will serve to discourage businesses from emerging from the shadows and pursuing a path of regulatory compliance."
Section 19321 (c) of Assembly Bill 266, one of the three bills that establish the Medical Marijuana Regulation & Safety Act (MMRSA), clearly states that "facilities already operating in compliance with local ordinances and other laws on or before Jan 1, 2018 may continue to operate until such time as their license is approved or denied." This same provision also gives facilities that are in operation and good standing with local jurisdictions before Jan 1, 2016 state licensing priority.
Further Information:
Santa Rosa Press Democrat Article
Summary of MMRSA provisions
###
With over 100,000 active members in all 50 states, Americans for Safe Access (ASA) is the largest national member-based organization of patients, medical professionals, scientists and concerned citizens promoting safe and legal access to cannabis for therapeutic use and research. ASA works to overcome political and legal barriers by creating policies that improve access to medical cannabis for patients and researchers through legislation, education, litigation, grassroots actions, advocacy and services for patients and caregivers.
Americans for Safe Access, 1806 Vernon St NW, Suite 300, Washington, DC, 20009, United States
Press Conference and Support Rally Thursday, June 16th at 11:00 A.M. at the Sonoma County Superior Courthouse in Santa Rosa
Community Leader and Medical Cannabis Provider Care By Design Raided by Law Enforcement Officials for Manufacturing Safe and Effective Cannabis Oils and Finished Products in Compliance with State and Local Law.
Press Conference and Support Rally Thursday, June 16th at 11:00 A.M. at the Sonoma County Superior Courthouse in Santa Rosa.
Santa Rosa, CA (June 16, 2016): On the morning of June 15th Law Enforcement Officials raided six facilities associated with Care By Design and CBD Guild, a provider of high quality cannabis medicines that tens of thousands of patients depend on across the State. The enforcement comes just days after the company hosted local and State public officials and regulators to walk through their new state-of-the-art facilities to discuss regulations for the emerging industry resulting from the newly passed Medical Marijuana Regulation and Safety Act passed by the California legislature last fall. The multi-agency raid on these facilities comes at a time when cannabis growers and manufacturers are working to establish regulatory guidelines for an industry that has operated in a legal gray area for nearly 20 years. A major enforcement action against an industry leading model provider has sent shockwaves through a community that is already skeptical about the new regulatory process.
"As a company we are incredibly surprised that these actions have been taken against our organization, as we have gone above and beyond to ensure we operate in compliance with all local and State laws regarding medical cannabis," said Care By Design Spokesperson Nick Caston. "The decision to handle regulatory compliance questions with criminal enforcement actions and the arrest of CBD team members is incredibly disturbing. At the exact time State regulators are asking for cannabis providers across the State to license and register their cannabis businesses, for the government to use these types of enforcement actions against an organization that has made every effort to be transparent and forthcoming sends a terrible message to those attempting to do the right thing."
One of the organization's founding patient members, Dennis Hunter, was arrested and charged with felony for manufacturing a controlled substance by chemical extraction (a law created for meth labs); and is being held on a $5-million-dollar bond in Sonoma County jail. The organization, their supporters, and local medical cannabis advocacy groups are organizing a press conference and rally of support on Thursday, June 16th at 11:00 a.m. at the courtyard area of the Sonoma County Superior Courthouse to raise awareness for this injustice and to inform the community of the facts regarding the company and their professional operations. They are asking for all patients, providers, and supporters of medical cannabis to join them in voicing their concerns about this wasteful and unnecessary enforcement action by the DEA and local authorities, and stand with them in solidarity to end these types of actions once and for all. Overzealous enforcement against compliant and accountable medical cannabis providers, such as Care By Design, have no place in our society.
What: Press Conference and Support Rally for Care By Design Denouncing Enforcement Actions
When Thursday, June 16, 2016 at 11:00 a.m.
Where: Sonoma County Superior Courthouse, 600 Administration Drive, Santa Rosa, CA (assemble in the courtyard)
Why: To bring attention to the injustices of the law enforcement actions taken against Care By Design and call for solidarity in the community to ensure organizations that are working towards complying with State and local regulations are not targeted for enforcement actions as the MMRSA is being developed.
--
Rally for Patients' Rights
https://www.indybay.org/newsitems/2016/06/16/18787615.php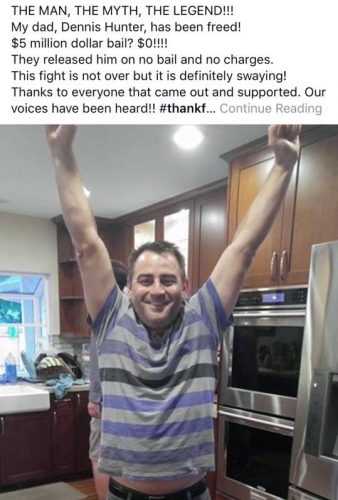 THE MAN, THE MYTH, THE LEGEND!!!
My dad, Dennis Hunter, has been freed!
$5 million dollar bail? $0!!!!
They released him on no bail and no charges.
The fight is not over but it is definitely swaying!
Thanks to everyone that came out and supported. Our voices have been heard!!
We are 100% volunteer and depend on your participation to sustain our efforts!
Get Involved
If you'd like to help with maintaining or developing the website, contact us.