From the Open-Publishing Calendar
From the Open-Publishing Newswire
Indybay Feature
View other events for the week of

6/14/2016
SF Solidarity Action With French Workers-Stop Union Busting, Privatization & Deregulation
Date

Tuesday June 14

Time

5:00 PM

-

6:00 PM

Import this event into your personal calendar.
Location Details
San Francisco French Consulate
66 Kearny St.
San Francisco Near The Montgomery BART station


https://www.google.com/maps/dir/37.7923509,-122.4039229/66+Kearny+St,+San+Francisco,+CA+94108/@37.7885525,-122.4384268,13z/data=!4m8!4m7!1m0!1m5!1m1!1s0x808580884e6635b5:0xd24ceeb04cda0dc9!2m2!1d-122.4034057!2d37.7885732
Event Type

Protest

Organizer/Author
United Public Workers For Action

6/14 SF Solidarity Action With French Workers-Stop Union Busting, Privatization, Deregulation and Slave Labor

Your Fight Is Our Fight-From France To San Francisco

Bring Your Placards, Banners and Songs

Tuesday June 14, 2016 5:00 PM

San Francisco French Consulate

66 Kearny St. San Francisco Near The Montgomery BART station

https://www.google.com/maps/dir/37.7923509

,-122.4039229/66+Kearny+St,+San+Francisco,+CA+94108/@37.7885525,-122.4384268,13z/data=!4m8!4m7!1m0!1m5!1m1!1s0x808580884e6635b5:0xd24ceeb04cda0dc9!2m2!1d-122.4034057!2d37.7885732

The French working class and their unions have called for a general strike on June 14, 2016 against the union busting attack on their labor and human rights by the Socialist Party President Francois Hollande government. They want to destroy their work rules so bosses can fire workers without any labor rights and also allow companies to hire young workers without the protection that other workers have. This is why hundreds of thousands of young people and students have joined this fight. This is their future.

The deregulation, privatization and union busting is also being pushed by the Obama government, the Republicrats and US multi-nationals through the IMF/WB with their so called "free" trade agreements. They want slave labor in France and in every country in the world and the French workers and youth are fighting back! Now is the time to join in solidarity with French workers. Their fight is our fight and a victory against this union busting anti-labor government will be a victory for all workers in Europe, the US and around the world.

Initiated by

United Public Workers For Action

http://www.upwa.info

(415)282-1908

General Strike In France Getting Closer-Truckers At Refineries Join Strike

http://www.telegraph.co.uk/news/2016/05/24/france-set-to-grind-to-a-halt-as-strikes-spark-fuel-shortages-an/

France set to grind to a halt as strikes spark fuel shortages and air and rail blockages

<98993795_FRance-labourereform-world-large_trans++gsaO8O78rhmZrDxTlQBjdGLvJF5WfpqnBZShRL_tOZw.jpg>

A member of the CGT (General Confederation of Work) as trade unionists erect a burning barricade to block the entrance of a refinery as they set up a fire to protest against the French labour reform law, in Douchy les Mines, northern France CREDIT:THIBAULT VANDERMERSCH/EPA

• Henry Samuel, paris

24 MAY 2016 • 5:49PM

France was facing transport meltdown on Tuesday as a tense standoff between unions and the government over labour reform saw oil refineries blocked and a fifth of its fuel pumps run dry.

Just three weeks before the Euro 2016 football tournament and days before the British half-term holidays, when thousands of motorists cross into France, at least seven out of eight of the country's refineries were cut off, fuel shortages looked set to worsen and a string of rail and air strikes are looming.

Hostilities commenced before dawn on Tuesday when police launched a raid to "liberate" an oil refinery near the southern port of Marseille held by strike picketers. Officers fired tear gas and water cannon to oust protesters blocking the Exxon Mobil refinery and terminal at the Fos-Sur-Mer site.

They met stiff resistance as picketers hit back by lobbing paving slabs and setting crates and tyres on fire, lightly injuring seven officers.

However, unionists said they had successfully managed to block the country's other refineries, along with several fuel depots.

One in every five of the country's 12,500 petrol stations were either completely dry or out of one type of fuel, a week after oil workers first went on strike, according to Alain Vidalies, the transport minister.

Emergency stocks are sufficient to keep the country's fuel stations in operation for up to two months, according to some experts, if the government chose to tap into those supplies. But François Hollande, the French president, and his prime minister warned they wouldn't let a "minority" of unions take the country "hostage".

Despite government assurances everything was under control, news of fuel shortages sparked panic buying, prompting long lines and fuel rationing in parts of France. Some motorists even crossed into Belgium to fill up.

Observers said the standoff was a key test of strength for the hardline CGT union, whose historic ability to mount mass demonstrations that grind the country to the halt and result in government U-turns appears to be on the wane.

It has called for strikes "everywhere, all round France" against the government's labour reform, which has prompted frequent street protests over the past two months.

The CGT, along with others, has called a rolling strike at SNCF, the national railway, from May 31, and an open-ended one on the Paris underground and suburban commuter train networks from June 2 - a week before the Euro 2016 opens amid warnings that "workers" come before football.

Euro 2016: the new tournament format explainedPlay!01:20

Meanwhile, civil aviation unionists on Tuesday called a strike from June 3 to 5.

The CGT said the labour reform will unpick France's protective and labyrinthine labour regulations, allowing firms to lay off staff more easily for economic reasons and by providing further exemptions from national rules on pay and working conditions.

Philippe Martinez, the union's boss, warned that the government was playing with fire by breaking up picket lines.

""We'll see this through to the finish, to withdrawal of the labour law," he warned. "This is a government which has turned its back on its promises and we are now seeing the consequences."

The Socialist government has already pushed the law through parliament without a vote due to a Leftist backbench revolt, and is adamant it will be enacted as its last major reform before next year's presidential elections.

Critics argue the watered-down law does not go far enough.

While France is showing modest signs of recovery, with growth expected to hit 1.5 per cent this year, the International Monetary Fund on Tuesday warned that its economy will not recover sufficiently to cut 10 per cent unemployment and debt without further reforms, notably by tightening rules for receiving generous unemployment benefits – a move likely to draw more howls of disapproval from unions.

<98993930_FRance-labour-world-large_trans++gsaO8O78rhmZrDxTlQBjdGLvJF5WfpqnBZShRL_tOZw.jpg>

Analysts warn the unrest risks deterring foreign investment CREDIT: THIBAULT VANDERMERSCH/EPA

If labour unrest grows it risks deterring faltering foreign investment, analysts warned.

Even home-grown oil and gas giant Total threatened on Tuesday to "seriously reconsider" its investment plans in France due to the strikes, with its chief executive Patrick Pouyanné reportedly saying they constituted a "breakdown in the pact between workers and the company".

While the government has insisted it will stand firm, Christian Jacob of the opposition centre-Right party, The Republicans, remained sceptical. "That's what they say until they cave in."

"We know all about that," added the former ally of ex-president Jacques Chirac, famous for making several U-turns in the face of mass protests.

French government seeks to crush strikes against labor law

http://www.wsws.org/en/articles/2016/05/25/fran-m25.html

By Alex Lantier

25 May 2016

In the face of expanding strikes by refinery workers and truckers against the new French labor law, the Socialist Party (PS) government sent security forces yesterday to crush oil installation occupations and break the growing oppositional movement.

Since the beginning of the week, all of France's refineries have gone on strike or shut down operations, and truckers have joined to blockade refineries and halt fuel deliveries to gas stations. Broader layers of workers are also moving into struggle. Some port, rail and autoworkers are already on strike, and the trade unions have issued strike calls and requested legal authorization for strikes from June 3 to June 5 at civil aviation facilities and for an unlimited strike against the Paris mass transit system starting June 2.

Early yesterday morning, security forces attacked some 200 members of the General Confederation of Labor (CGT) union who were blockading oil installations at Fos-sur-Mer, near Marseille. "The paramilitary police arrived around 4:30 am and used water cannon and tear gas," said Olivier Mateu, the regional secretary of the Stalinist-controlled CGT.

Confrontation with police over labor law [Photo: Flickr user laetitiablabla]

Police assaults wounded a number of strikers, according to CGT sources, who denounced "virtual war scenes, with volleys of rubber bullets being fired to clear the blockade."

"The police charges were incredibly violent," said CGT-Petroleum National Secretary Emmanuel Lépine. Police authorities criticized "significant resistance" by the strikers to the repression, which left seven of their men slightly wounded.

After the clash between strikers and security forces ended, around 6 am, tanker trucks entered the site under police escort. The Fos-sur-Mer site, near France's main oil port in Marseille, plays a critical role not only in France, but in all of Europe, supplying pipelines carrying petroleum to refineries in Cressier in Switzerland and Karlsruhe in Germany.

Despite the brutal repression of the protests, the expanding mobilization of workers has staggered and destabilized the PS government. Yesterday, Transport Minister Alain Vidalies said 20 percent of France's 12,000 gas stations either had "totally run dry or faced shortages of one or two products."

Trampling on the right to strike, which is inscribed in the French Constitution, the PS is provocatively threatening to crush strikes and blockades across France. On Monday, Prime Minister Manuel Valls said, "We are totally in control of the situation. I think that a certain number of refineries and fuel depots that have been blockaded are being cleared or will be cleared in the coming hours and days."

Yesterday, on an official visit to Jerusalem, Valls tried to posture as a defender of auto drivers threatened by fuel shortages, declaring, "We will not allow the French people to face shortages or blockades." He insisted the PS would impose the labor law even though the population overwhelmingly rejects it. "There will be no retraction of the law," he said. "Otherwise, we will no longer be able to reform the country."

It is not the working class but the PS that is threatening basic democratic and social rights, which it is tearing up in authoritarian fashion to conform to the dictates of the banks. Three-quarters of the French people oppose the law, which increases work hours, undermines overtime pay and job security, and allows the unions to negotiate contracts that violate the Labor Code. Due to its unpopularity, the PS imposed the law without a formal vote in the National Assembly, using the reactionary provisions of Article 49-3 of the Constitution.

The PS is signaling that it will seek to break opposition in the working class by force, aiming to isolate and smash successive protests by different sections of workers and youth against the law. In doing so, the PS is carrying out the agenda of austerity and police repression advanced by the ruling class across the European Union (EU). The PS labor law is largely the application in France of the Hartz laws imposed in the face of protests by German workers by the Social Democratic Party a decade ago.

Now, opposition to austerity and the dictatorship of the banks is rising across the EU, including the struggles of Greek workers against the austerity measures of the Syriza (Coalition of the Radical Left) government.

The blockades of ports, refineries and transport systems is already creating crisis conditions across the French economy. Strikes in Le Havre, France's second port after Marseille, which is strategically important due to its role in supplying northern France and the Paris area, are forcing logistics and shipping companies, as well as the Renault plant in Sandouville, to shut operations.

The corporations and the political elite are terrified of a broader struggle of workers against the PS. Olivier Jean Baptiste, a manager at XPLog, a logistics company in Le Havre, told L'Express: "We worked 24 hours a day over the weekend to try to catch up on the backlog. When the blockades were lifted on Friday, we began work again. Since then we are doing the best we can… If things are cut off again, it will be a catastrophe."

"Basically, everyone is in a panic," said an anonymous manager in Le Havre's industrial zone.

Right-wing politicians are even suggesting that the PS might be forced to abandon the labor reform, at least temporarily, in the face of rising opposition from workers. Philippe Vigier, the parliamentary group leader of the Union of Democrats and Independents (UDI) in the National Assembly, said, "The government has deepened its own isolation. They will have no other option besides retracting the bill."

Christian Jacob of the right-wing The Republicans (LR) dismissed PS assurances that there would be no retreat on the labor law, declaring, "That is what one says until the day one drops something."

"We know something about that," Jacob added, referring to right-wing President Jacques Chirac's decision to suspend the promulgation of the First Job Contract (CPE) in 2006 in the face of mass protests by workers and youth.

An effective struggle against the labor law and EU austerity can be waged only as a conscious international struggle of the European working class, organized independently of the trade union bureaucracies and their political allies, including the Left Front and the New Anti-capitalist Party. The current so-called radical turn of the CGT, layers of which are now publicly calling for strike action against the PS, will prove to be a political trap and dead end for workers seeking to fight the Socialist Party's policies.

CGT leader Philippe Martinez is pushing the union to adopt demands that are emerging spontaneously among workers, partly to better position the CGT against competing union bureaucracies, but above all to avoid a rebellion of the working class against the entire political setup and confine the workers to the straitjacket of a national struggle.

Le Monde analyzed his strategy yesterday as follows: "Without calling for a general strike, he calls for renewable strike action… Perpetually in crisis, weakened in its traditional bastions of support, threatened with losing its place as France's biggest union to the [pro-PS] French Democratic Labor Confederation in 2017, the CGT is playing for high stakes."

The union bureaucracies themselves are longstanding political instruments of the same ruling class and political establishment against which the working class is mobilizing in struggle. For four years following the election of a PS government in 2012, they organized no opposition to the government's savage austerity policies, including the initial negotiation of the labor law.

Dependent on corporate and state financing for 95 percent of their budgets, they are not workers' organizations, but hollow shells dominated by the financial aristocracy. They will prove not only incapable of leading a longer-term opposition to the PS, but utterly hostile to the explosive opposition that is now emerging in the working class to the PS and the EU.

CSP-Conlutas

http://www.laboursolidarity.org/France-Strikes-Protests-Blockades?lang=fr

France | Strikes, Protests, Blockades

31 mai 2016

Accueil > Sindicato > | France | Strikes, Protests, Blockades

Build solidarity actions with the French struggle. Here is a recent letter from Solidaire union federation. They are showing us the way to fight the anti-trade union laws and other injustices here.

United, we continue until victory ! This week a series of renewable strike actions started in the railway sector, oil refineries, and road transport. In addition to these national professional sectors, there are local strikes in many other sectors (trade, construction, industry, postal services, the cultural sector, health, ports , etc.). The Public Services Unions (CGT, Solidaires, FSU) are also considering continuous industrial action. The events of 19th of May have gathered hundreds of thousands of people. The night rallies ("Nuit Debout") are being held throughout France and blockades are being carried out in many cities.

The majority of the population disapproves of the proposed Labour Law

Contrary to governmental propaganda, the movement remains strong. But it is not yet strong enough to win ! And this is what is at stake over the course of the next few days. The struggle continues !

Unity for Victory !

We will not be divided : yes, it is unfortunate that the CGT opposed the renewal of the SNCF rail strike pas Thursday, but it is a different division of the CGT that is responsible for the blockades of 7 of the 8 oil refineries since that same day. The union Solidaires is based on an inter-unionism that brings together CGT, FO, Solidaires, FSU and youth movements, with local unions that are often much larger, on the call "We Block All" launched by the unions CGT, Solidaires, CNT-SO, CNT, FO, LAB, CFDT, and also Nuit debout.

The State is violent and repressive

The trade union Solidaires once again condemns the police violence and the repression (arrests and detentions) of protestors, as well as against union organisations : after ransacking the CNT branch in Lille a few weeks ago, yesterday it was the offices of Solidaires Ille-et-Vilaine that were raided !

The 26th of May, Before and After, the strike continues and grows in strength !

The National Inter-professional Inter-union calls once again for a day of strikes and protests Thursday 26th of May. The trade union Solidaires supports all workers already carrying out continuous industrial action and calls to strengthen and reinforce the movement wherever possible. The same goes for the national strike of 14th of June : for the trade union Solidaires, it is not a question of burying the movement ; but rather, to extend and strengthen the strike action. Let's give ourselves what we need to in order to ensure the withdrawal of the proposed Labour Law and ensure that our demands are included rather than those of the bosses.

The faster our actions bring the economy to a stand-still and affect the profits of the directors and shareholders, the faster we will win !

Via Solidaires

General Strike In France Getting Closer-Truckers At Refineries Join Strike

http://www.telegraph.co.uk/news/2016/05/24/france-set-to-grind-to-a-halt-as-strikes-spark-fuel-shortages-an/

France set to grind to a halt as strikes spark fuel shortages and air and rail blockages

<98993795_FRance-labourereform-world-large_trans++gsaO8O78rhmZrDxTlQBjdGLvJF5WfpqnBZShRL_tOZw.jpg>

A member of the CGT (General Confederation of Work) as trade unionists erect a burning barricade to block the entrance of a refinery as they set up a fire to protest against the French labour reform law, in Douchy les Mines, northern France CREDIT:THIBAULT VANDERMERSCH/EPA

• Henry Samuel, paris

24 MAY 2016 • 5:49PM

France was facing transport meltdown on Tuesday as a tense standoff between unions and the government over labour reform saw oil refineries blocked and a fifth of its fuel pumps run dry.

Just three weeks before the Euro 2016 football tournament and days before the British half-term holidays, when thousands of motorists cross into France, at least seven out of eight of the country's refineries were cut off, fuel shortages looked set to worsen and a string of rail and air strikes are looming.

Hostilities commenced before dawn on Tuesday when police launched a raid to "liberate" an oil refinery near the southern port of Marseille held by strike picketers. Officers fired tear gas and water cannon to oust protesters blocking the Exxon Mobil refinery and terminal at the Fos-Sur-Mer site.

They met stiff resistance as picketers hit back by lobbing paving slabs and setting crates and tyres on fire, lightly injuring seven officers.

However, unionists said they had successfully managed to block the country's other refineries, along with several fuel depots.

One in every five of the country's 12,500 petrol stations were either completely dry or out of one type of fuel, a week after oil workers first went on strike, according to Alain Vidalies, the transport minister.

Emergency stocks are sufficient to keep the country's fuel stations in operation for up to two months, according to some experts, if the government chose to tap into those supplies. But François Hollande, the French president, and his prime minister warned they wouldn't let a "minority" of unions take the country "hostage".

Despite government assurances everything was under control, news of fuel shortages sparked panic buying, prompting long lines and fuel rationing in parts of France. Some motorists even crossed into Belgium to fill up.

Observers said the standoff was a key test of strength for the hardline CGT union, whose historic ability to mount mass demonstrations that grind the country to the halt and result in government U-turns appears to be on the wane.

It has called for strikes "everywhere, all round France" against the government's labour reform, which has prompted frequent street protests over the past two months.

The CGT, along with others, has called a rolling strike at SNCF, the national railway, from May 31, and an open-ended one on the Paris underground and suburban commuter train networks from June 2 - a week before the Euro 2016 opens amid warnings that "workers" come before football.

Euro 2016: the new tournament format explainedPlay!01:20

Meanwhile, civil aviation unionists on Tuesday called a strike from June 3 to 5.

The CGT said the labour reform will unpick France's protective and labyrinthine labour regulations, allowing firms to lay off staff more easily for economic reasons and by providing further exemptions from national rules on pay and working conditions.

Philippe Martinez, the union's boss, warned that the government was playing with fire by breaking up picket lines.

""We'll see this through to the finish, to withdrawal of the labour law," he warned. "This is a government which has turned its back on its promises and we are now seeing the consequences."

The Socialist government has already pushed the law through parliament without a vote due to a Leftist backbench revolt, and is adamant it will be enacted as its last major reform before next year's presidential elections.

Critics argue the watered-down law does not go far enough.

While France is showing modest signs of recovery, with growth expected to hit 1.5 per cent this year, the International Monetary Fund on Tuesday warned that its economy will not recover sufficiently to cut 10 per cent unemployment and debt without further reforms, notably by tightening rules for receiving generous unemployment benefits – a move likely to draw more howls of disapproval from unions.

<98993930_FRance-labour-world-large_trans++gsaO8O78rhmZrDxTlQBjdGLvJF5WfpqnBZShRL_tOZw.jpg>

Analysts warn the unrest risks deterring foreign investment CREDIT: THIBAULT VANDERMERSCH/EPA

If labour unrest grows it risks deterring faltering foreign investment, analysts warned.

Even home-grown oil and gas giant Total threatened on Tuesday to "seriously reconsider" its investment plans in France due to the strikes, with its chief executive Patrick Pouyanné reportedly saying they constituted a "breakdown in the pact between workers and the company".

While the government has insisted it will stand firm, Christian Jacob of the opposition centre-Right party, The Republicans, remained sceptical. "That's what they say until they cave in."

"We know all about that," added the former ally of ex-president Jacques Chirac, famous for making several U-turns in the face of mass protests.

French government seeks to crush strikes against labor law

http://www.wsws.org/en/articles/2016/05/25/fran-m25.html

By Alex Lantier

25 May 2016

In the face of expanding strikes by refinery workers and truckers against the new French labor law, the Socialist Party (PS) government sent security forces yesterday to crush oil installation occupations and break the growing oppositional movement.

Since the beginning of the week, all of France's refineries have gone on strike or shut down operations, and truckers have joined to blockade refineries and halt fuel deliveries to gas stations. Broader layers of workers are also moving into struggle. Some port, rail and autoworkers are already on strike, and the trade unions have issued strike calls and requested legal authorization for strikes from June 3 to June 5 at civil aviation facilities and for an unlimited strike against the Paris mass transit system starting June 2.

Early yesterday morning, security forces attacked some 200 members of the General Confederation of Labor (CGT) union who were blockading oil installations at Fos-sur-Mer, near Marseille. "The paramilitary police arrived around 4:30 am and used water cannon and tear gas," said Olivier Mateu, the regional secretary of the Stalinist-controlled CGT.

Confrontation with police over labor law [Photo: Flickr user laetitiablabla]

Police assaults wounded a number of strikers, according to CGT sources, who denounced "virtual war scenes, with volleys of rubber bullets being fired to clear the blockade."

"The police charges were incredibly violent," said CGT-Petroleum National Secretary Emmanuel Lépine. Police authorities criticized "significant resistance" by the strikers to the repression, which left seven of their men slightly wounded.

After the clash between strikers and security forces ended, around 6 am, tanker trucks entered the site under police escort. The Fos-sur-Mer site, near France's main oil port in Marseille, plays a critical role not only in France, but in all of Europe, supplying pipelines carrying petroleum to refineries in Cressier in Switzerland and Karlsruhe in Germany.

Despite the brutal repression of the protests, the expanding mobilization of workers has staggered and destabilized the PS government. Yesterday, Transport Minister Alain Vidalies said 20 percent of France's 12,000 gas stations either had "totally run dry or faced shortages of one or two products."

Trampling on the right to strike, which is inscribed in the French Constitution, the PS is provocatively threatening to crush strikes and blockades across France. On Monday, Prime Minister Manuel Valls said, "We are totally in control of the situation. I think that a certain number of refineries and fuel depots that have been blockaded are being cleared or will be cleared in the coming hours and days."

Yesterday, on an official visit to Jerusalem, Valls tried to posture as a defender of auto drivers threatened by fuel shortages, declaring, "We will not allow the French people to face shortages or blockades." He insisted the PS would impose the labor law even though the population overwhelmingly rejects it. "There will be no retraction of the law," he said. "Otherwise, we will no longer be able to reform the country."

It is not the working class but the PS that is threatening basic democratic and social rights, which it is tearing up in authoritarian fashion to conform to the dictates of the banks. Three-quarters of the French people oppose the law, which increases work hours, undermines overtime pay and job security, and allows the unions to negotiate contracts that violate the Labor Code. Due to its unpopularity, the PS imposed the law without a formal vote in the National Assembly, using the reactionary provisions of Article 49-3 of the Constitution.

The PS is signaling that it will seek to break opposition in the working class by force, aiming to isolate and smash successive protests by different sections of workers and youth against the law. In doing so, the PS is carrying out the agenda of austerity and police repression advanced by the ruling class across the European Union (EU). The PS labor law is largely the application in France of the Hartz laws imposed in the face of protests by German workers by the Social Democratic Party a decade ago.

Now, opposition to austerity and the dictatorship of the banks is rising across the EU, including the struggles of Greek workers against the austerity measures of the Syriza (Coalition of the Radical Left) government.

The blockades of ports, refineries and transport systems is already creating crisis conditions across the French economy. Strikes in Le Havre, France's second port after Marseille, which is strategically important due to its role in supplying northern France and the Paris area, are forcing logistics and shipping companies, as well as the Renault plant in Sandouville, to shut operations.

The corporations and the political elite are terrified of a broader struggle of workers against the PS. Olivier Jean Baptiste, a manager at XPLog, a logistics company in Le Havre, told L'Express: "We worked 24 hours a day over the weekend to try to catch up on the backlog. When the blockades were lifted on Friday, we began work again. Since then we are doing the best we can… If things are cut off again, it will be a catastrophe."

"Basically, everyone is in a panic," said an anonymous manager in Le Havre's industrial zone.

Right-wing politicians are even suggesting that the PS might be forced to abandon the labor reform, at least temporarily, in the face of rising opposition from workers. Philippe Vigier, the parliamentary group leader of the Union of Democrats and Independents (UDI) in the National Assembly, said, "The government has deepened its own isolation. They will have no other option besides retracting the bill."

Christian Jacob of the right-wing The Republicans (LR) dismissed PS assurances that there would be no retreat on the labor law, declaring, "That is what one says until the day one drops something."

"We know something about that," Jacob added, referring to right-wing President Jacques Chirac's decision to suspend the promulgation of the First Job Contract (CPE) in 2006 in the face of mass protests by workers and youth.

An effective struggle against the labor law and EU austerity can be waged only as a conscious international struggle of the European working class, organized independently of the trade union bureaucracies and their political allies, including the Left Front and the New Anti-capitalist Party. The current so-called radical turn of the CGT, layers of which are now publicly calling for strike action against the PS, will prove to be a political trap and dead end for workers seeking to fight the Socialist Party's policies.

CGT leader Philippe Martinez is pushing the union to adopt demands that are emerging spontaneously among workers, partly to better position the CGT against competing union bureaucracies, but above all to avoid a rebellion of the working class against the entire political setup and confine the workers to the straitjacket of a national struggle.

Le Monde analyzed his strategy yesterday as follows: "Without calling for a general strike, he calls for renewable strike action… Perpetually in crisis, weakened in its traditional bastions of support, threatened with losing its place as France's biggest union to the [pro-PS] French Democratic Labor Confederation in 2017, the CGT is playing for high stakes."

The union bureaucracies themselves are longstanding political instruments of the same ruling class and political establishment against which the working class is mobilizing in struggle. For four years following the election of a PS government in 2012, they organized no opposition to the government's savage austerity policies, including the initial negotiation of the labor law.

Dependent on corporate and state financing for 95 percent of their budgets, they are not workers' organizations, but hollow shells dominated by the financial aristocracy. They will prove not only incapable of leading a longer-term opposition to the PS, but utterly hostile to the explosive opposition that is now emerging in the working class to the PS and the EU.

Police wounded, scores arrested as French labour protests turn violent against "labor reform" pushed by French Socialist Party

Police wounded, scores arrested as French labour protests turn violent

https://www.yahoo.com/news/fresh-protests-strikes-france-over-labour-bill-154235212.html?nhp=1&soc_src=mail&soc_trk=ma

Dominique Brule and Gina Doggett

AFP

April 28, 2016

A car burns during a demonstration against the French government's proposed labour reforms in Nantes on April 28, 2016 (AFP Photo/Loic Venance)

More

Paris (AFP) - Two dozen police officers were wounded Thursday, three of them seriously, as violence flared in protests across France against a hotly contested labour reforms bill.

Security forces in Paris responded with teargas as masked youths threw bottles and cobblestones, leaving three policemen with serious injuries, Interior Minister Bernard Cazeneuve said, adding that 24 police were injured overall.

Clashes between police and protesters also erupted in the cities of Nantes, Lyon, Marseille and Toulouse, with 124 people arrested nationwide, Cazeneuve said in Lyon.

Prime Minister Manuel Valls strongly condemned the unrest, which he blamed on "an irresponsible minority". "They will be brought to justice. Support to the police," he wrote on Twitter.

Paris police chief Michel Cadot said highly organised "groups of hooligans" were behind the "inexcusable acts of violence".

The clashes came as at least 170,000 workers and students took to streets nationwide Thursday in a new push for the withdrawal of the proposed labour law.

The demonstrations as well as work stoppages, notably in the aviation and public transport sectors, were the latest actions in a protest wave that began two months ago and has proved a major headache for the French government.

Opponents of the labour reform, billed as an effort to reduce chronic unemployment -- which stands at 10 percent overall -- say it will threaten cherished workers' rights and deepen job insecurity for young people.

"Be Young and Shut Up!" read one banner at a protest in southwestern Toulouse, highlighting the frustration of youths facing an unemployment rate of 25 percent.

"Over the past 10 years or so things have deteriorated horribly for young people," said retiree Gilles Cavaliere at the Lyon protest.

Also Thursday, striking aviation workers caused one in five flights to be cancelled at Paris's Orly airport, while delays were reported at Charles de Gaulle airport.

And newsstands were devoid of national dailies after printers downed tools.

- Bill expected to pass -

The unions and student organisations plan to pile on the pressure with further protests on Sunday to mark the May Day labour holiday, as well as next Tuesday, when parliament begins debating the bill.

Christophe Sirugue, the Socialist lawmaker who is presenting the bill to parliament after it was reviewed in committee, said Thursday that several points still needed "clarification" but that he expected the bill to pass.

Among the remaining issues are measures to make it easier to lay off workers in lean times, and whether employers should still be allowed to shed workers if conditions are depressed in their overseas operations and not just in France.

Another is a proposed surtax on short-term contracts aimed at getting employers to hire more people on permanent contracts, Sirugue told reporters.

Young people have been at the forefront of the protest movement, with many young workers stuck on short-term contracts or internships while hoping to secure a permanent job.

Protests against the reform kicked off on March 9, culminating in massive demonstrations on March 31 that brought 390,000 people on to the streets, according to an official count. Organisers put the number at 1.2 million.

The CGT union said Thursday's marches and rallies drew half a million people.

The protests spawned a new youth-led movement called "Nuit Debout" (Up All Night), which has seen advocates of a broad spectrum of causes gather in city squares at night for the past four weeks to demand change, though attendance has been dwindling in recent days.

With little more than a year left in his mandate, France's deeply unpopular President Francois Hollande has been banking on the labour reform as a standout initiative with which to defend his record.

But in the face of the protests his Socialist government has watered down the labour reforms -- only to anger bosses while failing to assuage workers.

"The current bill, which is totally unacceptable, spells insecurity and social setbacks for workers and youths," a joint union statement said.

Added to the calendar on Wednesday Jun 8th, 2016 2:49 PM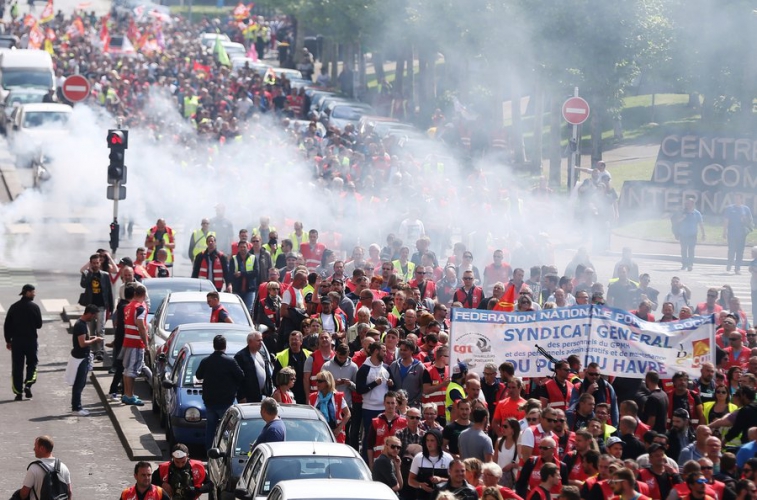 Hundreds of thousands of French workers, students and youth will be joining the general strike on June 14, 2016
The corporate controlled French government and the union busting EU wants to deregulate and privatize the ports in France and Europe. Dockworkers are fighting to protect their union and health and safety.
We are 100% volunteer and depend on your participation to sustain our efforts!
Get Involved
If you'd like to help with maintaining or developing the website, contact us.