From the Open-Publishing Calendar
From the Open-Publishing Newswire
Indybay Feature
A Tribute to Our Friend, Photographer and Organizer Bob Fitch
Beyond doing the dishes, photography was Bob's skill that he could offer – and he did so with incredibly regularity and personal sacrifice over many decades. He understood that by taking photos, he was providing a service, allowing a more true story to be heard, amidst the spin of our opponents and distortion of the mainstream media. He knew that his job was to show up, "keep his mouth shut," and "DFIU" (don't 'mess' it up). His approach, in turn, engendered a deep level of trust by almost all with whom Bob worked – to the point that they would open up their lives, families and struggles for Bob to document. This makes Bob's photographic archives (now stored at
Stanford University
, free for all to download and print – at his insistence) one of the most incredible and deeply personal records of social movement history in the U.S. over the past 50 years.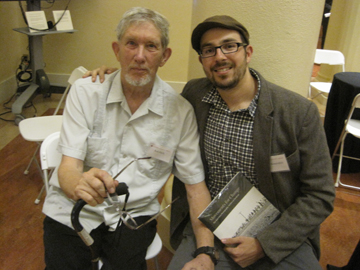 [ Bob Fitch and Josh Sonnenfeld at Stanford University, 2015 ]
A Tribute to Our Friend, Photographer and Organizer Bob Fitch
By Josh Sonnenfeld
There are two images that come to mind when I think of Bob. The first is of Bob, on the ground, with his back on the pavement of a road somewhere in between the California farming communities of Watsonville and Salinas, clutching his camera in his hands, capturing photo after photo as hundreds of people march over him – part of a "Peregrinación Por La Paz" – pilgrimage for peace, for immigrant rights, and against militarism. This was during the height of the latest Iraq war in the mid-2000's. The march was led by Fernando Suarez del Solar, the grieving father of a Marine who died in Iraq, who committed his life to make sure no parent ever had to feel the way that he did. I had come along on the trip with Bob, acting as both an assistant and a fellow photographer, but mostly just as a friend, and I was slightly terrified seeing my then 65-year-old friend on the ground, at risk of being trampled.
Bob always told me that, "You've got to get closer" to those you are taking pictures of. He meant that both physically, in this case, but also, I believe, emotionally. To him, his life-long commitment to social justice and community wasn't just a political act or a profession – it was a deep act of love. Those that he struggled alongside over many years – through the civil rights movement, peace movement, farm workers movement, Catholic workers movement, and many others – weren't just allies, they were his friends, his lovers, his family.
Documenting these movements to him, was ultimately about documenting people. Everyday people of all ages and backgrounds who did courageous things – who faced down police, the Klu Klux Klan, and armed thugs – but also people who, like all of us, had real flaws: ego, infidelity and chauvinism, shortsightedness and more. Bob understood that our movement leaders, people like Dr. Martin Luther King Jr., Cesar Chavez, Dorothy Day, Fathers Phillip and Daniel Berrigan, Joan Baez, and many others were both extraordinary people, and also real people – people who laughed, and cried, goofed around, and who made mistakes. Bob also knew that these leaders came out of a particular social context, and that movements were made up of thousands of people – thousands of leaders – whose names most of us will never know. Bob made it his life's mission to tell the stories of not just those leaders whose names are remembered, but also the "foot soldiers" of these movements that transformed American life.
In many ways Bob was one of those foot soldiers himself. Experiencing some of the most transformative moments of mid-to-late 20th century history in the U.S. through the lens of a camera, Bob was an incredible and savvy observer. He understood how these movements were organized, the personal struggles and success stories of our leaders and their families, and also the magic that could be produced from "movement moments" – those times when the distance between reality and what is possible come closest – such as the March on Washington in 1963, where Bob took one of several iconic photographs of Dr. King.
When I met Bob as a 17 year-old high school senior in the run-up to the Iraq war, Bob had gone beyond the camera and was applying the lessons he had learned through many years as a staff member for the Resource Center for Nonviolence in Santa Cruz, California. With a keen eye for leadership, Bob spotted me as I was working with my fellow high school students to convince our school board to limit military recruitment on campus. Bob quickly pulled me under his wing, and over the next several years, taught me much of what I know about community organizing, and about friendship. A constant learner and reader, Bob gave me my first books on organizing – classics such as Saul Alinsky's "Rules for Radicals", George Lakoff's "Don't Think of an Elephant," and, most impactful on me, "The Long Haul," the autobiography of Myles Horton, the founder of the Highlander Folk School, which has trained generations of organizers since its founding in the early 1930's. More than just sharing books, however, Bob was a storyteller, sharing with me and many others the many lessons that he picked up from the variety of movements that he was a part of.
One of the best lessons I learned from Bob, however, was not about how to be a strategist, or effectively pressure decision-makers, but about how to show up. Bob understood the responsibility that came along with being a person of privilege (or, as he would describe himself, "a big, loud white guy") in a society with deep levels of oppression, and saw the real need – and incredible power – when leadership came from the communities most impacted by the problems we face. He believed that the best way for a person of privilege to support community struggles is to show up, do the dirty work (stacking chairs, washing dishes), and to have a skill to offer that could be of use by the community. Like all good teachers, Bob gave this lesson most by his own example – and I struggle to remember any event Bob and I went to where he didn't end the night with a mop in his hand, or happily moving tables from one side of the room to the other.
Beyond doing the dishes, photography was Bob's skill that he could offer – and he did so with incredibly regularity and personal sacrifice over many decades. He understood that by taking photos, he was providing a service, allowing a more true story to be heard, amidst the spin of our opponents and distortion of the mainstream media. He knew that his job was to show up, "keep his mouth shut," and "DFIU" (don't 'mess' it up). His approach, in turn, engendered a deep level of trust by almost all with whom Bob worked – to the point that they would open up their lives, families and struggles for Bob to document. This makes Bob's photographic archives (now stored at Stanford University, free for all to download and print – at his insistence) one of the most incredible and deeply personal records of social movement history in the U.S. over the past 50 years.
The second image that comes to mind when I think of Bob is of that grin. Bob was always so full of life, and "mischievousness" as he liked to describe it. He took Emma Goldman's quote," If I can't dance, I don't want to be part of your revolution" literally – and any efforts he was going to be involved in certainly was going to involve a lot of dancing. Bob was a contra dancer for decades at his local granges, but more than anything he was a constant jokester. I can't think of Bob without smiling and laughing, because that's pretty much what I was doing the whole time we were together. He had an infectious spirit, and incredible energy – dancing, playing guitar, singing, and boogie boarding in the Monterey Bay until his Parkinson's eventually got in the way. His humorous spirit was also incredibly disarming, crossing cultural and linguistic boundaries, and building friendship and trust wherever he went.
I trust that for many decades, I will continue to meet friends of Bob's that I never knew he had – each one with an incredible story to share about how they met him, a lesson that they learned from him, and a deep appreciation for this man who gave so much to so many, and whose images and impact will be seen and felt for many generations to come. We love you, Bob.
Bob Fitch, ¡présente!
—
Josh Sonnenfeld is a graduate of the University of California, Santa Cruz, and is a former staff member of the Resource Center for Nonviolence. He lives with his wife Rachelle in Oakland, California, where he works with the Sierra Club to build powerful movements to protect the places and that we love.
We are 100% volunteer and depend on your participation to sustain our efforts!
Get Involved
If you'd like to help with maintaining or developing the website, contact us.