From the Open-Publishing Calendar
From the Open-Publishing Newswire
Indybay Feature
UN Official Receives Formal Complaint from Solitary Prisoners' Family Members & Advocates
CA – After months of public outcry, California Families Against Solitary Confinement (CFASC) and the Prisoner Hunger Strike Solidarity Coalition (PHSS) have submitted a formal complaint to Juan Mendez, the UN Special Rapporteur on Torture and Other Cruel, Inhuman, and Degrading Treatment or Punishment condemning the California Department of Corrections and Rehabilitation's (CDCR) jarringly noisy and disruptive "security/welfare checks" in Pelican Bay State Prison's Security Housing Units (PB-SHU). These checks, which started on August 2, 2015, have deprived the prisoners of sleep for eight months, amounting to what is widely recognized as a form of torture. The complaint was submitted last week, on Thursday, March 24.
One prisoner recently stated that being in PB-SHU with these checks "is like a construction site all night. It is horrible. It really is torture." Another wrote, "For decades, military and police forces have used extreme isolation, sleep deprivation, and constant banging/noise to cause mental/physical torment and try to break a person's mind or human will to resist questioning. These are so-called clean torture methods."
The complaint to Mendez includes reports from interviews with PB-SHU prisoners conducted over a six-month period by Carol Strickman, Staff Attorney at Legal Services for Prisoners with Children. Additionally, Mendez was provided with statements by sleep experts Dr. Thomas Roth and Dr. Jamie Zeitzer, by psychiatrist Dr. Terry Kupers, and by the American Public Health Association's Jail and Prison Health Committee about the impact of sleep deprivation on mental health – all who have condemned the "security/welfare checks." Internationally recognized sleep expert Dr. Zeitzer explains in his October 2015 report, "The negative health consequences of inadequate sleep have been extensively documented and nowhere in the literature is there a report on as severe a disruption in sleep as is occurring in the Pelican Bay SHU."
"My son doesn't have the energy to exercise, write, or draw nearly as much since the checks started. He used to write me letters 2-3 times a week; now maybe once a week, and only a few lines," says Grace A., a member of CFASC and whose son is in PB-SHU. "He has hardly been able to sleep since early August, but is fighting to stay strong. I tell him 'You are not alone.'"
Checks in PB-SHU have reportedly subjected prisoners in small concrete cells to the reverberating "boom" of steel unit doors opening and slamming shut, guards stomping up and downstairs through pods that echo, rattling keys and chains, striking Guard One metal pipes on cells, banging metal buttons to beep loudly at each cell, and shining flashlights into people's eyes. The checks are done around-the-clock every half hour, 40-48 times a day, and many prisoners are reporting serious physical and psychological harm. The people suffering the "security/welfare checks" spend 23-24 hours a day in solitary cells, so the noise and intrusion is unavoidable. Interruption or deprivation of sleep increases risk of numerous chronic and potentially terminal conditions, including brain deterioration, diabetes, cardiovascular disease, strokes, heart attacks, and certain cancers.
Pursuant to a lawsuit, Coleman v. Brown, brought against CDCR for inadequate mental health treatment, the checks have been implemented, purportedly as suicide prevention. Instead, prisoners and experts argue that the checks are causing serious debilitating psychological and physical problems.
Verbena Lea from PHSS says, "In the Coleman case, the federal judge, special master, attorneys , as well as the 'suicide expert,' need to realize they were wrong and say, 'While we may have believed these checks would be helpful, they are causing sleep deprivation in PB-SHU. Sleep deprivation is torture, so the checks must stop.'"
Mendez has made ongoing requests to the US government over the past four years to be allowed access into federal and state prisons. The US has denied his requests. However, Mr. Mendez did visit PB-SHU as an expert witness for prisoner plaintiffs in a recent class action lawsuit against long term solitary confinement, Ashker v. Brown. Mendez's report from that visit, along with other expert reports, significantly bolstered the case against CDCR that ultimately settled – claimed by prisoners as an historic victory. The settlement has led to thousands of people being released from solitary after many years, the prohibition of indefinite solitary terms, and limits on who, why, and how long people can be put in such isolation. Regarding the sleep deprivation in PB-SHU, the complaint to Mendez states, "Conditions for prisoners there have worsened since your visit in December, 2014."
https://prisonerhungerstrikesolidarity.wordpress.com/2016/03/31/stop-the-torture-un-official-receives-formal-complaint-from-solitary-prisoners-family-members-and-advocates/
Prisoner Hunger Strike Solidarity
https://prisonerhungerstrikesolidarity.wordpress.com/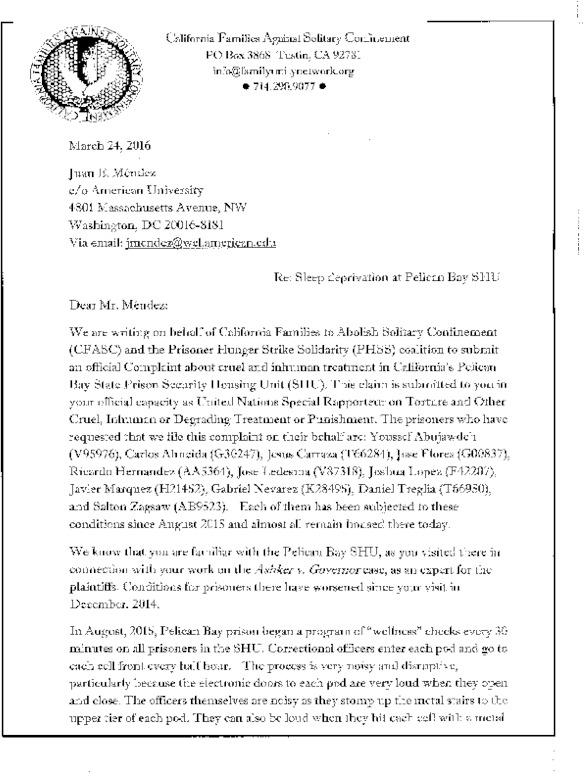 We are 100% volunteer and depend on your participation to sustain our efforts!
Get Involved
If you'd like to help with maintaining or developing the website, contact us.