From the Open-Publishing Calendar
From the Open-Publishing Newswire
Indybay Feature
Contact City and Seaside Company to Halt Destruction in Beach Flats Garden
A bulldozer rumbled into the Beach Flats Garden early Thursday morning, March 24, tearing out mature fruit trees and nopales plants that city staff had earlier promised would not be touched, and damaging an already strained relationship between the City and community.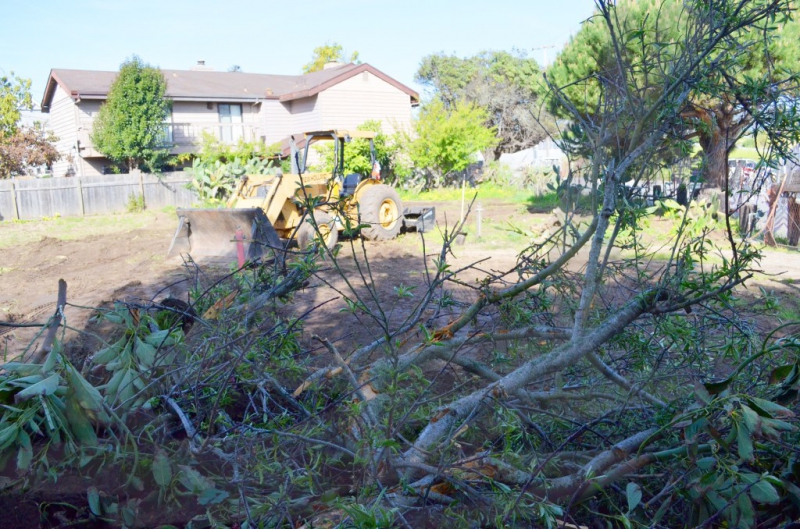 (For more images, see
The Day the Bulldozers Came
)
Parks workers ripped out stakes and string marking out garden plots, and moved the orange fence marking the 60/40 percent split between the garden and land to be taken over by the Seaside Company, increasing the company's share substantially.
When contacted by garden advocates, interim Parks and Recreation director Mauro Garcia claimed the destruction of fruit trees and other plants was a "mistake" due to "miscommunication."
Emilio Martínez Castañeda, a long-time gardener involved in the talks with city staff, was saddened by the destruction and blatant violation of trust on the part of Garcia.
"The city is going back on their word by moving the fence and removing plots," Don Emilio said, through a translator. "As for the fruit trees, Mauro's asking for forgiveness, but what good is forgiveness after they've been destroyed?"
Those of us in the coalition of jardineros and garden supporters have spent many hours in meetings with city staff and Seaside company and have heard with our own ears the promises made to the gardeners that have now been bulldozed to the ground. Please join your voices with us to insist that the city abide by its promises to the gardeners.
Don't Mourn— Organize! Here's what you can do:
1. Share
this post
from our website on social media (see share links at the bottom of the page)
2. If you are on twitter, tweet your thoughts to
@beachboardwalk
,
@CityofSantaCruz
and
@jardindelaplaya
, include
#savethejardin
3. Call Seaside Company representatives and ask them if they approved the bulldozing of the garden, removal of 5 plots, and going back on the promise to lease 60% of the garden
Brigid Fuller, Communications Manager
publicity [at] beachboardwalk.com
(831) 460-334
Karl Rice, President/CFO Santa Cruz Seaside Company:(831) 423-5590
Kris Reyes, Director of External Affairs Santa Cruz Seaside Company:(831) 423-5590
4. Call or email council members, city manager, and Seaside Company to let them know what you think of this violation of the community's trust.
Points you could address in your phone call:
* The new division of land and removal of five garden plots, including the children's learning garden, must not be allowed to stand.
* The actions taken by the Parks and Recreation Department are in direct contradiction to promises made to the gardeners.
* City staff need to take immediate steps to restore community trust, including release of an official apology and repaying gardeners for the damaged property.
* The city recently solicited input from citizens as to what qualifications and characteristics to look for in the new Director of Parks and Recreation. Let the city manager know whether you feel Mauro Garcia has demonstrated the qualities needed to be a successful parks director for our community.
City Manager Martin Bernal: 831-420-5010
mbernal [at] cityofsantacruz.com
Mayor Cynthia Mathews: (831) 420-5027
cmathews [at] cityofsantacruz.com
City Council:
Santa Cruz City Council:
citycouncil [at] cityofsantacruz.com
Vice Mayor Cynthia Chase: (831) 420-5020
chase [at] cityofsantacruz.com
Micah Posner (831) 420-5028
mposner [at] cityofsantacruz.com
David Terrazas (831) 420-5020
dterrazas [at] cityofsantacruz.com
Pamela Comstock (831) 420-5024
pcomstock [at] cityofsantacruz.com
Don Lane: (831) 420-5022
dlane [at] cityofsantacruz.com
Richelle Noroyan (831) 420-5025
rnoroyan [at] cityofsantacruz.com
We are 100% volunteer and depend on your participation to sustain our efforts!
Get Involved
If you'd like to help with maintaining or developing the website, contact us.