From the Open-Publishing Calendar
From the Open-Publishing Newswire
Indybay Feature
Acidization Study Finds Oil Companies Using Dozens of Hazardous Chemicals in CA Wells
LOS ANGELES, March 18, 2016 — Oil companies use dozens of extremely hazardous chemicals to acidize wells in California, raising water contamination and public-safety concerns, according to a new study in the Journal of Toxicological and Environmental Chemistry.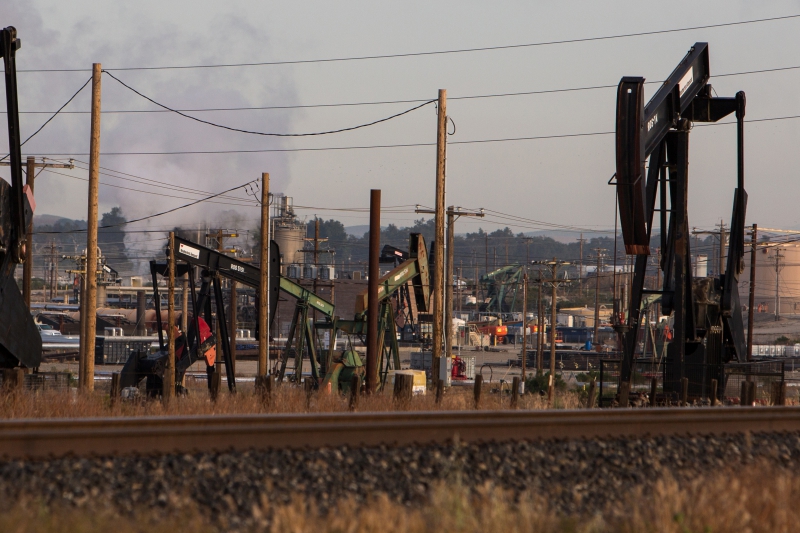 The University of California-Los Angeles study, which has national significance because it seems to be the first ever to examine the toxicity of acidization chemicals, finds that almost 200 different chemicals have been used in the process, which is frequently employed in urban areas of Los Angeles County.
Researchers at UCLA's Institute of the Environment and Sustainability found that at least 28 of these substances are F-graded hazardous chemicals — carcinogens, mutagens, reproductive toxins, developmental toxins, endocrine disruptors or high acute toxicity chemicals. Hydrofluoric acid, for example, is acutely toxic, and exposure to fumes or very short-term contact with its liquid form can cause severe burns.
"This disturbing study is a wake-up call to every Californian living near an oil well," said Hollin Kretzmann, an attorney with the Center for Biological Diversity. "The oil industry's use of cancer-causing chemicals to acidize near homes and schools is an unacceptable threat to public health. State oil officials don't regulate this dangerous practice, and we need strong action to protect our water and air from contamination risks."
Acidizing is one of the most widely used processes for stimulating oil and gas wells, according to the American Petroleum Institute, but this appears to be the first scientific study ever to closely examine the toxicity of chemicals used in the process. California is the only state requiring public disclosure of acidizing chemicals, and that disclosure only began recently.
Researchers found more than 600 instances of acidizing in South and Central California from 2013 to 2015. Well records maintained by the Division of Oil, Gas and Geothermal Resources show that many acidized wells in California are within a few hundred feet of homes.
The study notes that acidizing chemicals can make up as much as 18 percent of the fluid used in these procedures. Each acidization, researchers note, can use as much as hundreds of thousands of pounds of some chemicals. In the case of highly toxic substances like hydrofluoric acid, large volumes could threaten public safety. "Transport and storage of such large quantities of HF prior to use are serious concerns," researchers note.
Chemicals used in acidization threaten water supplies in many ways, the study says. Oil wastewater is routinely dumped into unlined pits in the Central Valley, and considerable quantities of this fluid have been injected into disposal wells operating in protected aquifers.
Spills can also contaminate water. Over a recent five-year period, the study notes, "423 surface spills at oil and gas fields in California released nearly 2.8 million gallons of wastewater, or an average of 6,500 gallons per incident."
Photo: San Ardo Oil Fields | San Ardo, California, by Drew Bird Photography, Copyright ©2015
http://www.drewbirdphoto.com
Photo my be reproduced, please Credit the Following: ©2015
http://www.drewbirdphoto.com
The Center for Biological Diversity is a national, nonprofit conservation organization with more than 990,000 members and online activists dedicated to the protection of endangered species and wild places.
http://www.biologicaldiversity.org/news/press_releases/2016/well-acidization-03-18-2016.html
Center for Biological Diversity
http://www.biologicaldiversity.org/
We are 100% volunteer and depend on your participation to sustain our efforts!
Get Involved
If you'd like to help with maintaining or developing the website, contact us.