From the Open-Publishing Calendar
From the Open-Publishing Newswire
Indybay Feature
Fire Katehi: Students occupying UC Davis refuse to back down after 5 days
Students at UC Davis have been occupying Chancellor Linda Katehi's office for 5 days now. They have held tight since Friday, March 11, demanding that Katehi resign or be fired. Administrators have escalated their response with threats of suspension and even expulsion if occupiers do not vacate the building. Public Wi-Fi has now been turned off, making it more difficult for students to communicate with the outside world. The students camped out on the fifth floor of Mrak Hall, however, are holding strong, refusing to budge until Katehi is gone.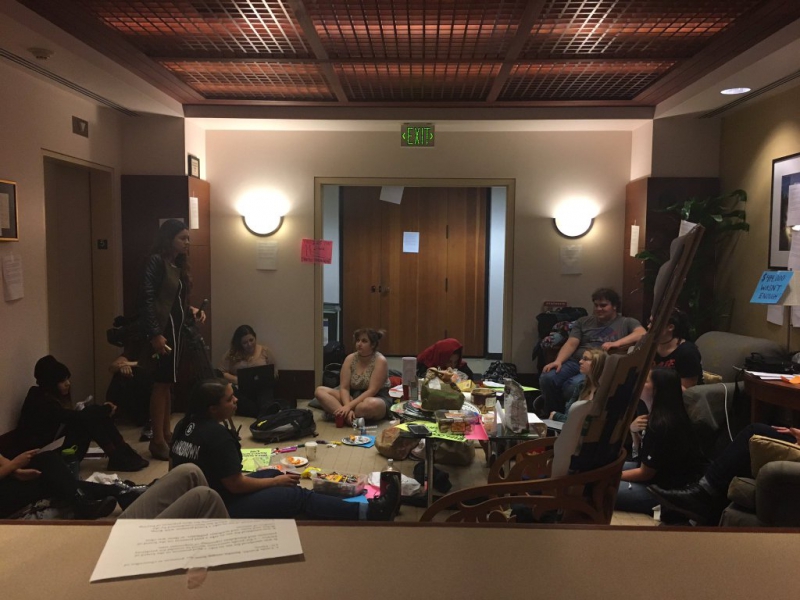 [Photos by UC Davis student
Sarah سارة
.]
Student statement on the occupation:
Why are we here?
We, the informed community of UC Davis, are here occupying the fifth floor of Mrak Hall in order to demand that Chancellor Linda Katehi resigns or is fired, and that the hiring process is redesigned so that UC Davis students and workers are not only a part of this process, but a major deciding body in the selection and confirmation of a new Chancellor.
We want to acknowledge that this land, office, and university we are occupying is on stolen Patwin land, and rightfully belongs to the Patwin people.
Why do we want Linda Katehi removed?
The recent discovery of Katehi's positions on the board of DeVry University, King Abdulaziz University, and Wiley & Sons textbook company are not only a conflict of interest, but an indication of Katehi's insatiable drive for money and power that have consistently come at the expense of UC Davis students and community, and most specifically from black and brown folks both on and off campus. These recent board positions that have associated her, and the University as a whole, with controversial and problematic institutions have also augmented her current salary of $414,000 annually to include an additional $420,000 from 2012-2014 from Wiley and Sons and are reflective of a longer history of problematic behavior by Chancellor Katehi including, but not limited to:
— Failing to appropriately address anti-Blackness and Islamophobia on campus
— Blocking the proposal to divest from companies that perpetuate the Israeli occupation of Palestine
— Increasing police presence on campus, as well as, the militarization of their weapons and equipment
— Ignoring hate crimes
— Personally blocking the request for foot sinks in the SCC, and furthering Islamophobic behavior and policy on campus
— Allowing for the pepper spraying of student protestors during the Occupy movement on campus in 2011
Recent Developments:
Instead of coming to meet with the students, Katehi has responded by pursuing action through the Office of Student Support and Judicial Affairs and with a threat of possible dismissal from the university for those involved.
Furthermore, she has not only refused to come meet with us, she has refused to even speak with us directly and has thus forced multiple campus administrators and staff to forfeit their time to speak and stay with us at Mrak Hall—not to mention the great amount of time and stress being forfeited by us.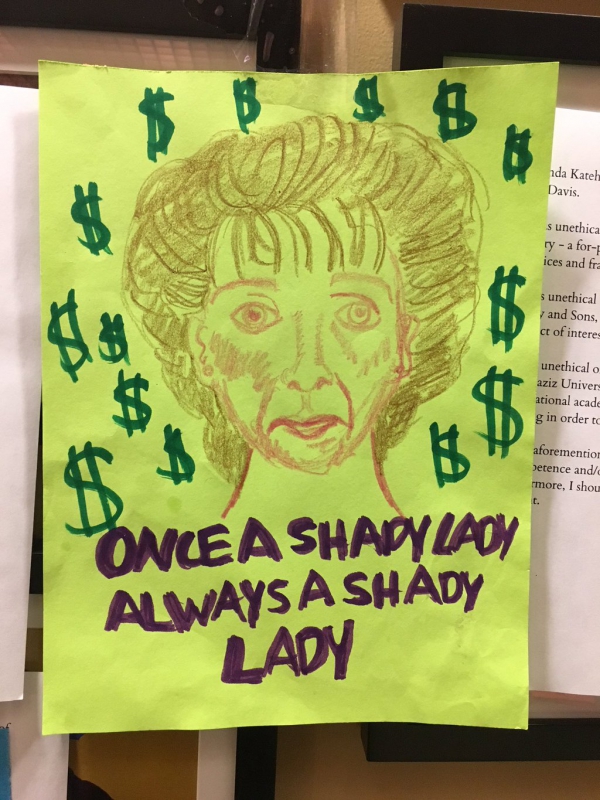 Fellow Students of UC Davis,

The representatives of The Associated Students of the University of California, Davis, (ASUCD) support our fellow students, currently occupying the 5th floor of Mrak Hall. Their actions have been selfless, especially amidst the duress of finals week. We urge Chancellor Katehi to release an in person statement as soon as possible and address the needs of those students currently occupying Mrak Hall. The mental health, study time, and overall safety of the occupying students has been compromised as a result of the Chancellor's delay.

Sincerely,

Georgia Savage, Senate President Pro Tempore
Abhay Sandhu, ASUCD Vice President
Alex Lee, ASUCD President
We, the Portland State University Student Union, want to express our deep solidarity with the ongoing student and worker occupation of UC Davis.

UC Davis Chancellor Katehi is being derided widely for her Board positions on for-profit Devry University and Wiley and Sons textbook company. She has since resigned amid pressure, but we believe she is representative of a larger trend of flagrant corporatizing in public institutions of higher education. This coalition is bravely moving beyond just derision. Fueled by previous fights against campus militarization, they are sacrificing their time and comfort to shut down business as usual for the advancement of democracy at the university. For this, Katehi is leading a charge to have them expelled for civil disobedience.

#FireKatehi #disarmUC

Our struggles are inextricably linked. Our own university president Wim Wiewel has literally written the book on 'The University as Urban Developer'. His own consulting business overlapping with university affairs has been hotly publicized in the news. So has his salary and luxury benefits package. Low wage workers and students of color have long spoken out against budgetary priorities and campus militarization.
#PovertyStateUniversity #disarmPSU

We too have been issued threats of disciplinary action for civil disobedience. We condemn both university administrations for their attempts to squelch dissent. We ask any and all people near either cities, Davis, California and Portland, Oregon, to support student protest.

We join these students in their call for the resignation of Chancellor Katehi,

Portland State University Student Union
We are 100% volunteer and depend on your participation to sustain our efforts!
Get Involved
If you'd like to help with maintaining or developing the website, contact us.