From the Open-Publishing Calendar
From the Open-Publishing Newswire
Indybay Feature
Apple's social plan to beat Facebook
Apple has a plan to create social networks automatically from it's massive iMessage traffic. A patent has been filed, and the infrastructure is in place. Could a shift of power from Menlo Park to Cupertino be in the works?
INDYRADIO ((17feb16) Challenging the legendary superficiality of Facebook "friends" and groups", Apple plans to leverage it's huge messaging base to create a new social media posing a direct challenge not only to Facebook, but to all major players in social media. So says Ophir Gottlieb of Capital Market Laboratories, with an analysis based on an Apple patent filings combined with Apple's massive volume of messaging - which is tracked and analyzed. According to Gottlieb, "Apple is automatically forming social networks. Apple is not only tracking where people eat and shop, they are targeting ride sharing as well – social networks automatically created around where people tend to travel."
Eddy Cue reports directly to Apple CEO Tim Cook, as the company's senior VP in charge of Internet Software and Services. On Thursday, 11feb16, he was interviewed by John Gruber of "The Talk Show"  What Business Insider took home from the interview was the "absurd" volume of Apple's iMessage service. "We peak out at 200,000 messages a second," says Cue. That's quadrillions of messages each day.
Last year, Apple patented a method for creating social networks that could leverage tracking information they receive from these messages. (do you ever think to protect your metadata, or consider it's value? Apple does!). In the abstract from Apple's patent filing, Gottlieb highlights:
Techniques for lifestyle-based social groups are described. The system can create a social group based on lifestyle and the meaning of location.

The social group can be an ad hoc social network.

We'll return after a message from the sponsor of "The Talk Show". Demonstrating the reality of tracking is the "new" startup meh.com - which was originally incarnated as "woot" and sold to Amazon. Now, they're drawing in an alternative crowd of visitors as they restart. But the graphic from the front page is borrowed just to remind of the game that continues while you casually cruise the ether. You are tracked! Your every move is valuable as one of the millions, billions of potential customers for services that you don't yet know you absolutely need.
(see screencap below, followed by the graphic version of Apple's patent filing)
The key to Apple's plan is not to merely rely on information provided by new members of a social site, but to use the data provided by their actions, which have been tracked through messaging:
"The system can create ad hoc and anonymous social groups. The social groups can be based on similar activities and interests of members, even if the members do not post the activities and interests on a social networking website. The system can invite a user to join the social group as an anonymous member based on a location of the user and a movement pattern of the user. " USPTO
INDYRADIO The future of radio belongs to us.
Stream more IndyRadio playlists at http://ch0.us and http://rd0.org
"The Talk Show" featuring Apple's Eddy Cue was sponsored by a "meh" dot com, which boldly proclaims the secret of it's success.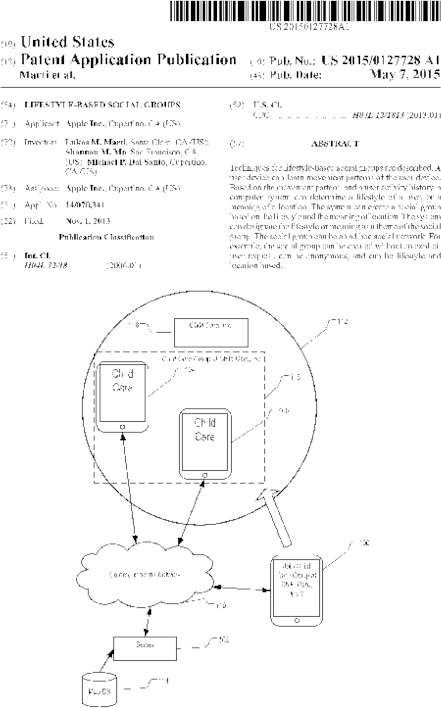 Graphics from Apple's patent. "A user device can learn movement patterns of the user device. Based on the movement pattern, and a user activity history, a computer system can determine a lifestyle of a user or meaning of a location. The system can create a social group based on the lifestyle and the meaning of the location."
We are 100% volunteer and depend on your participation to sustain our efforts!
Get Involved
If you'd like to help with maintaining or developing the website, contact us.