From the Open-Publishing Calendar
From the Open-Publishing Newswire
Indybay Feature
California Legislators Urged to Oppose Anti-Boycott Bills
On February 11, 2016, the Center for Constitutional Rights, the National Lawyers Guild, and Palestine Legal sent a memorandum to California lawmakers regarding anti-boycott bills pending in the state assembly that threaten core First Amendment-protected activity and raise serious due process concerns.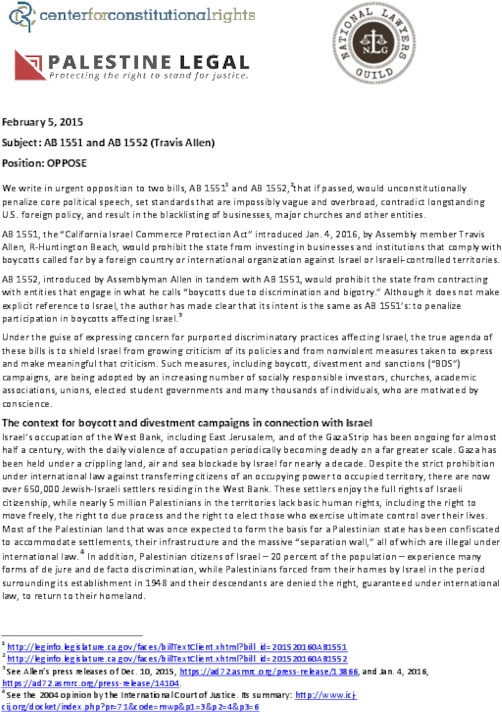 The recently introduced bills would prevent the state from investing in entities that comply with boycotts of Israel (AB 1551) and from contracting with entities that engage in "discriminatory" boycotts (AB 1552).
These legislative efforts are part of a growing trend to introduce anti-boycott legislation in numerous states and the U.S. Congress. For more information about other efforts to suppress First Amendment-protected activities in support of Palestinian human rights, including other legislative efforts to restrict the Boycott, Divestment and Sanctions movement, see CCR and Palestine Legal's report,
The Palestine Exception to Free Speech: A Movement Under Attack in the U.S.
-----------------------------------------
February 5, 2015
Subject: AB 1551 and AB 1552 (Travis Allen)
Position: OPPOSE
We write in urgent opposition to two bills, AB 1551[1] and AB 1552,[2] that if passed, would unconstitutionally penalize core political speech, set standards that are impossibly vague and overbroad, contradict longstanding U.S. foreign policy, and result in the blacklisting of businesses, major churches and other entities.
AB 1551, the "California Israel Commerce Protection Act" introduced Jan. 4, 2016, by Assembly member Travis Allen, R-Huntington Beach, would prohibit the state from investing in businesses and institutions that comply with boycotts called for by a foreign country or international organization against Israel or Israeli-controlled territories. AB 1552, introduced by Assemblyman Allen in tandem with AB 1551, would prohibit the state from contracting with entities that engage in what he calls "boycotts due to discrimination and bigotry."
Although it does not make explicit reference to Israel, the author has made clear that its intent is the same as AB 1551's: to penalize participation in boycotts affecting Israel.[3]
Under the guise of expressing concern for purported discriminatory practices affecting Israel, the true agenda of these bills is to shield Israel from growing criticism of its policies and from nonviolent measures taken to express and make meaningful that criticism. Such measures, including boycott, divestment and sanctions ("BDS") campaigns, are being adopted by an increasing number of socially responsible investors, churches, academic associations, unions, elected student governments and many thousands of individuals, who are motivated by conscience.
The context for boycott and divestment campaigns in connection with Israel Israel's occupation of the West Bank, including East Jerusalem, and of the Gaza Strip has been ongoing for almost half a century, with the daily violence of occupation periodically becoming deadly on a far greater scale. Gaza has been held under a crippling land, air and sea blockade by Israel for nearly a decade. Despite the strict prohibition
under international law against transferring citizens of an occupying power to occupied territory, there are now over 650,000 Jewish-Israeli settlers residing in the West Bank. These settlers enjoy the full rights of Israeli citizenship, while nearly 5 million Palestinians in the territories lack basic human rights, including the right to move freely, the right to due process and the right to elect those who exercise ultimate control over their lives.
Most of the Palestinian land that was once expected to form the basis for a Palestinian state has been confiscated to accommodate settlements, their infrastructure and the massive "separation wall," all of which are illegal under international law.[4] In addition, Palestinian citizens of Israel – 20 percent of the population – experience many forms of de jure and de facto discrimination, while Palestinians forced from their homes by Israel in the period surrounding its establishment in 1948 and their descendants are denied the right, guaranteed under international law, to return to their homeland.
Despite abundant documentation and condemnation of Israeli policies by the United Nations and virtually every major human rights organization in the world, the global community has failed to hold Israel accountable and to enforce compliance with international law.
Because of this, in 2005 some 170 Palestinian civil society organizations called upon people of conscience throughout the world to engage in a grassroots campaign to implement nonviolent boycotts against and divestment from companies and institutions that perpetuate these human rights violations and to demand sanctions against Israel until Palestinian rights are recognized in full.
Many thousands of people and organizations worldwide have responded by embracing a variety of strategies as a way to peacefully pressure Israel to end its human rights violations and to influence public opinion in favor of Palestinian rights. These campaigns have undoubtedly been controversial, and they have begun to bear fruit, to a small extent economically and much more so in the court of public opinion. Major church denominations have voted to boycott products from illegal settlements and/or divest from Israeli and multinational corporations whose actions and profits are tied to the occupation. Numerous student governments, unions and academic associations have declared their support. Some large corporations, under pressure from public outcry, have ended their involvement with Israel's occupation.
The government of Israel and its supporters in the United States and Europe are engaged in a concerted campaign
to stifle and suppress activism for Palestinian human rights.[5] They are pressing for legislation at the federal, state and local levels to unconstitutionally punish people who support this nonviolent political movement. AB 1551 and AB 1552 are part of this campaign of repression.
Boycotts are political speech and therefore must be accorded the highest level of First Amendment protection
Boycotts in pursuit of political aims are an integral part of American history. From the original Boston Tea Party protest have followed other transformative campaigns such as the Montgomery bus boycott against segregation, the grape boycott in support of farm labor rights, boycotts of companies and institutions enabling South African apartheid, and current divestment campaigns against fossil fuel and private prison companies. All of these boycotts were controversial when first proposed by small groups of activists. Eventually, all came to win widespread public and bipartisan political support.
The constitutional protection due a political boycott was articulated in the landmark Supreme Court case, NAACP v. Claiborne Hardware Co.[6] In that case, a local NAACP branch boycotted white merchants to pressure elected county officials to adopt racial justice measures. The merchants sued NAACP for interference with business. The Supreme Court found that "the boycott clearly involved constitutionally protected activity" through which the NAACP "sought to bring about political, social, and economic change." It concluded that the boycott constituted a political form of expression protected by the First Amendment rights of speech, assembly, association and petition.
It is a stunning inversion of free speech principles for AB 1551 to make "politically motivated" boycotts a singular target of government repression, since it is precisely their political dimension that requires heightened First Amendment protection for those who engage in such boycott activity. As the Supreme Court pointed out in Claiborne, a political boycott, like other forms of speech concerning public issues, "occupies the highest rung of the hierarchy of First Amendment values."
1
http://leginfo.legislature.ca.gov/faces/billTextClient.xhtml?bill
id=201520160AB1551
2
http://leginfo.legislature.ca.gov/faces/billTextClient.xhtml?bill
id=201520160AB1552
3 See Allen's press releases of Dec. 10, 2015,
https://ad72.asmrc.org/press-release/13866
, and Jan. 4, 2016,
https://ad72.asmrc.org/press-release/14104
.
4 See the 2004 opinion by the International Court of Justice. Its summary:
http://www.icj-cij.org/docket/index.php?pr=71&code=mwp&p1=3&p2=4&p3=6
5 Report by Palestine Legal and the Center for Constitutional Rights, Sept. 2015:
http://palestinelegal.org/the-palestine-exception
6 458 U.S. 886 (1982)
7 Claiborne, at p. 913, quoting Carey v. Brown, 447 U. S. 455, at p. 467
https://ccrjustice.org/ccr-national-lawyers-guild-and-palestine-legal-urge-california-legislators-oppose-anti-boycott-bills
----------------------------------------------------------------
Unconstitutional ... and bad for California
To: California state legislators
From: Coalition to stop AB 1551 & AB 1552 (see list of endorsing organizations)
Date: February 3, 2016
Contact:
stop.1551.1552 [at] gmail.com
An attack on free speech
Assembly Bills
1551
and
1552
, introduced by Assembly Member Travis Allen on January 4, 2016, would penalize those who engage in "politically motivated" boycotts as a nonviolent means to influence Israel to end its occupation and human rights abuses. Under these bills, the state could not invest in entities that comply with foreign boycotts against Israel (AB 1551), and could not contract with entities that engage in "discriminatory" boycotts (AB 1552). Although AB 1552 does not explicitly refer to Israel, press releases make clear that it is a companion bill to 1551 and the goals are the same: to shield the Israeli government from criticism of its policies.
The bills fail to take into account that boycotts and other economic measures based on support for social justice are by nature "politically motivated," and have been recognized by the Supreme Court as political speech that "occupies the highest rung of the hierarchy of First Amendment values." See NAACP v. Claiborne Hardware, 458 U.S. 886 (1982).
Moreover, regardless of one's views on Israel and Palestine, it would be blatantly unconstitutional for California to punish political speech by withholding the potential benefit of financial relationships with the state based on the speakers' viewpoints. See Rutan v Republican Party of Illinois, 497 U.S. 62 (1990).
Boycotts aimed at securing civil and human rights are an integral part of American history, beginning with the Boston Tea Party and through the Montgomery bus boycott against segregation, grape boycotts in support of farm labor rights, boycotts of companies enabling South African apartheid, and current divestment campaigns against fossil fuel and private prison companies.
The boycotts imposed by AB 1551 and 1552, however, not only do not seek to secure social justice – they aim to use the heavy hand of the state to unconstitutionally punish and silence those who do.
Contrary to longstanding U.S. foreign policy
AB 1551 includes "Israeli - controlled territories" – the Palestinian areas under Israeli occupation for almost half a century – as a prohibited target of human rights boycotts or divestment measures.
But successive U.S. administrations have reiterated that Israeli settlements in the West Bank are illegitimate and a serious "obstacle to
peace." In 2015, the State Department declared that the U.S. government "has never defended or supported Israeli settlements or activity associated with them, and, by extension does not pursue policies or activities that would legitimize them." Neither should California.
Who would be blacklisted?
A growing number of businesses, major church denominations, charitable foundations, university student governments, unions, and socially responsible investors have all heeded the grassroots call to boycott or take other economic measures against companies and institutions complicit in Israel's human rights abuses. In addition, a number of multinational corporations under fire for such complicity have ended their business operations in the occupied Palestinian territories or in Israel altogether.
All could be blacklisted in California under AB 1551 and/or AB 1552. This would foreclose valuable investment opportunities for state pension funds, and would prohibit essential contractual relationships with, for example, large corporations, churches that run public charitable programs, and contractors who employ workers represented by unions that have voted for divestment.
California can do better
Similar legislation passed or pending in other states will likely be found constitutionally wanting. But California has the opportunity to lead the way in blocking the true agenda of such bills, which is to enforce uncritical support of Israeli policies. The Legislature must uphold precious constitutional liberties while acting in the best interests of the people of California and their democratic institutions.
(PDF fact sheet for printing and distributing)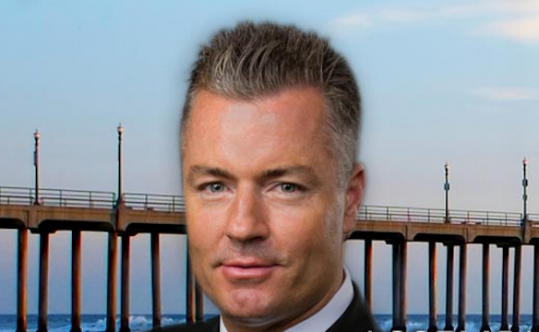 Photo from Allen's California Assembly Republican Caucus website
We are 100% volunteer and depend on your participation to sustain our efforts!
Get Involved
If you'd like to help with maintaining or developing the website, contact us.