From the Open-Publishing Calendar
From the Open-Publishing Newswire
Indybay Feature
France: Thousands protest against evictions at #NDDL airport court hearing
Nantes: Up to 3000 people gathered outside the Nantes Court of Justice to support those facing eviction by construction company Vinci for construction of the #NDDL airport that is widely opposed in the community.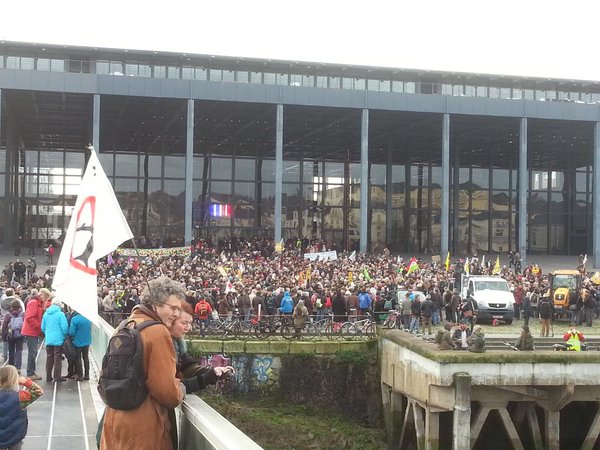 The judge announced at 12:10 in the courtroom, that the decision will be made Monday, January 25 at 14 h 30.
Protests also occurred in Brest, Rennes, Quimper, Caen, Lyon, and outside the Vinci headquarters near Paris.
President Hollande has said that no work will start until all appeals are exhausted. The French state has refused to concel the project despite wide community opposition and the hypocrisy of building a new airport when pushing internationally for the Paris Agreement climate treaty.
Construction of the airport is widely seen as out of step with commitment to reduce carbon emissions and preserve wetlands with the signing of the UN Paris agreement at the end of COP21 on December 12, which the French state worked so hard diplomatically to bring to fruition.
Lawyers for the construction company, Vinci, argued the legal concept of "economic welfare of the region and the country" to legitimize the airport project.
It seems that the CEO of Vinci, Xavier Huillard, said that it was not certain that the airport NDDL would even happen, according to Francis Lemasson, secretary of the CGT union confederation.
According to Reporterre (fr), "Mr. Lemasson expressed surprise that an event takes place outside the headquarters of Vinci.It supports opponents but notes that NDDL is a subject little discussed in the entrprise because employees do not wish to make statements which challenge the group. The CGT Vinci has never taken an official position against the airport project."
At 11:30 Thomas Dubreuil, lawyer of ACIPA, recalled before the start of the hearing that "the work can not legally begin as of today", partly because of new protected species discovered on the site by naturalists (fr).
Notre-Dame-des-Landes airport project has a footprint of about 1400 hectares of which over 80% are currently considered as wetland. Dubreuil also stressed "the moderate alternative" proposed by citizen workshop for the optimization of Nantes Atlantique (fr), according to Reporterre.
On Saturday 20,000 people mobilised on the Ring road of Nantes showing the strength of community opposition to the airport.
Story based on a storify mashup of tweets, articles and videos of the protest which I curated.
Photo by @atmoterra via twitter
We are 100% volunteer and depend on your participation to sustain our efforts!
Get Involved
If you'd like to help with maintaining or developing the website, contact us.