From the Open-Publishing Calendar
From the Open-Publishing Newswire
Indybay Feature
Paris Summit of Mayors commits to 100 per cent #renewables by 2050
A meeting of nearly a 1,000 city mayors from around the world meeting in Paris signed a declaration on Friday that supports a municipal transition to 100 percent Renewable Energy. Cities and local government are at the forefront of climate action but are being hindered by state and federal energy and climate policy incoherence.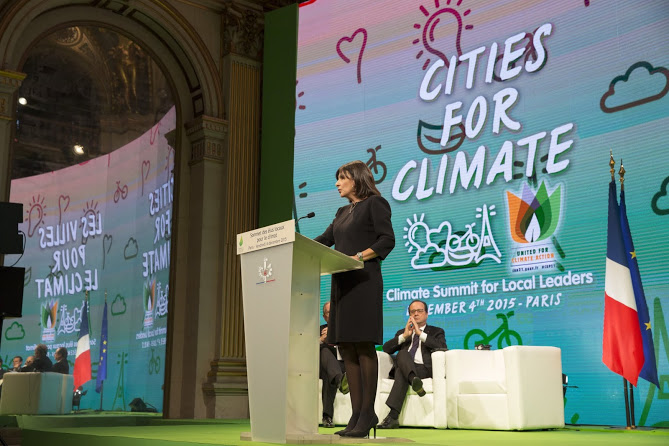 Paris Mayor Anne Hidalgo launching the city climate summit on 4 December. Photo: ©Mairie de Paris
A meeting of nearly a 1,000 city mayors from around the world meeting in Paris signed a declaration on Friday that supports a municipal transition to 100 percent Renewable Energy. Read the declaration (PDF).
Paris Mayor Anne Hidalgo said according to a report on Citiscope, "As I told the negotiators when bringing them our contribution, cities are not waiting for them to give us the solution," she said. "We are moving ahead and making a solution possible."
Michael Bloomberg, 3 times Mayor of New York, spoke to the gathering and said, "Climate change is the most fundamental and existential threat to our species," he said. "The consequences are unthinkable and worse, it has the potential to make our planet unlivable. So to all the mayors and governors in this room today, I implore you to join with your peers to commit to moving to no less than 100 percent renewable energy as soon as possible. Do not wait another day."
The Mayors declared in their statement "we will coordinate our climate action over the coming year to prepare the HABITAT III Conference. Together, we join with global organizations, national governments, the private sector, and civil society to deliver a common response to climate change that will protect our planet."
The statement outlines the following collective commitments:
Advance and exceed the expected goals of the 2015 Paris Agreement to be reached at COP 21 to the full extent of our authorities;
Produce and implement participatory resilience strategies and action plans to adapt to the rising incidence of climate related hazards by 2020;
Deliver up to 3.7 gigatons of urban greenhouse gas emissions reductions annually by 2030 — the equivalent of up to 30 per cent of the difference between current national commitments and the 2 degree emissions reduction pathway identified by the scientific community;
Support ambitious long-term climate goals such as a transition to 100% renewable energy in our communities, or a 80% greenhouse gas emissions reduction by 2050;
Engage in partnerships among ourselves and with global organizations, national governments, the private sector, and civil society to enhance cooperation and capacity-building programs, scale-up climate change solutions, develop metrics and promote innovative finance mechanisms and investments in low-emission projects across the world.
Read a report of the city mayors summit meeting on the ICLEI Local Government for Sustainability website: Mayor Park Wonsoon Speaks at Climate Summit for Local Leaders.
I had attended a civil society discussion on December 3 in the German pavillion of the UN climate conference on 'Enhancing policy coherence to expand the global 100 percent renewables goal among local governments'.
The panel included Australian Byron Shire Mayor Simon Richardson and former leader of the Australian Greens Christine Milne, along with moderator Michael Small from Renewable Cities Canada, Cheryl Jones Fur from Sweden's Energy Cities program, Mayor Matthew Applebaum from Boulder Colorado, Harry Lehmann from the Federal German Federal Environment Agency, Mr Quimin Chai from the Centre for Climate Change Strategy and International Cooperation China.
The forum highlighted that changes are already happening in cities and municipalities as Mayors and councils work through and around policy obstacles and inconsistencies to go forward with renewables and reduce city carbon footprints.
City strategies to encourage renewables had to differ due to the different national and regional policy frameworks on energy.
This highlighted the need for policy coherence across all levels of Government so that local government can deliver 100 per cent renewable energy and a low carbon footprint for local communities.
Melbourne Councils launch renewable energy consortium
The forum that I attended in the German Pavillion in the UN Blue Zone came a day after I heard news that three Melbourne Councils had combined in a consortium with higher education, cultural institutions and large businesses to finance and support renewable energy to boost the supply of clean power to the city.
The consortium, lead by City of Melbourne Council, includes the University of Melbourne, RMIT, National Australia Bank, NEXTDC, the City of Port Phillip, Moreland City Council, Federation Square, Melbourne Convention and Exhibition Centre, Citywide and Bank Australia.
The project is looking to purchase 120 gigawatt-hours of new renewable energy, the equivalent for powering about 31,000 homes for a year.
The climate wars politics we have seen in Australia, which Christine Milne described to the panel discussion I attended, are far less divisive on the local level.
The Lord Mayor of Melbourne Robert Doyle is a member of the conservative Liberal Party, yet realizes the importance of sustainability and energy transition for the city in combatting climate change.
"Diversifying our energy supply and supporting innovation is a must for the future of our city. You don't get to be the most liveable city in the world without a strong focus on sustainability and prosperity," the Lord Mayor said in a statement from the City of Melbourne.
"We expect this project will provide a major boost to employment within the renewable energy sector. Up to 140 jobs will be created in the construction phase and 12 ongoing jobs in operation and management of the plant." said Doyle.
"We're now challenging the market to supply us with the right energy at the right price," said Greens Councillor Aaron Wood, who holds Melbourne Council's environment portfolio. "We're not only expecting a really good project in terms of environmental outcomes but also in terms of business impacts."
John Englart (@takvera) and his teenage daughter are in Paris to report on the United Nations COP21 climate talks (including for Australian citizen journalist site Nofibs), and in particular what role Australia plays in those negotiations.
We are 100% volunteer and depend on your participation to sustain our efforts!
Get Involved
If you'd like to help with maintaining or developing the website, contact us.