From the Open-Publishing Calendar
From the Open-Publishing Newswire
Indybay Feature
SFBARF's Slideshow Reveals their Divide-And-Conquer Aspirations
SFBARF's slideshow reveals their agenda to "Disrupt the alliance between rent-control advocates and affordable housing advocates."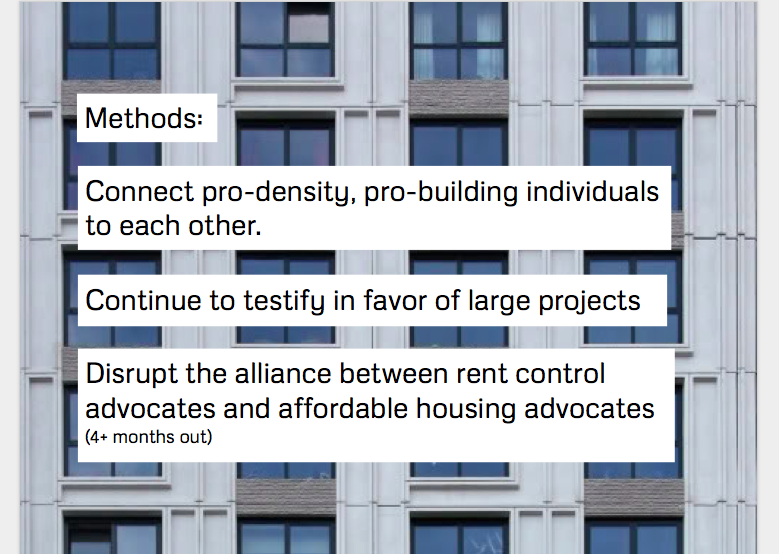 The pro-development "Build Baby Build" San Francisco Renters Federation (SFBARF) disseminated a power-point presentation over four months ago on their listserv. In it, they include a slide describing their methods. As they state: "Connect pro-density, pro-building individuals to each other. Continue to testify in favor of large projects. Disrupt the alliance between rent-control advocates and affordable housing advocates." The last of these goals includes a time frame of 4+ months.
As their four month goal comes to a close and as they wield their accumulated wealth in an attempt to defeat Proposition I in San Francisco (which would impose a moratorium on luxury development), it behooves us to stop and wonder how successful their divide and conquer agenda has been. Their leader Sonya Trauss recently likened her ideal mode of governmentality to that described by Machiavelli in his 1513 "The Prince" to justify her group's entanglement with capitalist interests. And as Joe Fitzgerald Rodriguez reported of an interaction with Trauss on October 13th (
http://www.sfexaminer.com/sfbarf-goes-progressives-political-jugular/
):
"Still, for all the political Molotov cocktails Trauss has thrown, she's eager to listen, and engages in respectful dialogue. So I was frank: Does SFBARF's voice drown out the voices of activist groups, because SFBARF is aligned with monied interests?
Trauss responds with another question. 'Have you read 'The Prince?'' referring to the 16th-century political treatise by Niccolo Machiavelli.
'He said that what you want is equal and strong kind of lords,' Trauss said. Public factions advance their interests, she explained, by allying with wealthy classes who in turn advance their own interests.
Following her train of thought, SFBARF has simply allied itself with the wealthiest interests in the room. And as long as they do, SFBARF'S voice will be elevated.
No matter what they say."
So not only does the Trauss-led SFBARF actually aspire to Machiavelli's disastrous ideal of governance, but further she and her group embrace the divide-and-conquer techniques long used in colonial and totalitarian agendas. Many housing rights activists in San Francisco have received cruel communications from members of their group over the last several months, but fortunately nobody takes them seriously. The attempt to ""Disrupt the alliance between rent-control advocates and affordable housing advocates" is not working.
Clearly the housing rights movement in San Francisco cannot be broken through an outmoded Machiavellian epistemology nor through techniques of divide-and-conquer.
Perhaps we should learn from history. The word "Machiavellian" today is synonymous with duplicity. After the publication of "The Prince," Machiavellianism was understood as a plague infecting Europe. Today some pyschologists understand it to be a subclinical form of psychopathy (
https://en.wikipedia.org/wiki/Machiavellianism
).
As Machiavelli once articulated:
"A prince out to know how to resemble a beast as well as a man, upon occasion: and this is obscurely hinted to us by ancient writers who relate that Achilles and several other princes in former times were sent to educated by Chiron the Centaur; that as their preceptor was half-man and half-beast, they might be taught to imitate both natures since one cannot long support itself without the other."
In other words, the prince must become beast-like in order to rule. Based on her divide-and-conquer method, we can only wonder if this is what Trauss has in mind.
We are 100% volunteer and depend on your participation to sustain our efforts!
Get Involved
If you'd like to help with maintaining or developing the website, contact us.