From the Open-Publishing Calendar
From the Open-Publishing Newswire
Indybay Feature
Animal Liberation Front Visits Ontario Fur Farms
In exclusive notes and video footage delivered to the North American Animal Liberation Press Office, the Animal Liberation Front (ALF) reports having visited multiple fur farms in Ontario, Canada and taken extensive video footage of the animals imprisoned, tortured and killed there.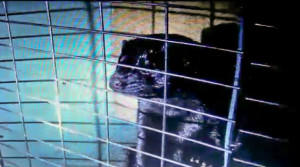 The communique reads, in full:
Over the summer of 2015 we visited and video recorded Willow Pond Mink Farm at 105 Maple Grove Road in Scottland, ON. We witnessed injured mink with gapping wounds crammed into small cages that were covered in dirt and feces. The ground in the facility was also caked in feces. There were strong pungent fumes of urine and feces in the air. The animals here had no access to water. The farm has no fence and no security cameras. There is a large waste container at the rear of the farm.
Chesterfield Mink Ranch at 423 Erie Street South in Wheatley, ON was also visited and video recorded. The mink here were also confined in small wire cages. We documented them being fed foul rotting food covered in maggots. This factory farm was a large operation with advanced security. It is surrounded by a fence with a movement sensor. There are numerous infrared cameras and guard clogs.
Another fur farm located at 5675 4th Line in Guelph/Eramosa was also visited but appeared to be out of service. There were mink sheds but no cages were present. The owner appeared to be using them for storage.
Abusing and torturing animals in horrific conditions of confinement will not continue to be tolerated in Ontario. We call on the public and government officials to take action and put an end to the fur trade and an end to these obscene factory farms. We call on the fur farmers of Ontario to close your animal prisons and find new and rewarding careers. If you do not close these farms clown, we will close them down for you.
The Real Humane Society
Animal Liberation Front
The video (more footage coming soon) delivered by the ALF from the Ontario fur farms can be viewed below and at
https://vid.me/8Nlr
.
In May and July of this year, the ALF raided three different fur farms in Ontario, releasing thousands of captive mink:
- 300 mink were freed from cages at a fur farm in Guelph/Eramosa Township, Ontario overnight July 30-31. The farm is not identified, but may be the Millbank Fur Farm (5225 Jones Baseline Road).
- 7,000 mink were released from cages at a farm in St. Marys.
- 1,500+ mink were freed at another St. Marys fur farm.
No one has been charged with any of the actions, nor are they statistically likely to be, despite the offer of a $75,000 reward. Fur farm liberations have occurred dozens of time over the last thirty years in the US and Canada, and few people have ever been convicted or jailed.
Imprisoned in cages for life, or mercilessly trapped with painful leghold traps in the wild, fur-bearing animals killed to make unnecessary fashion statements are forced to endure intensive confinement, compared to the miles of territory these still-wild animals would enjoy in their natural state. The natural instincts of these captive animals are completely frustrated; self-mutilation, sickness, infection, poor sanitation and the sheer stress of confinement lead animals in captivity to premature death. When they do survive, animals of sufficient size are killed by anal electrocution or gassing, then skinned. In addition to liberating the wild animals destined for a certain, painful and agonizing death, another goal of liberationists is to cause economic damage to fur retailers and farms; dozens of stores and fur farming operations have seen economic ruin since "Operation Bite Back" began by the Animal Liberation Front in the 1990s.
Those concerned with the truth should not be misled by claims of those with economic interests, for instance ridiculous stories that the animals released are domesticated and unable to survive in the wild, or that the animals voluntarily returned to their cages, or that they froze to death or starved within hours, or were immediately run over by automobiles or eaten by household pets.
The Animal Liberation Front and other anonymous activists utilize economic sabotage in addition to the direct liberation of animals from conditions of abuse and imprisonment to halt needless animal suffering. By making it more expensive to trade in the lives of innocent, sentient beings, they maintain the atrocities against our brothers and sisters are likely to occur in smaller numbers; their goal is to abolish the exploitation, imprisonment, torture and killing of innocent, non-human animals. A copy of the Final Nail, a listing of known fur farms in North America, is available from the Press Office website at
http://www.animalliberationpressoffice.org
Contact: (213) 640-5048
Animal Liberation Press Office
3371 Glendale Blvd. #107
Los Angeles, CA 90039
http://www.animalliberationpressoffice.org
press [at] animalliberationpressoffice.org
Animal Liberation Front - Studies & Observations Group
Operation Infinite Justice
fur farm footage 2015 - Ontario, Canada
We are 100% volunteer and depend on your participation to sustain our efforts!
Get Involved
If you'd like to help with maintaining or developing the website, contact us.