From the Open-Publishing Calendar
From the Open-Publishing Newswire
Indybay Feature
Take Back Santa Cruz accountability
Take Back Santa Cruz continues to use tactics of spreading fear in the community based on rumors. Typically , our homeless neighbors are targeted. TBSC has learned nothing from the expensive arrest and 18 day jail time of an innocent homeless "flower thief" who eventually was released and charges dismissed. The group admin continue to post unsubstantiated rumors, stories, and photographs of people sleeping, if it achieves their goal of spreading fear and stirring emotions.
Take Back Santa Cruz (TBSC) is a registered non-profit that claims to be interested in safety but instead seems more concerned about achieving certain ideological and political goals. Though posturing itself as an open community group, in truth, TBSC is run like a dictatorial cabal with a very small group of people dictating its direction. The 12,000 member Facebook group is not only closed from public view but is also tightly controlled by administrators who are handpicked by the secretive non-profit directors. Any member can attempt to start a thread on the TBSC FB group but only threads which agree with the political ideology of the group are approved. A quick examination of the the FB group shows a multitude of fear based threads that are often based on rumors, loose facts, hearsay and even urban legends- all seemingly designed to drive members to changing the political direction of the Santa Cruz City and County. (Not too surprisingly, TBSC is now fronting candidates for all sorts of city and county offices and positions. ) The most frequent targets of hatred and derision from the cyberspace mob are homeless people and substance abusers. Homeless people are typically referred to as bums, losers, dirtbags, substance abusers are called zombies, junkies and other de-humanized terms.

One of the most common fear mongering tactics by TBSC is to portray children as being in mortal danger from homeless people. CHILDREN MUGGED BY HOMELESS MAN. The thread from Sept. 28 is a perfect example of an unsubstantiated story being used to rile up fear and anger of group members towards the homeless. Notice that no one asks questions about the story everyone assumes that kids were mugged by a homeless man on the Westside simply because someone claimed it was so. There were lots of angry posts (now removed) which demanded a political change in Santa Cruz, fantasized about violence towards the homeless man, celebrated SCPD arresting the man and so on. Hours later the truth emerges that it wasn't a mugging that occurred, it was a dispute over the kids paying for damaging the man's bike. Even so, note that Steven Marcus tells the teens they should have "smacked the homeless man upside his head with a skateboard"

TBSC has never been a group to let facts get in the way of of their fear based agenda. Even urban legends are put to good use not only by the group's admins but by Analicia Cube, the group's founder as well. In a thread dating back to Feb. 2 someone urges members to be "extra vigilant" because supposedly their friends' dog had to be put to sleep because he ate glass laden meatballs.

A noteworthy data point is that SPCA, Animal Services and various law enforcement agencies had no reports of glass infused meatballs fed to dogs. When called by phone the SPCA responded that "the story was a hoax." Note that no posts were made by TBSC members challenging the story. Everyone basically accepted it as well as the unfounded claim by Analicia Cube that Santa Cruz had becoming a dog killing ground via poison and glass infused meatballs. The facts didn't really seem to matter. What was important is that the fear and anxiety level of members were successfully raised and thus members would be more apt to accept the premise that Santa Cruz was going to hell and only the election of TBSC candidates would solve the danger.

Conservatives have long used the fear and safety card to spook voters into voting their candidates into office and now TBSC is using the same ploy to drive their agenda. In the last year alone members have been rallied to support Santa Cruz City stay away orders, RV bans, restrictions on the HSC and needle exchange as well as the election of TBSC backed candidates for Santa cruz city council.
Take Back Santa Cruz images documenting false reports of mugging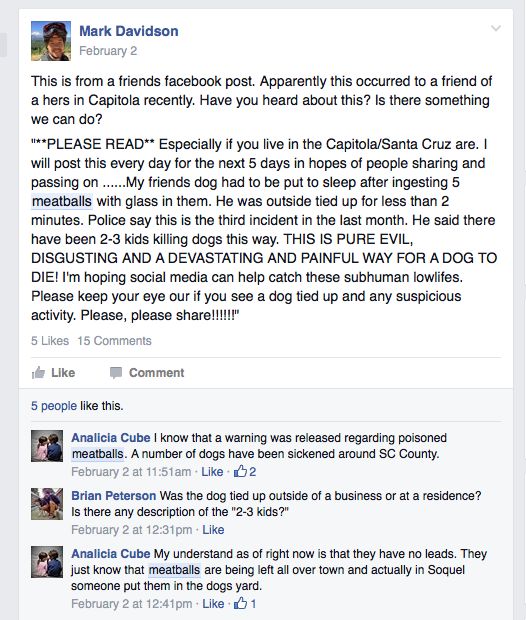 Take Back Santa Cruz perpetuating urban legend and false story
We are 100% volunteer and depend on your participation to sustain our efforts!
Get Involved
If you'd like to help with maintaining or developing the website, contact us.