From the Open-Publishing Calendar
From the Open-Publishing Newswire
Indybay Feature
Take Back Santa Cruz (TBSC) Targets Homeless RV Dwellers 8/8/2015 Santa Cruz City Council
TBSC encourages members to lobby Santa Cruz City Council to drive homeless RV dwellers from the City. The first step in getting a county wide ban that would limit RV usage to property owners and those wealthy enough to afford a place to store their RV.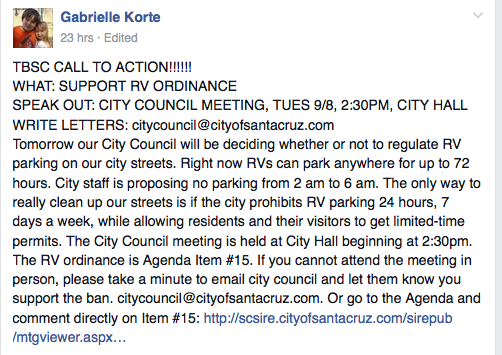 For years Take Back Santa Cruz (TBSC) has been targeting homeless people as a method of supposedly trying to make Santa Cruz safer. The claim by TBSC leaders is that they are targeting criminals not the homeless. When one examines how TBSC organizes it's members into a group action as well as reads what the core TBSC activists think, it is pretty clear to see that rather than try to craft solutions that won't unnecessarily harm some of the most vulnerable in our population, that TBSC prefers solutions that utilize a shotgun approach. The result is that Santa Cruz, a supposedly liberal political bastion, sports a comprehensive stew of some of the most oppressive laws which criminalize a wide swath of poor, unhoused people who are simply trying to survive without having a roof over their head. (Not all of this happened under the more conservative TBSC watch. So called progressives have happily instituted their own pain upon the poor in order to keep downtown merchants and property owners happy.)
RVs as well as cars are places where otherwise homeless people can seek shelter from the elements and in the case of RVs have a place to perhaps store food or keep personal items. Much of coastal CA was well as a number of inland areas have become cost prohibitive for many people to afford to buy or even rent a home or apartment. All they have is a vehicle to dwell in.
TBSC seem mostly focused on the fact that some people who inhabit RVs (like some people who inhabit homes) are involved in illegal activities. Rather than focus on the illegality alone, any RV suspected of housing an otherwise homeless person is frequently spied upon, reported to authorities, reported on various Facebook and neighborhood groups where both occupants and their vehicle's photos prominently displayed. There is a large contingent in TBSC and other neighborhood groups who are convinced that RVs are mostly mobile meth labs and drug dealers. That some are really mobile prostitution homes. And so on.
TBSC lobbying for community members to support an RV ban goes like this:all threads on TBSC Facebook page MUST be approved by TBSC leadership. This means that ONLY threads which the leadership want to gain traction get approved for readers to view. This week no less that 2 threads have appeared commanding the group's members to act in support of a city wide ban on RVs. There is a discussion but the discussion isn't to challenge the command set forth by TBSC leadership and admins rather it's mostly intended to get the rank and file excited to show up to City Council meeting and talk about how dangerous RVs are to the community.
A few years back TBSC got caught by a local publication that discussed how a local homeless man was being spied upon by TBSC members and how his vehicle was being photographed and posted on TBSC FB page as some sort of pariah.
http://www.gtweekly.com/index.php/santa-cruz-news/good-times-cover-stories/4701-the-reality-of-crime.html
((The idea that people may react to traumatic events with anger, fear and intolerance played out last month for a 57-year-old homeless man named Frank Smith. Smith says he has been repeatedly harassed and photographed by members of Take Back Santa Cruz. Photos of him and his motor home regularly appear on the group's Facebook page. He says he was most alarmed by an incident that he says occurred the evening of Friday, March 15 while he was sleeping in his motor home, parked legally on River Street.
He says he awoke to voices shouting profanities, banging on the outside walls of the motor home, and hands rocking the vehicle back and forth. Opening his door, Smith was confronted by a man and woman telling him belligerently how much they paid to live in their house and that he needed to get out of their town. ))
Since the publication of the article TBSC leadership and admins have been very careful to try and encourage members not to be hateful in their public letters and displays encouraging city leaders to enact more laws to criminalize homeless people. Hating on the homeless is fine for private consumption and behind the hidden walls of the internet but when in public, a different approach is needed. Besides evoking the safety issue by way off insinuating that RVs are pretty much all mobile meth labs, letter writers and potential speakers are encouraged to reflect how an RV ban is really an act of compassion--that it must be horrible to live in an RV, RVs that are owned by poor people are dangerous and that somehow a better life might exist if RV occupants could instead live peacefully out in the elements and under the stars freezing and wet in the winter like normal homeless people do.
The other tact has been to try and shift focus from the fact that TBSC members are targeting homeless people to be removed from their neighborhoods but rather to focus on the environmental effects that RVs have on the community. The extent of this effect isn't really debated because TBSC is often driven by conjecture and rumors and not really factual debate. Nor is any attempt being made to craft a solution to deal with potential waste issues, like for instance how the City of Santa Cruz has basically ignored all of the plastic debris that float out into the bay from the Boardwalk every weekend because the Seaside company tends to donate lots of $$ to certain city council members as well as employ a number of people in town. In the case of plastic garbage being carried out to our Marine Sanctuary, patience is a virtue and solutions are always on the table. On the other hand, when it comes to poor and homeless people in their unsightly RVs with potential waste issues, what is really desired is a total ban- a way to ensure that homeless RV dwellers can ultimately be removed from the county by way of tickets, citations, infractions, probable cause and the local police powers being brought down to move these people along and out of Silicon Beach.
For those who have access to the TBSC and Hall of Shame pages you are probably familiar with how the campaign is being waged. For those who are locked out, here is a very small sampling of what is going on: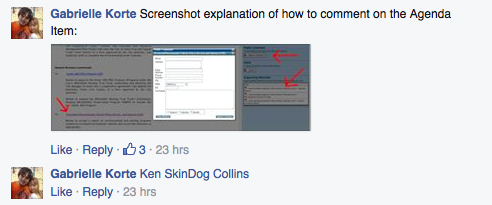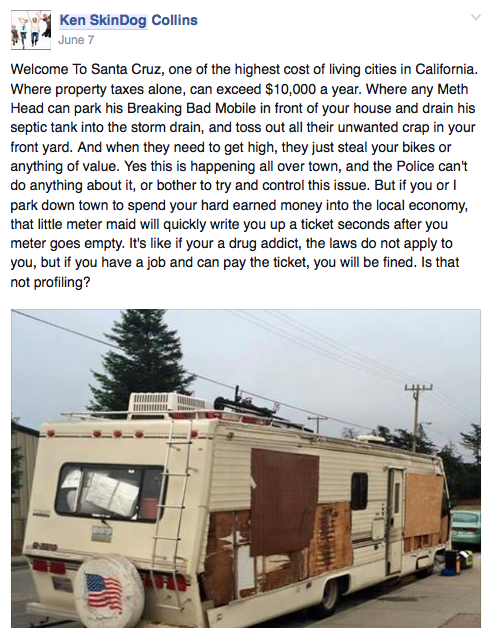 We are 100% volunteer and depend on your participation to sustain our efforts!
Get Involved
If you'd like to help with maintaining or developing the website, contact us.