From the Open-Publishing Calendar
From the Open-Publishing Newswire
Indybay Feature
Freedom Sleepers Outside and Inside City Council
Import event into your personal calendar
Date:
Tuesday, August 11, 2015
Time:
Event Type:
Protest
Organizer/Author:
Phil Posner (posted by Norse)
Location Details:
The event will run from 3 PM on Tuesday to 8 AM on Wednesday. Santa Cruz City Hall Courtyard festivities begin around 3 PM, outside the first City Council meeting of the fall (well, late summer). It's across from the Main Library and the Civic Auditorium. in the Council courtyard area
---
BACK FROM VACATION AND STILL EMPTY-HANDED
The City Council is back after its six weeks of sunny summer vacation. During the Budget hearings, the Council did nothing about the "Homeless Services Center" [HLOSC] Shelter Shutdown and cut-off of all Emergency Servces (meals, laundry, showers, bathrooms).
Nothing is on their Tuesday agenda to lift the Sleeping Ban, modify that law or any of the other anti-homeless laws. Nor is there any provision for opening up walk-in campgrounds or legal places for overnight survival sleeping in cars.
1500-2000 homeless people in Santa Cruz for the general population face $157 citations and harassment for sleeping in parks--but have no legal place to go.
U.S DEPARTMENT OF JUSTICE TAKES THE LEAD
This week, the U.S. Dept. of Justice for the first time filed a supporting Statement of Interest in a long-fought Boise, Idaho case. [See
http://www.examiner.com/article/u-s-department-of-justice-supports-homeless-rights-lawsuit
]
There homeless advocates sued cops and their bosses to end police harassment of sleepers and secure restitution for past injuries and amnesty for past false convictions. The federal government's intervention is a historic action and one we will urge them to do in Santa Cruz as well in future lawsuits.
SOAP-BOX AND SIP SOUP
Homeless folks are invited to speak out on the green outside City Council and inside at 5 PM during Oral Communications.
The Council only allows 3 minutes, but we intend to restore free speech outside. Bring your soapbox.
Advocates also plan a Press Conference (probably after the City Council's Oral Communications period at 5 PM). There we'll update folks on the current situation and announce future plans for actions to educate and activate the community.
There'll be coffee and soup in the mid-afternoon, a mid-evening snack later, and morning coffee at 7 AM after the sleep-in.
Activists will be gathering information on sleep deprivation cites, medical turnaways, and other discriminatory behavior throughout the afternoon and evening.
NO MORE WALK-IN SERVICES AT CORAL ST.-- NO DISMISSAL OF TICKETS FOR "BEING ON THE WAITING LIST"
Up to now, city law (MC 6.36.055) has required dismissal of all camping tickets for those on the Waiting Lists of the Paul Lee loft and the River St. Shelter. HLOSC Director Jannan Thomas met with Freedom Sleepers today and announced there is no longer a Paul Lee Loft Waiting List.
Further the HLOSC will not be providing walk-in services at all to any homeless folks, except those referred by other agencies. Prior word from the River St. Shelter indicates they only take people with a social worker, a referral, or out of the hospital.
With no waiting list for the Paul Lee Loft and a highly restricted list for the River St. Shelter, sleepers will no longer have the protection of those lists and will have a harder task confronting these cruel "drive the homeless out of town" tickets.
This essentially means the end of all Emergency Services in Santa Cruz--other than those with religious requirements or the limited help provided by Food Not Bombs and other samaritans.
LAST SUNDAY
Last Sunday's Sleep-Out resulted in no citations for the 20-30 people at City Hall during the night in spite of the angry demands of a zealous First Alarm security guard.
Nor did policed ticket activists reading posted agendas outside City Council though they were standing "in a closed area". Instead they drove them away with threats.
How City officials can allow police to ban people from reading publicly posted city agendas at night is still a mystery to many of us. Particularly since state lazw requires the agendas be publicly available 24-hours-a-day for 72 hours before any public meeting.
GET READY TO BED DOWN!
Join us in pajamas and bathrobes (teddy bears optional) if you wish to support the Right to Rest.
For die-hards and a third round of coffee, HUFF (Homeless United for Friendship & Freedom) will be meeting at 703 Pacific at the Sub Rosa Cafe (next to the Bike Church).
More info at
https://www.indybay.org/newsitems/2015/08/01/18775639.php
.
This description reflects my perspective and hopefully that of other activists. Living it is better than reading about it. Come and do your part.
Added to the calendar on Fri, Aug 7, 2015 9:26PM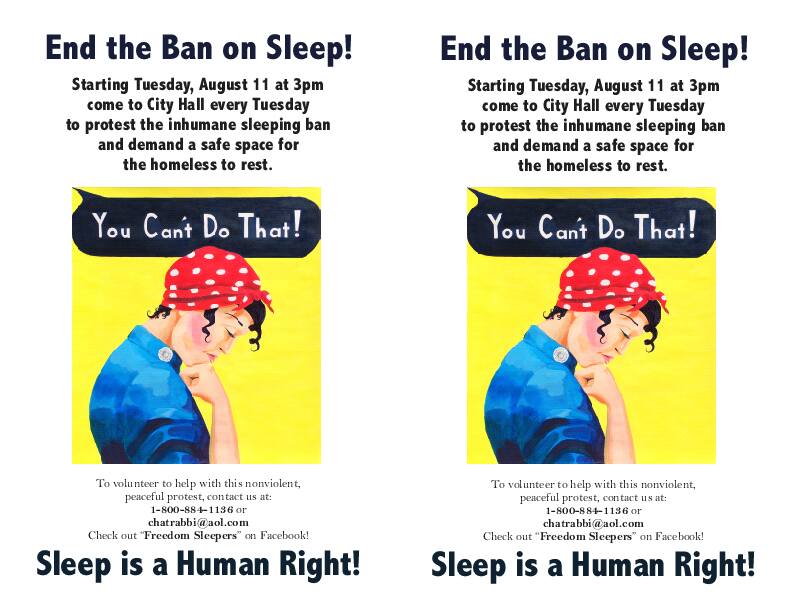 We are 100% volunteer and depend on your participation to sustain our efforts!
Get Involved
If you'd like to help with maintaining or developing the website, contact us.