From the Open-Publishing Calendar
From the Open-Publishing Newswire
Indybay Feature
Related Categories:

California | East Bay | U.S. | Animal Liberation | Police State & Prisons
Oakland Activists Accused of Going on Cross-Country Spree Targeting Fur Industry
Two Oakland residents have been charged under the AETA for supposedly causing hundreds of thousands of dollars worth of damage to animal exploiting businesses. Apologies for posting a full unedited DOJ press release here, but there's limited information at this point on the two arrests today in Oakland, California. No link to a government website will be provided.
Animal Rights Activists Accused of Going on Cross-Country Spree Targeting Fur Industry

Defendants Drove 40,000 Miles to Release Thousands of Mink from Farms in Iowa, Pennsylvania, Wisconsin, Minnesota, and Elsewhere

U.S. Attorney's Office, Southern District of California

July 24, 2015

SAN DIEGO—Animal-rights activists Joseph Buddenberg and Nicole Kissane were arrested by the FBI today and charged with terrorizing the fur industry during cross-country road trips in which they released thousands of mink from farms around the country and vandalized various properties.

According to a federal grand jury indictment unsealed today, Buddenberg and Kissane caused hundreds of thousands of dollars in damage during the nationwide spree in the summer of 2013. The indictment alleges that the pair snuck onto farms and freed minks and destroyed breeding records in Idaho, Iowa, Minnesota, Wisconsin and Pennsylvania during multiple trips, and in one case they released a bobcat from a farm in Montana.

The defendants were charged under the Conspiracy to Violate the Animal Enterprise Terrorism Act. They were arrested in Oakland this morning by agents from the FBI's San Francisco field office. The government will seek the removal of Buddenberg and Kissane to the Southern District of California to face charges.

In one instance described in the indictment, the defendants traveled from Oregon to San Diego in their 2012 Honda Fit on July 15, 2013 and used paint, paint stripper, a super glue-type substance, butyric acid, muriatic acid and glass etchant to vandalize Furs by Graf, a retail furrier located in San Diego, as well as the Spring Valley and La Mesa residences and personal property of the current and former owners of the business.

To publicize their crimes, the defendants drafted "communiqués" describing their conduct and posted them on websites associated with animal rights extremists, the indictment said.

Among some of the incidents of vandalism cited in the indictment: The defendants slashed tires of a meat distributor's truck in San Francisco; smashed windows and glued the door locks at a furrier business in Minneapolis, Minnesota; vandalized and attempted to flood the Sun Prairie, Wisconsin home of an employee of the North American Fur Auctions.

According to the indictment, the unemployed defendants sold items on eBay and Amazon to finance their trips. To avoid detection by law enforcement, the defendants withdrew large sums of cash from their bank accounts immediately before setting off on a road trip. During the trips, they largely avoided the use of phones, used only cash for purchases and stopped logging in to known online accounts and e-mail. Instead, they used public Internet computers and encrypted e-mail.

Once they returned from the trips, they resumed normal use of phones and computers and no longer relied solely on cash to make purchases.

"Whatever your feelings about the fur industry, there are legal ways to make your opinions known," said U.S. Attorney Laura Duffy. "The conduct alleged here, sneaking around at night, stealing property and vandalizing homes and businesses with acid, glue, and chemicals, is a form of domestic terrorism and can't be permitted to continue."

"Today's indictment represents the collective efforts of several FBI Joint Terrorism Task Forces (JTTF) around the country," said Eric S. Birnbaum, Special Agent in Charge of the FBI's San Diego Field Office. "The FBI and our JTTF partners will continue to investigate and seek the prosecution of those who engage in similar criminal conduct for the purpose of advancing their own personal agenda."

DEFENDANTS

Joseph Brian Buddenberg Age: 31 Oakland, CA

Nicole Juanita Kissane Age: 28 Oakland, CA

SUMMARY OF CHARGES

Conspiracy to Violate the Animal Enterprise Terrorism Act—Title 18, U.S.C., Section 43 (a) (1), (2) (c) and (b) (3) (A) Maximum penalty: Ten years in prison and $250,000 fine

AGENCIES

Federal Bureau of Investigation, San Francisco and San Diego Field Offices Joint Terrorism Task Force

*The charges and allegations contained in the indictment are merely accusations, and the defendants are considered innocent unless and until proven guilty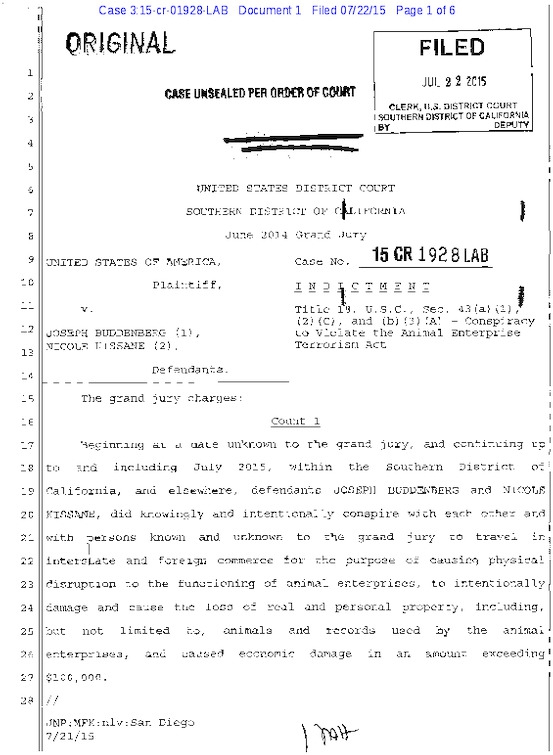 Download PDF (335.6kb)
(6-page PDF)
We are 100% volunteer and depend on your participation to sustain our efforts!
Get Involved
If you'd like to help with maintaining or developing the website, contact us.