From the Open-Publishing Calendar
From the Open-Publishing Newswire
Indybay Feature
View other events for the week of

8/ 3/2015
Colombian GM Injured Workers Have Human Rights Rally/Protest Monday August 3, 3015 4:00 PM
Date

Monday August 03

Time

4:00 PM

-

5:00 PM

Import this event into your personal calendar.
Location Details
San Francisco Colombian Consulate
595 Market St. San Francisco
Event Type

Protest

Organizer/Author
United Public Workers For Action

Defend Injured Colombian Bogata GM Workers AUGUST 1-7, 2015 – DAYS OF ACTION IN SOLIDARITY WITH COLOMBIAN

GM WORKERS (ASOTRECOL) AND INJURED WORKERS AROUND THE WORLD

Colombian GM Injured Workers Have Human Rights

Rally/Protest Monday August 3, 3015 4:00 PM

Global Week Of Soldiarity

San Francisco Colombian Consulate

595 Market St. San Francisco

Colombian injured General Motor workers have faced dire attacks on their health and safety conditions. General Motors with the support of the Colombian government is refusing to provide them proper healthcare and also compensation after being seriously injured at the GM plant in Bogota, Colombia.

The injured workers have been encamped outside the US Embassy in Bogota for nearly four years and on the anniversary of the encampment there will be a rally in solidarity with them on Monday August 3, 2015.

The government is also seeking to change the workers comp legislation to limit workers compensation to 6 months regardless of the injuries. This is opposed by all Colombian unions and unions in Latin America.

The workers have formed an injured GM workers organization called ASOTRECOL association and have been organizing solidarity and support for them and their families. They have also visited the headquarters of GM in Detroit to demand healthcare and compensation.

In order to build international support for them on August 3, 2015 there will be a live stream from Bogota, Colombia and actions around this date in the United States and other countries. The fight to defend injured workers is a global struggle and US and other multi-nationals must be forced to take care of the workers who are injured on the job.

If you are unable to attend watch their website for the action at

ASOTRECOL— Official WebsiteThe Association of Injured Workers & Ex-Workers of General Motors Colmotores— Bogota, Colombia

http://www.asotrecol.org

Call The consulate at (415) 495-7195 and let them know you oppose attacks on injured GM workers or you can write them with a copy to

asotrecol [at] gmail.com

Sponsored by

The ASOTRECOL Solidarity Network

http://www.asotrecol.org

Injured Workers National Network

http://www.iwnn.org

United Public Workers For Action

http://www.upwa.info

For more information call (415)282-1908

-labor donated-

International Week Of Action For Colombia Injured GM Workers In Bogota

AUGUST 1-7, 2015 – DAYS OF ACTION IN SOLIDARITY WITH COLOMBIAN

GM WORKERS (ASOTRECOL) AND INJURED WORKERS AROUND THE WORLD

Rally and Press Conference Will be streamed Live on August 3, 2015 from Bogota Colombia

TO: WHOM IT MAY CONCERN

FROM: ASOTRECOL SOLIDARITY NETWORK

DATE: July 12, 2015

RE: AUGUST DAYS OF ACTION IN SOLIDARITY WITH ASOTRECOL & INJURED WORKERS GLOBALLY

The ASOTRECOL Solidarity Network in support of injured and fired GM Colombian workers is issuing this appeal for Global Days of action in solidarity with them and all injured workers.

Please find attached:

· "Solicitud de Accion International" – letter of appeal by the association ASOTRECOL

· "Carta Junio 2015 al Presidente y Ministario de Trabajo" letter of appeal by the Sintraime Union at GM Colmotores

· "Resolution – Global Week of Solidarity" by the ASOTRECOL Solidarity Network

Thank you for your consideration and support.

In solidarity

Frank Hammer

Organizing Committee

ASOTRECOL Solidarity Network

Detroit

http://www.asotrecol.org asotrecol [at] gmail.com

RESOLUTION

AUGUST 1-7, 2015 – DAYS OF ACTION IN SOLIDARITY WITH COLOMBIAN

GM WORKERS (ASOTRECOL) AND INJURED WORKERS AROUND THE WORLD

1. Whereas a group of valiant injured and fired GM autoworkers will, on August 1, 2015, mark the fourth anniversary of a tent encampment at the US Embassy in Bogota, Colombia;

2. Whereas the former GM workers – members of ASOTRECOL - have been urging the US government to compel General Motors to abide by international labor conventions, the mandates of the US-Colombia Labor Action Plan (negotiated in tandem with the US-Colombia Free Trade Agreement), Colombian laws, and International Labor Conventions – to no avail;

3. Whereas the encampment is a response to GM-Colombia's illegal and immoral labor practices, whereby workers who suffer disabling injuries due to hazardous working conditions are discharged and denied alternative work or disability pensions;

4. Whereas General Motors acknowledged responsibility for the injustices they committed against its own employees, but refuses to make ASOTRECOL members "whole" – on the contrary - far from it;

5. Whereas these depraved labor practices have won the Colombian assembly plant the distinction as the most profitable GM operation in South America and stands as a model of labor relations which GM is exporting throughout its global operations;

6. Whereas Colombian President Santos has announced plans to encode into law and make legal the practices referenced herein for ALL employers, including GM, whereby workers disabled on the job can be legally discharged and paid a maximum six months' severance pay;

7. Whereas SINTRAIME, the union representing workers at the GM Colombia plant, has protested against the injustices committed against ASOTRECOL, and now the pending Presidential decree;

8. Whereas support for ASOTRECOL has grown in Colombia, the U.S. and globally which has helped sustain and broaden their struggle which is now allied with injured workers from other industrial sectors;

And

9. Whereas ASOTRECOL is requesting that the fourth anniversary of their tent encampment be celebrated worldwide with solidarity actions at GM dealerships, Colombian consulates, U.S. government offices and/or other appropriate targets to increase the pressure for a just solution,

Be it resolved that

__________________________________________________________ individual/union/organization shall

a) Go on record in support of this resolution, and will send this communication to the ASOTRECOL Solidarity Network for distribution to GM CEO Mary Barra, US Labor Deputy Under Secretary for International Affairs Carol Pier, the Congressional Monitoring Group, Colombia Minister of Labor Rafael Pardo Rueda, and others

b) Publicize it (internally and/or externally) to break through corporate censorship;

c) Take action during the week of August 1-7th to support ASOTRECOL's struggle for justice, and

d) Appeal to other labor organizations and human rights groups to similarly give their support.

MR. JUAN MANUEL SANTOS CALDERÓN

PRESIDENT OF THE REPUBLIC OF COLOMBIA

MR. LUIS EDUARDO GARZÓN

LABOR MINISTRY

Bogotá-

REF: ATTACK AGAINST THE LABOR SECURITY OF INJURED AND DISABLED WORKERS

We are concerned that the national government, headed by you in the area of labor, has launched a scathing attack on the condition of the injured worker. Your office is guilty of making unfounded claims that "work-release cartels" are resulting in a large quantity of workers being paid to sit idle by their employers, and thereby impeding their productivity. No evidence has been presented, as no complaints have been filed with the Attorney General's Office.

These claims have been well received by those attending the launch of the "Plan to Enhance Productivity and Employment (PIPE 2.0)" by the Chamber of Commerce, mostly business representatives. However, they do not correspond to the reality that thousands of Colombian workers are suffering.

After years of hard work, producing with their hands and intelligence everything which exists around us, the workers end up suffering from a multitude of diseases leaving them in a serious situation of manifest weakness. The Government must not close its eyes and thereby support the narrow interests of many employers who see injured workers as a burden, forgetting that the years of profits they earned came from the workers who today they want to dismiss.

The statement of the President of the Republic, supported by his Ministers, is beginning to have an impact, with the Labor Ministry preparing a regulatory decree diminishing the protection afforded by Article 26 of Law 361 of 1997. Once before, you attempted to repeal this protection through Decree No. 019 of 2012 by trying to use the extraordinary powers that Congress had then granted.

Your attempted repeal was ruled unconstitutional by the Constitutional Court (Judgement C - 744 of 2012), thereby leaving intact the protection that is now at risk of being left toothless due to the greedy interests of businessmen eager to rid themselves of the injured and disabled workers.

They aim to create what might be called "express dismissal" and other legal processes that lead to the same result: job loss for the worker whose health has declined. Such a worker would have to go out and get a new job in an employment market saturated with informal work, high unemployment and cheap labor.

Your government's demand for productivity and competition undermine the principle of solidarity, which should be the pillar of an egalitarian society where people's happiness is more important than the disproportionate increase in profits of large conglomerates that are implementing an oligopoly in most of the sectors of our economy.

The large conglomerates consider workers who invest their lives in production processes as disposable objects. The workers are vulnerable, but instead of finding government support, they find a state which takes the side of the interests of the employers, instead of being concerned with Social issues according to the constitution and mandated by law.

The large conglomerates see our country only as a source of riches. When they no longer can use it to increase their profits, they leave the country, leaving only pain and suffering among their workers. We have witnessed this in the case of the company Mondelez in Cali, producer of the Adams brand of gum, where the Government remained silent.

As workers and Colombians who have contributed to the construction of the country we have today, as people committed to the transformation of the country where solidarity reigns instead of inequality, abuse, discrimination and exclusion - we demand that you respect the employment security of the injured and disabled workers and make the business community respect that security as well.

That security is protected in our laws and enshrined in our constitution. The constitutional Court's guidelines created on this subject through its copious jurisprudence calls on all Colombians, without distinction of economic conditions, to respect the fundamental rights enshrined in our constitution.

In no case can an arbitrary decision be imposed by an employer to dismiss a worker in a condition of manifest weakness due to their health status.

Sincerely

ÁLVARO JOSÉ VEGA CAICEDO C.C.

Director of the Legal Department

Central Unitaria de Trabajadores (CUT)

CÉSAR AUGUSTO LUQUE FANDIÑOU

C.C. 79.397.912 of Bogotá

Trial Lawyer, Union Advisor

Popular Education School José María Carbonell

SEÑOR

JUAN MANUEL SANTOS CALDERÓN

PRESIDENTE DE LA REPÚBLICA DE COLOMBIA

SEÑOR

LUIS EDUARDO GARZÓN

MINISTRO DEL TRABAJO

La ciudad.-

REF: ATAQUE CONTRA LA ESTABILIDAD LABORAL REFORZADA DE LOS TRABAJADORES ENFERMOS Y CON DISCAPACIDAD

Con preocupación vemos como el Gobierno Nacional, encabezado por ustedes en materia laboral, ha lanzado un duro ataque contra la condición del trabajador enfermo, calificando sin fundamento, sin mostrar prueba alguna, o la denuncia correspondiente ante la Fiscalía General de la Nación, que existen unos "carteles de las incapacidades", que han permitido que muchos trabajadores estén sentados en las empresas para las que trabajan, impidiendo la productividad. Esa afirmación, que debió caer muy bien entre los asistentes al lanzamiento del Plan de Impulso de la Productividad y el Empleo (PIPE 2.0) en la Cámara de Comercio, la mayoría empresarios, no responde a la realidad que vienen padeciendo miles de trabajadores colombianos, que luego de años de trabajo duro, transformando con sus manos y su inteligencia todo lo que a nuestro alrededor existe, resultaron padeciendo infinidad de patologías, lo que los ha puesto en una grave situación de debilidad manifiesta, ante la cual el Gobierno Nacional no puede cerrar los ojos, dando gusto a mezquinos intereses de muchos patrones, que ven a los trabajadores enfermos, como una carga, olvidando eso sí, los rendimientos económicos que con su trabajo obtuvieron por años, trabajadores a los que hoy quieren despedir.

La afirmación del señor Presidente de la República, secundada por sus Ministros, ya empieza a tener consecuencias, al prepararse por el MinTrabajo un decreto reglamentario del artículo 26 de la ley 361 de 1997, única norma protectora, que usted derogó por medio del decreto No. 019 de 2012, usando entonces las facultades extraordinarias que el Congreso le había otorgado, las que desbordadas fue suficiente argumento para que la Corte Constitucional declarara inconstitucional dicha derogatoria (Sentencia C – 744 de 2012), quedando incólume la protección, esa que ahora por reglamentación se intenta dejar sin dientes, frente a los voraces intereses del empresariado deseoso de salir de los trabajadores enfermos y con discapacidad, creando el que podría llamarse "despido express", además de otras salidas jurídicas que concluyen en lo mismo, la pérdida del trabajo para quien disminuido en su salud, tendría que salir a conseguir un nuevo empleo, sin mayores posibilidades en un mundo del trabajo, donde abunda la mano de obra barata, con ocasión del desempleo y la alta informalidad.

La productividad y la competencia, vistas, como las ve su gobierno, atentan contra el principio de solidaridad que debía ser el pilar de la construcción de una sociedad igualitaria, donde fuera más importante la felicidad de la gente, que el aumento desproporcionado de las ganancias de los grandes conglomerados económicos que vienen implantando un oligopolio en gran parte de los sectores de nuestra economía, para quienes los trabajadores se vienen convirtiendo en un objeto desechable más, de esos que usan en los procesos productivos, en los que los trabajadores invierten su vida, pero en situación de vulnerabilidad, en lugar de encontrar el apoyo estatal, ven como el Estado, que debería por mandato constitucional ser Social de Derecho, se pone al lado de los intereses de esos patrones, que ven a nuestro país como una fuente de riquezas, pero cuando consideran que ya no tienen como aumentar sus ganancias, salen del país, dejando solamente dolor y sufrimiento entre sus trabajadores, de lo cual hemos sido testigos, y el Gobierno testigo mudo, como en el caso más reciente, de la empresa Mondelez en Cali, productora de la marca chiclets Adams.

Por lo anterior es que como trabajadores, colombianos que con nuestro esfuerzo hemos contribuido a la construcción del país que hoy tenemos, pero además, más comprometidos en la transformación del país, a uno sin desigualdades, donde reine la solidaridad, y no el atropello, la discriminación, y la exclusión, le exigimos respetar la estabilidad laboral reforzada de los trabajadores enfermos y discapacitados, consagrada constitucional y legalmente, haciendo a su vez respetar del empresariado asentado en Colombia, los lineamientos que sobre la materia ha marcado la Corte Constitucional en su copiosa jurisprudencia, instando más bien a todos los colombianos, a que sin distingo de condición económica, respetemos los derechos fundamentales contemplados en nuestro ordenamiento constitucional, sin que en ningún caso se pueda imponer la decisión arbitraria de ningún empleador de despedir a un trabajador en condición de debilidad manifiesta con ocasión de su situación de salud.

Atentamente

ÁLVARO JOSÉ VEGA CAICEDO

C.C.

Director del Departamento Jurídico

Central Unitaria de Trabajadores (CUT)

CÉSAR AUGUSTO LUQUE FANDIÑOu

C.C. 79.397.912 expedida en Bogotá

Abogado Litigante, Asesor Sindical

Escuela Popular José María Carbonell

Cordial and fraternal greetings.

We, the united workers of Asotrecol—the Association of Injured Workers and Ex -Workers of General Motors in Colombia— will soon mark four years of protest, living in a permanent occupation in front of the U.S. Embassy in Bogotá, Colombia. Our struggle has been in defense of our Human and Labor Rights which were violated by the U.S. transnational General Motors. We solicit from the international community of unions, Human Rights organizations, students, and communities of faith, in a spirit of solidarity, that you unite with our Days of Solidarity in support of our struggle in order to celebrate our four years of resistance. Specifically we ask that you engage in activities such as:

• Solidarity actions and rallies in front of GM installations and dealerships and/or Colombian Consulates;

• Solidarity statements from organizations;

• Photos and video messages of support;

• Organize a collection within your organization or community;

• Accompany and follow us through the livestream that we will set up to broadcast our event around the world

As Colombian workers, we are convinced of the necessity of struggling for our rights and for the dignity of disabled workers, along with the undeniable need to unite our working class struggles. A people who don't fight for their rights are a people who give up their freedom.

Sincerely,

Asotrecol.

Cordial y fraternal saludo.

Los Trabajadores unidos en Asotrecol, la Asociación de trabajadores enfermos y despedidos de General Motors en Colombia, próximamente cumpliremos en Huelga cuatro años viviendo en ocupación permanente frente a la Embajada de los Estados Unidos en Bogotá Colombia. Nosotros hemos estado procurando la defensa de nuestros Derechos Humanos y Laborales vulnerados por esta Transnacional Estadunidense General Motors. Solicitamos Solidariamente a la Comunidad Internacional, Sindicatos, Defensores de los Derechos Humanos, Docentes, Estudiantes y Religiosos, Unirse a nuestra Jornada Internacional de solidaridad con nuestra Lucha para celebrar los cuatro años de resistencia. Específicamente pedimos que organicen:

• Acciones y miting en solidaridad frente a las Instalaciones y concesionarios de GM, y/o los Consulados Colombianos;

• Cartas de solidaridad y apoyo de sus organizaciones;

• Fotos y mensajes en video;

• Organización de recolectas económicas en sus organizaciones y comunidades; y

• Acompañarnos y seguir nuestro livestream, que vamos a crear para transmitir nuestro evento al mundo internacional

Como trabajadores Colombianos estamos convencidos en la necesidad de luchar por nuestros Derechos y la dignificación de los trabajadores en condición de discapacidad así como la innegable necesidad de la unificación de las luchas obreras, un pueblo que no lucha por sus Derechos es un pueblo que renuncia a su libertad.

Sinceramente.

Asotrecol.

Added to the calendar on Tuesday Jul 14th, 2015 11:29 PM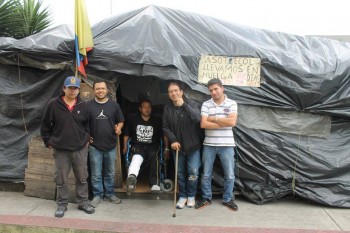 For four years injured GM workers in Colombian have been protesting against the refusal of GM to provide medical care and compensation.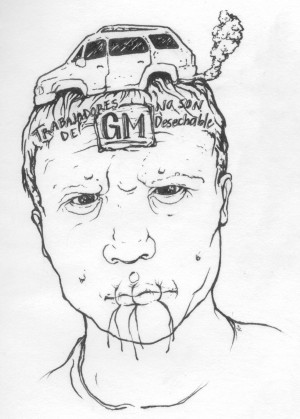 Injured Colombian GM Workers Rally
We are 100% volunteer and depend on your participation to sustain our efforts!
Get Involved
If you'd like to help with maintaining or developing the website, contact us.