From the Open-Publishing Calendar
From the Open-Publishing Newswire
Indybay Feature
"Homeless Lives Matter" Back For Fourth Meal Preparing for July 4th CampOut
Angry activists protesting closures, cutbacks, and laws against the homeless community held their fourth meal under the banner "Homeless Lives Matter!" They served their fourth breakfast around the corner from the Homeless Services Center, which I call the "Homeless (Lack of) Services Center" [HLOSC]. Its director, Jannan Thomas, announced cutbacks in services and shelters in May, announcing an end-of-June shut down the meals, laundry, shower, and restroom services previously available to all but now limited to those "in programs". The shut down coincides with an escalating campaign to drive homeless people out of Santa Cruz by criminalizing sleeping, sitting, & sparechanging.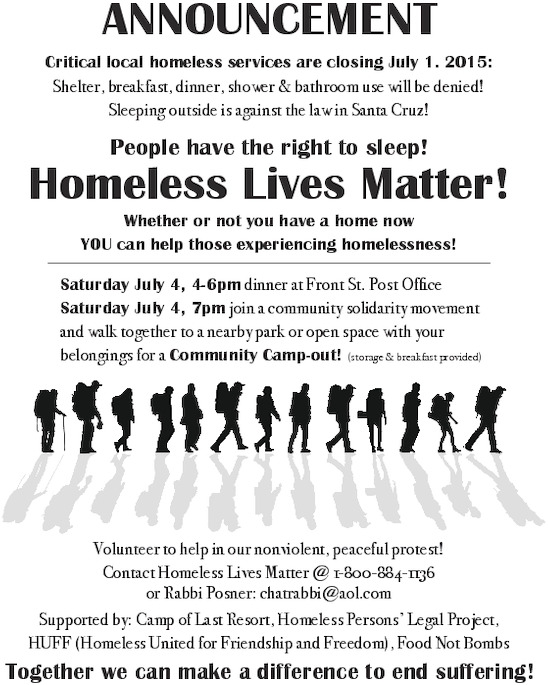 MASSIVE POLICE AND THREATS OF ARREST THE WEEK BEFORE
A week ago on June 18th at the same spot, more than a dozen CHP and SCPD officers threatened peaceful petitioners and food servers with trespass arrest. They declared the visible spot where two meals had been held without incident the week "a traffic hazard" and "part of [their] freeway jurisdiction". With the Chief of Police himself on the scene, the CHP threatened confiscation of the food, tables, and literature. Activists then moved the meal tables twice. First they moved further away from the intersection, but the CHP still claimed they were "trespassing".
Then activist Abbi Samuels, disgusted with the attack on folks serving the homeless and petitioning for saving services, declared "arrest me" and moved the table back to its original more visible (but clearly safe) location. CHP troopers then began preparations to arrest her, but two of us suggested we move the operation onto the sidewalk—which is a clear free speech zone, even though it would be crowded. We did. After huddling, the SCPD and CHP decided to back off (perhaps fearing a successful lawsuit as well as creating more of an uproar with so many armed cops going after the Food Menace).
The Sentinel's incomplete account of the event is at
http://www.santacruzsentinel.com/social-affairs/20150618/santa-cruz-homeless-breakfast-protest-draws-police-attention
(until the Sentinel requires a pay-per-view after a few weeks or so). You can also go there to comment.
A SUCCESSFUL MEAL THIS TIME
Flash forward a week to June 25th with two CHP officers standing near their bikes at the turnoff where the week before I and others had parked our vehicles off the road to unload food, tables, literature, etc.
This time, apprehensive of harassment and arrest, we didn't use tables—instead transferring food to buckets and serving on top of milk crates. We did set up off to the side, but still on the "forbidden property" where we'd been told we were "trespassing" on June 18th and served from there rather than from the more congested sidewalk. This time CHPers did not interfere, but also declined to sample the fine cuisine.
We then doled out hot oatmeal with raisins as well as (reportedly) tasty potatoes and onions, whipped up by Cafe HUFF chef "Push Back" Pat Colby. Giving out fliers, holding colorful placards, and doling out the delicacies were Food Not Bombs volunteers and homeless folks from around the corner at the Homeless (Lack of) Services Center from which they were being evicted.
STRONG SUPPORT
Israel, a videographer, set up his impressive looking video camera and began what is likely to be a regular feature of the ongoing Community Campout protests—segments of a documentary for UCSC. Lauren, a graphic artist and computer impresario posted beautifully crafted signs rather than the usual scrawled and coffee-stained posters that HUFF trots out denouncing the Sleeping Ban and the Service Shut down.
Activists included first-on-the-scene Steve Pleich from the Homeless Persons Legal Assistance Project while others doled out coffee from India Joze restaurants, compliments of JumboGumbo Soupster Joe Schultz.
I distributed fliers—reproduced here—which described the latest pieces of information retrieved from the fog of confusion and concealment around the HLOSC's budget (still withheld).
FURTHER INFORMATION
I'll be playing interviews from this event and the previous June 18th cop jamboree on my Bathrobespierre's Broadsides Free Radio Santa Cruz show tomorrow at 10 AM. Tune in at 101.3 FM or check in at freakradio.org . The show will be part of a longer archive at
http://www.radiolibre.org/brb/brb150628.mp3
. Call in at 831-427-3772.
Next General public meeting of Homeless Lives Matter is tomorrow (Sunday June 28th) at 6:30 PM on the steps of the post office.
The Campout begins on July 4th . Assemble at 6:30 PM at the same place!
Note that the description above is from my perspective as are the fliers which contain "HUFF" authorship. These are my opinions and those of some if not all the members of HUFF. Other groups may or may not agree with everything written here.
We are 100% volunteer and depend on your participation to sustain our efforts!
Get Involved
If you'd like to help with maintaining or developing the website, contact us.