From the Open-Publishing Calendar
From the Open-Publishing Newswire
Indybay Feature
2015 Census Results Show Major Decline in Homelessness in Santa Cruz County
The 2015 Santa Cruz County Point-In-Time Homeless Census & Survey was released today. The 2015 report states that there was a decline in overall homelessness from 3,536 persons in 2013 to 1,964 persons in 2015 in Santa Cruz County and calls the change, "remarkable."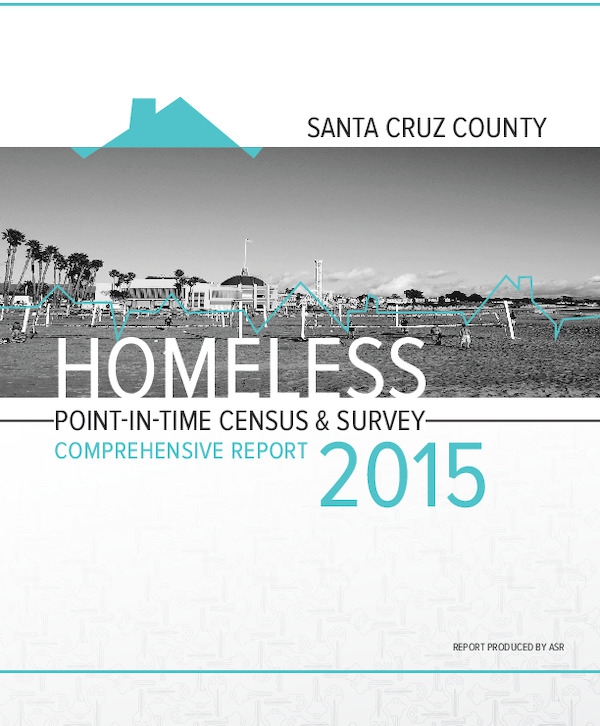 The report's conclusion states:
Since 2013 there has been considerable activity in the Santa Cruz community regarding homeless planning and community involvement. Notable are the efforts of the Homeless Action Partnership ( HAP) in coordinating a countywide response to homelessness, the role of many housing providers in increasing the stock of year-round homeless beds from 728 in 2007 to 1,172 in 2015 (these providers, such as Shelter Plus Care, MATCH, VASH, and DMV vouchers, provided the beds used by Project 180 and many others), the close coordination and joint planning between the County departments and cities, the increase year-by-year in CoC funds that support more housing and services, and the launch of major VA initiatives in Santa Cruz County, including VASH and SSVF.
Major initiatives worked on in the last 2 years also include the countywide Smart Solutions to Homelessness strategic planning efforts, the success of our Housing First initiative 180/180, the impact of the Affordable Care Act for homeless healthcare and wellness, the Downtown Accountability Program in Santa Cruz, Project Homeless Connect in Santa Cruz and Watsonville, Association of Faith Communities mobile shelter, general outreach efforts and many other local and neighborhood community responses. There is no question that these efforts have all contributed to the reduction of homelessness.
Survey responses indicate a number of characteristics of the homeless experience in Santa Cruz County:
• Veteran homelessness decreased from 395 persons in 2013 to 155 in 2015
• Chronic homelessness decreased from 989 persons in 2013 to 512 in 2015
• Unaccompanied homeless children and young adults (<25) decreased from 947 in 2013 to 272 in 2015
• 69% are unsheltered
• 21% live in vehicles
• 24% have a foster care experience
• 84% were housed in Santa Cruz when they became homeless
• 53% have a disabling condition
• 86% said 'yes' to wanting safe, affordable and permanent housing
With a 44% reduction in the homeless census from 2013 to 2015, the scale of decreases in the jurisdictions and unincorporated areas is significant everywhere. Shelter capacity decreased by just under 5%, but unsheltered reductions in most of the cities in Santa Cruz County were down by 40%-50% with only Capitola increasing from a single person in 2013 to 12 persons in 2015. The unincorporated areas decreased by almost 70% in total with the Aptos area, Live Oak and South County showing a combined decrease of over 82%. There is no question that there has been a significant geographic and demographic shift in homelessness in Santa Cruz County. It is hoped that the data presented in this report will be used as a reference tool for continued efforts to end homelessness in Santa Cruz County and create more responsive programs and solutions to achieve this goal. Consistent with all of the work done in the community wide planning to end homelessness has been the importance of the continued development of quality data and the imperative that we have to educate and involve our community about homelessness and how to prevent and end it. This report is, in part, dedicated to this effort.
More information:
http://www.appliedsurveyresearch.org/projects_database/homelessness/santa-cruz-county-homeless-census-and-survey.html
ABOUT THE RESEARCHER
Applied Survey Research (ASR) is a nonprofit, social research firm dedicated to helping people build better communities by collecting meaningful data, facilitating information-based planning, and developing custom strategies. The firm was founded on the principle that community improvement, initiative sustainability, and program success are closely tied to assessment needs, evaluation of community goals, and development of appropriate responses.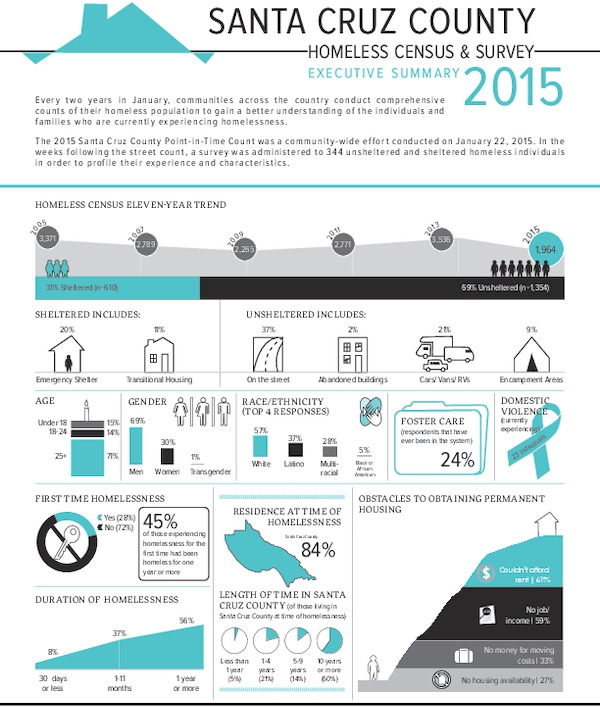 We are 100% volunteer and depend on your participation to sustain our efforts!
Get Involved
If you'd like to help with maintaining or developing the website, contact us.