From the Open-Publishing Calendar
From the Open-Publishing Newswire
Indybay Feature
Farm worker champion Sal Alvarez: A life grounded in faith and service
The farm worker movement mourns the passing on June 7, 2015, of Rev. Deacon Sal Alvarez, who played a key role with Cesar Chavez and Dolores Huerta in the farm worker movement and on behalf of many other worthy causes over seven decades. Sal was motivated by deep faith in a movement grounded in the Catholic Church's social justice teachings and dedication to Our Lady of Guadalupe. Photo: Rev. Deacon Sal Alvarez leading a procession into mass during the UFW's 50th anniversary convention in 2012 in Bakersfield, Calif.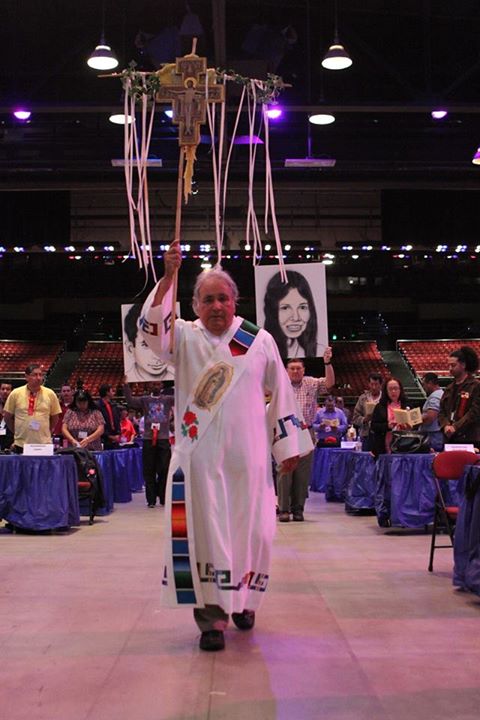 After earning a masters degree in social work from UC Berkeley and working with the U.S. Catholic Conference, Sal met Cesar Chavez in the late 1960s, while working with the Bishops Committee on Farm Labor. He became a United Farm Workers researcher in 1976, and was soon assigned as legislative aide to Dolores Huerta, with whom Sal forged a close working relationship for decades.
Sal spent years at the state Capitol in Sacramento, battling industry attempts to dismantle the historic Agricultural Labor Relations Act. He also worked on abolishing the short-handled hoe, winning workers compensation for farm workers and pushing UC to provide relief for agricultural workers displaced by its mechanization research.
After four years of liturgical study Sal also became a deacon in the Catholic Church. Faith played a central role in his life and colored his view of the UFW, which he saw not just as an economic organization, but also as a spiritual movement embracing belief in Our Lady of Guadalupe and the social doctrine of the church that called people to lead lives of service to the poor.
Cesar and Dolores would assign Sal tough lobbying missions. He started each day praying for God's guidance. His faith connected him with lawmakers whom he met on a spiritual level. The UFW dispatched Sal to Washington, D.C. in the 1980s, to push for immigration reform.
Every morning Sal began his day with Mass at the Cathedral of St. Matthew, which President Kennedy had attended. There he met and talked with lawmakers bout offering farm workers relief through immigration reform. One of them was Republican Sen. Alan Simpson of Wyoming, who initially opposed such relief. Simpson invited Sal to his office. The spiritual relationship Sal struck up helped turn around the senator.
Sal helped assure that farm workers were covered under the amnesty provisions of the 1986 Immigration Reform and Control Act. It helped 1.4 million farm workers and their families earn permanent legal status and it is a model in today's push for immigration reform.
Sal then co-founded and worked for three years with P.A.D.R.E.S., a Chicano priests' group organizing priests pressing for ordination of Latino bishops. He worked with the Santa Clara County Welfare Department, organizing Latino social workers to change a system that placed a disproportionate number of Latino children into foster care. He returned to community organizing with the county Human Relations Commission and founded and directed the Institute for Nonviolence in San Jose, teaching young people about conflict resolution. But his commitment to the UFW was always constant.
He also labored for years to win historical recognition for McDonnell Hall at Our Lady of Guadalupe Church in East San Jose. It was where Cesar Chavez came under the tutelage of Father Donald McDonnell, the parish priest who exposed him to Catholic social teachings and inspired his organizing career.
Sal Alvarez passed away at the small family ranch in East San Jose on June 7, 2015, after bravely battling a long illness. He is survived by his wife, Sylvia; his four children, Sabrina Gaughran, Sonia Alvarez-Oppus, Salvador Cesar Alvarez and Serena Alvarez; and nine grandchildren.
Services for Sal Alvarez:
The Vigil will be held at 7 p.m. on Tuesday, June 16, 2015 at St. John Vianney Catholic Church, 4600 Hyland Ave., San Jose 95127.
The Mass of Christian Burial will be concelebrated by Bishop Patrick J. McGrath of the Diocese of San Jose and Bishop Richard Garcia of the Diocese of Monterey at 11 a.m. on Wednesday, June 17, 2015, also at St. John Vianney Catholic Church, 4600 Hyland Ave., San Jose 95127.
http://www.ufw.org/_board.php?mode=view&b_code=news_press&b_no=17221&page=1&field=&key=&n=1121
We are 100% volunteer and depend on your participation to sustain our efforts!
Get Involved
If you'd like to help with maintaining or developing the website, contact us.