From the Open-Publishing Calendar
From the Open-Publishing Newswire
Indybay Feature
Pipeline Owner in Santa Barbara Oil Spill Has Had 175 Spill Incidents Since 2006
SANTA BARBARA, Calif.— The company that owns the pipeline involved in Tuesday's major oil spill in Santa Barbara has had 175 incidents (mostly oil spills) nationwide since 2006, including 11 in California, according to a Center for Biological Diversity analysis of federal documents.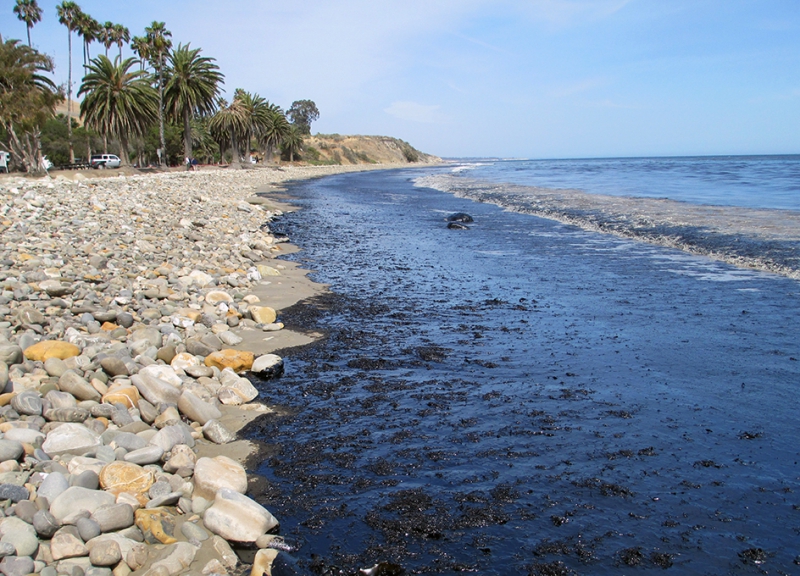 Plains Pipeline (a subsidiary of Plains All-American Pipeline) has also had federal enforcement actions initiated against it 20 times since 2006 for its operations across the country, according to data from the U.S. Pipeline & Hazardous Materials Safety Administration. Many of those cases involve corrosion control and maintenance problems on its pipelines, including two cases in 2009 for which the company was fined $115,600.
"This company's disturbing record highlights oil production's toxic threat to California's coast," said Miyoko Sakashita, the Center's oceans program director. "Oil pipelines and offshore fracking and drilling endanger our fragile marine ecosystems. Every new oil project increases the risk of fouled beaches and oil-soaked sea life."
The ruptured oil pipeline near Refugio State Beach — a 24-inch wide, 11-mile long section carrying oil from offshore platforms and an Exxon Mobil processing plant onshore — leaked as much as 105,000 gallons of crude oil, including 21,000 gallons making it into the ocean, fouling about nine miles of coastal waters and beaches.
The broken pipeline was 28 years old and operated by a company that has been repeatedly warned by government regulators to improve its procedures and control corrosion for its pipelines. Plains Pipeline had five incidents in California in 2014 alone, including the one that dumped oil into a Los Angeles neighborhood a year ago.
Hundreds of miles of oil pipelines run through California's coastal areas, posing a serious threat of spills. A review released by the Center for Biological Diversity of federal data over the past 30 years shows that such oil spills from pipelines are a common and costly byproduct of oil production that has been rapidly increasing in the United States, including offshore.
An analysis of federal pipeline data commissioned last year by the Center showed there have been nearly 8,000 serious pipeline breaks nationwide since 1986, causing more than 2,300 injuries and nearly $7 billion in property damage. The vast majority of those incidents have involved oil pipelines, spilling more than 2 million barrels into waterways and on the ground. More than 35 percent of these incidents have been caused by corrosion or other spontaneous structural failures.
The Santa Barbara Channel is rich in biodiversity, including whales, dolphins and more than 500 species of fish. Endangered blue whales often feed in the channel, and it is in the migration path for four other whales listed under the Endangered Species Act. Witnesses spotted sea lions and migrating whales in the coastal waters as the spill was taking place Tuesday.
The Santa Barbara County coastline was the site of an oil platform explosion in 1969 that spilled up to 100,000 barrels of oil.
"If we're learned anything over the past 50 years, it's that coastal oil production remains inherently dangerous to wildlife, local communities and health of the planet," Sakashita said. "To protect our coast, we need to stop offshore drilling and fracking and quickly transition to cleaner energy sources."
Offshore fracking has been used hundreds of times in recent years off California's coast, and oil companies are also making increasing use of techniques like acidizing to coax oil from beneath the ocean.
Photo: Oil on the beach at Refugio State Park in Santa Barbara, California, on May 19, 2015. (U.S. Coast Guard)
The Center for Biological Diversity is a national, nonprofit conservation organization with more than 825,000 members and online activists dedicated to the protection of endangered species and wild places.
Press Release: May 21, 2015
http://www.biologicaldiversity.org/news/press_releases/2015/santa-barbara-oil--spill-05-21-2015.html
Center for Biological Diversity
http://www.biologicaldiversity.org/
We are 100% volunteer and depend on your participation to sustain our efforts!
Get Involved
If you'd like to help with maintaining or developing the website, contact us.