From the Open-Publishing Calendar
From the Open-Publishing Newswire
Indybay Feature
Monterey Police Take Names, Issue 'Warnings' at Latest Sit-Lie Demonstration
Monterey Police have portrayed their enforcement of the city's sit-lie ban as a friendly process where first-time violators are simply given a "warning" when found sitting or lying on sidewalks located downtown and in other commercial districts. On May 1, community members participating in a sit-in held on the sidewalk of Alvarado Street to protest the new law demonstrated the process isn't quite that simple. More than a dozen individuals were confronted by police and forced to give them their name, date of birth, and home address as part of the verbal warning that they were in violation of the site-lie ordinance. For the past several months, community members have been organizing sit-ins to oppose the ban, which they say unfairly targets homeless people and travelers.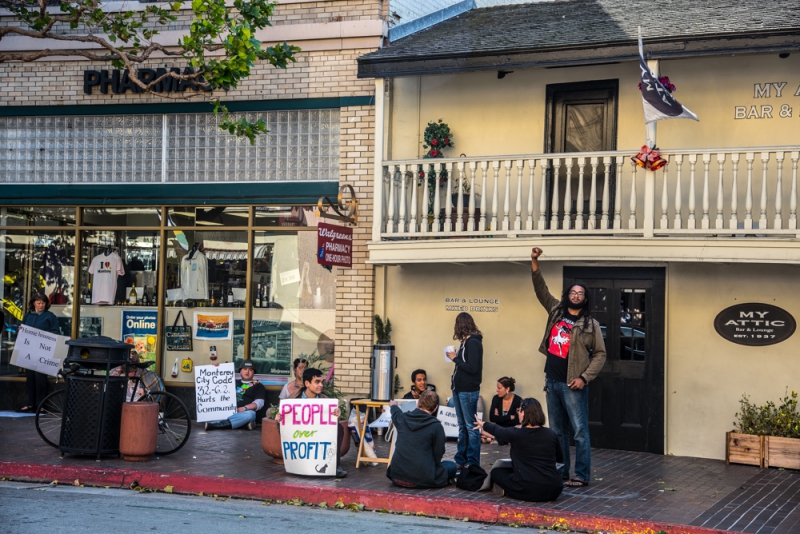 As the warnings were being issued, a few individuals joined the group and sat down right in front of police. Some did comply with the warning and stood up during the encounter, but the majority continued to sit. Three police officers were deployed to the scene; two issued the warnings while Sergeant Bob Guinvarch photographed several people and looked on.
Officer Roobash instructed individuals several times they shouldn't be opposing the ordinance by openly defying it.
"You need to take this to the City Council and proper channels," he said.
He asked if any of them had written the city to complain, and several demonstrators explained they had been contacting local officials since 2013 when the Monterey City Council initially discussed the matter and decided not to move forward with a sit-lie ban at that time. The council reversed course in 2014, however, and enacted a re-submitted proposal for a sit-lie ordinance.
There was some irony in Roobash, a police officer, instructing demonstrators to complain to the city. It was Monterey Chief of Police Phil Penko who pushed hard for a sit-lie ban, and he authored the 2013 and 2014 city staff reports that requested council members approve one without any alternatives presented.
Additionally, Monterey Police have dedicated an entire section of their website, which is titled "Homeless Issues," to give business owners and the public instructions on how to report homeless people to the police.
"The following information is provided to assist business people and individual community members in properly addressing incidents and concerns regarding the homeless and related quality of life issues," the Monterey Police website states.
A tab on the homeless issues page lists what it calls "related city code," a list of ten ordinances that can be applied to street people. The new sit-lie ordinance is not on the list yet, but the other laws referenced include: "begging prohibited," "camping prohibited outside of designated areas," "obstructing sidewalk or street prohibited," "11 p.m. curfew for minors," "loitering in parking facilities prohibited," and "camping in vehicles prohibited on public property from 10 p.m. to 6 a.m."
While receiving a warning for sitting at the May 1 demonstration, one person told police, "I invite you to give me a citation and I am not getting up until you do." He later explained that he wanted to be issued a citation for sitting so that he could fight it in court and have the law "invalidated."
Another demonstrator told police that he was a "homeless man" and he felt "extremely offended" that officers were attempting to prevent him from sitting on the sidewalk. He explained later how he uses alcohol to cope with life on the streets, which puts him at risk of violating the sit-lie law, and being targeted by police.
"I drink myself to sleep every night," he said.
After some time was spent debating the demonstrators, the police announced they were leaving, and that individuals who had received a warning from them would be cited under the ordinance if they were found sitting on the sidewalk again by officers.
"If we come back and you are still sitting here, we will give you a citation," Officer Roobash said.
One officer left the area completely, but Officer Roobash and Sergeant Guinvarch stationed themselves several storefronts away from the demonstration and looked on for about an hour. Most of the demonstrators continued to stay seated on the sidewalk until the end of the two-hour sit-in. Roobash and Guinvarch eventually left without issuing any citations.
The May 1 sit-in was the fourth in the series of demonstrations on Alvarado Street organized monthly by Direct Action Monterey Network (DAMN) to oppose the site-lie ordinance, which went into effect in October of 2014. DAMN has stated they are opposing it by clogging the city's "bureaucracies" with "lot's of citations."
Six Monterey police officers monitored DAMN's first sit-in in February, but never made contact with demonstrators. During the March and April sit-ins, no police were present, but individuals experienced tense interactions with My Attic Bar & Lounge owner Jason Coniglio, who threatened to call the police on the group.
The new ordinance (Sec. 32-6.2) states that sitting or lying on sidewalks in commercial districts of the city is a crime between 7:00am and 9:00pm. To issue a citation, police must first warn an individual.
"No person may be cited for a violation of this section until a peace officer first warns said person that his or her conduct is unlawful and said person is given a chance to stop said conduct," the ordinance states.
Strategically, demonstrators have scheduled the sit-ins to occur monthly, so that individuals may participate every month without risk of citation if they stand up after being warned by an officer.
The ordinance does not specifically outline in what manner the warnings are to be issued, and mentions nothing about the amount of information police may or may not request from those found sitting.
Coincidentally, May 1 was the last day on the job for Chief Penko, who announced in April his impending retirement from the Monterey Police Department.
Demonstrators say they plan to return to Alvarado Street in June for another regularly scheduled sit-in, which will coincide with the expiration of the police warnings.
For more information about Direct Action Monterey Network, see:
https://solidaritymonterey.wordpress.com/
http://www.facebook.com/DirectActionMontereyNetwork
Alex Darocy
http://alexdarocy.blogspot.com/
We are 100% volunteer and depend on your participation to sustain our efforts!
Get Involved
If you'd like to help with maintaining or developing the website, contact us.