From the Open-Publishing Calendar
From the Open-Publishing Newswire
Indybay Feature
View other events for the week of

5/ 7/2015
Homeless Lives Matter: Fighting the Parking Ban, Day 2
Date

Thursday May 07

Time

2:30 PM

-

4:30 PM

Import this event into your personal calendar.
Location Details
115 Coral Street--On the Sidewalk Outside the "Homeless Services Center" [HSC]--near Hiway 9 and Hiway 1
Event Type

Protest

Organizer/Author
Robert Norse
Email
rnorse3 [at] hotmail.com
Phone
831-423-4833
Address
309 Cedar PMB 14B Santa Cruz, CA 95060

TEAMING UP WITH THE OPPRESSOR

While they officially call themselves the "Homeless Services Center" [HSC], I have described the HSC as the "Homeless (Lack of) Shelter Center -[HLOSC].

The HLOSC provides shelter for less than 5% of the homeless community, have fenced off the area creating a jail-like atmosphere with ID cards, double layers of uniformed police and security, prioritized office space over vital homeless locker storage space, removed homeless parking on their property, harassed homeless people for "loitering" on the sidewalk, and displayed open hostility to activists advocating for the rights of homeless people.

The HLOSC has also reportedly supported the current "no parking for the poor" program being pushed by the Public Works Department--with the support of the SCPD and some nearby Harvey West Businesses.

THE ANTI-HOMELESS PARKING PLAN

The plan will eliminate ALL parking on Fern, Coral, and Limekiln streets unless you have one of the relatively few permits granted. These few are apparently only available to property owners, businesses, and renters.

This is an unprecedented plan, apparently reserved for the homeless community, nowhere present elsewhere in the City in any of the other permit parking zones.

It is slated to go into effect on May 13th in spite of the letters of objection and petitions filed.

DEMAND PUBLIC PROCESS

Public comment on the issue should send it to at least a hearing for consideration at the Transportation and Public Works Commission.

But yesterday Public Works Parking Program director Marln Granlund decided that such comment would be limited to property owners and renters on the three streets.

CHANGING THE RULES

Initially Granlund advised me that a single letter of complaint would delay the process and at least secure a hearing before the Commission (which recently okayed a more limited anti-homeless Permit Parking program around the Circles Church at Woodrow and California).

I sent him that letter, describing the serious negative impact this would have on disabled folks and other clients of the HSC, which I will attach to this post.

In response, he advised me that may have misspoken and was declining to hold off the deadline, waiting for an opinion from the City Attorney.

STONEWALLING ON PUBLIC DOCUMENTS

In addition, he and City Attorney Bren Lehr have so far declined to release the documents showing who is behind the current attack on visible homeless presence and access to homeless services.

Such documents, though requested a week ago, and readily available in Grandlund's office, will not be "available" until Monday, two days before the deadline.

ISOLATING THE HOMELESS

Two days ago, HUFF (Homeless United for Friendship & Freedom) set up a small table next to the sidewalk at the HLOSC. An armed and uniformed officer (Bill Azua) with a documented reputation for harassment of homeless people downtown, immediately left his squad car and stood in front of the HLOSC entrance.

He demanded we move off our petitioning table (where we were also serving coffee) onto the narrow 4-6' wide sidewalk. When I declined, he went in to complain to the management, who sent out a woman to first demand we not pass the locked gates and uniformed guard (there was one there in addition to Azua).

When we agreed to do this, she then insisted we move onto the sidewalk. The unconstitutional "No Loitering" sign was a taste of how homeless people may be treated on a daily basis.

Throughout the next hour and a half, we gathered 30 signatures, in spite of threats and interruptions by Azua, whose presence and verbal comments deterred a number of people who would have signed (though it possibly upset and encouraged others).

RETURN VISIT 2:30 PM TODAY MAY 7TH !

We'll be back today serving more coffee and gathering more signatures as well as taking complaints and interviewing people for Free Radio (6-8 PM tonight at 101.3 FM and

http://www.freakradio.org

).

We invite everyone to come on down with video cameras, vid-capable phones, sign-making materials, and friends.

Those concerned with militarization of the community should stop it where it early (though the hour is late)--among the most vulnerable communities. Will we respond to the attempt to deepen the pariah status of homeless people?

Does making disabled people walk several blocks to use services seem anything other than needless cruelty to pander to the prejudice and privilege of a few businesses?

Download the flier at

https://www.indybay.org/newsitems/2015/05/04/18771861.php

.

Added to the calendar on Thursday May 7th, 2015 9:45 AM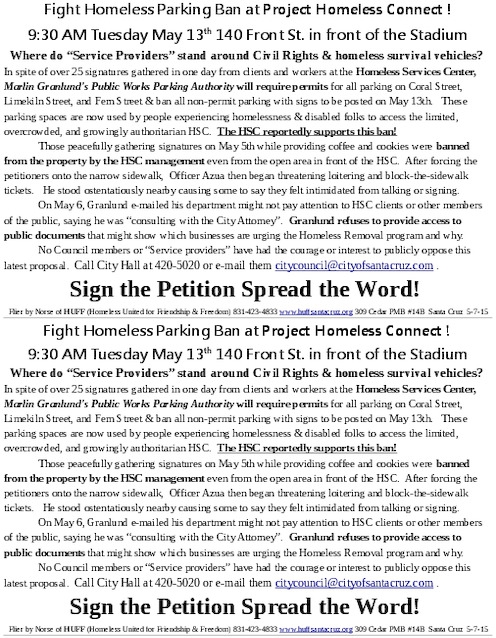 We're putting ahead the protest and signature gathering to tomorrow at 9:30 AM. We have a few days remaining for public comment, depending on whether Granlund allows it. His office (at Public Works) and that of the Councilmembers is conveniently located right across the street from the Main Library.

Here's an updated flier with more information. We'll be distributing it tomorrow morning. Come on down and help, if you'd like, then pile on the Councilmembers, Commission members, and Public Works flunkies to demand they stop this new seizure of public space in the interests of business prejudice and the SCPD agenda.
We are 100% volunteer and depend on your participation to sustain our efforts!
Get Involved
If you'd like to help with maintaining or developing the website, contact us.