From the Open-Publishing Calendar
From the Open-Publishing Newswire
Indybay Feature
Related Categories:

Santa Cruz Indymedia | Police State & Prisons | Racial Justice
Eight Arrested in Black and Brown Lives Matter Rally and March, Monterey, CA 3-28-15
On Saturday March 28, 2015 in Monterey, CA, about 75 people in a broad coalition of activists, many Brown and Black, rallied at 10 am at the Monterey Wharf and marched downtown to protest white supremacist police brutality in Salinas and nationwide, and to say Black and Brown Lives Matter.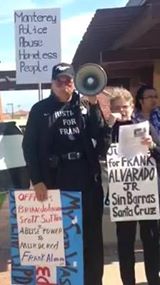 White Salinas police have killed 5 unarmed Latino men since March 2014: March 20, Angel Ruiz, age 42; May 9, Osman Hernandez, 26; May 20, Carlos Mejia, 44; July 10, Frank Alvarado, Jr., 39; October 31, Jaime Garcia, 35. Frank Alvarado Jr. was a member of Sin Barras, a Santa Cruz organization that works for prisoners' rights and for money and resources to go to the community rather than the mass incarceration of poor people of color.
The rally started with a statement from the Black Brown Coalition: "We have been inspired by the growing movement which has taken the name Black Lives Matter, a phrase and concept created by three black womyn activists and organizers, Alicia Garza, Patrisse Cullors, and Opal Tometi to counter anti-Black oppression in the form of police/vigilante killings and mass incarceration."
"It's institutionalized racism," protester Catherine Cante said. "Black and brown bodies are being targeted systematically." [
http://www.ksbw.com/news/protestors-block-highway-1/32067660
]
Frank's father, Frank Alvarado Sr., and his sister, Angélica Garza, spoke out at the rally about the brutal murder of Frank, who was unarmed, carrying only a cell phone, and their determination to get justice for Frank and the others. Angélica also talked about an incident of police abuse when she called for mental health-trained officers to help with her autistic son. See photos of them (wearing JUSTICE FOR FRANK t-shirts) and other protestors @
http://photos.montereyherald.com/2015/03/28/photos-black-and-brown-lives-matter-protest-in-monterey/#1
Thirty protestors marched onto Highway 1 South, blocked all four lanes, and closed the highway for 45 minutes. California Highway Patrol and the Monterey Police Department cleared them from the highway and MPD arrested eight young people. 4 women and 4 men, from California State University, Monterey Bay (CSUMB) and Direct Action Monterey Network (DAMN), Alexandra Walling, Colette Marlin-Winter, Peter Xiong, Trinidad (Amoxtli Ilhicamina) Gonzalez, Michael Fredericksen, Benjamin Wilson, Courtney Thomas, and Maxwell Green, were arrested. They each face five misdemeanor charges, including obstructing a public roadway and disobeying a lawful order by police.
According to a Moscow news report: "'The fact that I'm black, myself, is the No. 1 thing that brought me out here today,' Courtney Thomas, 23, of Los Angeles, said on Saturday, as quoted by Monterey Herald. Thomas was speaking before she was arrested later in the day. 'A lot of men in my community are getting gunned down almost every day, and no justice is being served,' she stressed." The article did not mention Brown people nor that Salinas police have killed 5 unarmed Latino men since March 2014. [
http://sputniknews.com/us/20150329/1020155111.html
]
Direct Action Monterey Network has worked closely with the families, the Salinas community, and Sin Barras since last year, to get justice for all those murdered by the Salinas PD and by police and state-sanctioned violence. DAMN is a co-sponsor of Statewide Coordinated Actions To End Solitary Confinement and plans to begin Monterey actions on the 23rd of June.
"News Channel 5 caught up with a protester who said she may have backed off after the first warning, but didn't back down form [sic] her message. Evelyn Gomez said, officer involved shootings need to end. 'We wanted to make an impact. we wanted people to know what is going on in Salinas, especially in Ferguson,' Gomez said." See report and photo of highway shutdown @
http://m.kionrightnow.com/reports-of-protestors-blocking-southbound-hwy-1-near-freemont-boulevard-exit/32067414
After Frank's family learned of his work with Sin Barras (SB), his father Frank Alvarado Sr., sister Angélica Garza, and niece Natalie Mendoza joined the group. SB sent 4 people from Santa Cruz to the rally Saturday and Willow Katz spoke about Frank's work for resources and rights for incarcerated and formerly incarcerated persons (including Prisoner Hunger Strikers protesting the torture of solitary confinement), the white supremacist role of police and prisons, and the movement for social justice.
Photo: Frank Alvarado Sr., father of Frank Alvarado Jr., murdered by white Salinas police officers, July 10, 2014, and Willow Katz, Sin Barras and Statewide Coordinated Actions To End Solitary Confinement. Photographer: Lori Aviña-Korhonen
Willow Katz is an activist working with the family of Frank Alvarado, Jr. (murdered by white Salinas police on July 10, 2014), Global Women's Strike, Haiti Action Committee, Sin Barras, and Statewide Coordinated Actions To End Solitary Confinement (SCATESC). She can be reached at
sinbarras [at] gmail.com
We are 100% volunteer and depend on your participation to sustain our efforts!
Get Involved
If you'd like to help with maintaining or developing the website, contact us.