From the Open-Publishing Calendar
From the Open-Publishing Newswire
Indybay Feature
Westlands Water District hires Rep. Nunes' chief of staff
"The District is excited about Johnny joining the District's staff," said Thomas Birmingham, Westlands' General Manager. "His prior work with elected officials at all levels of government in the San Joaquin Valley and other regions of the state will be instrumental in helping to forge a unified Valley position on potential solutions to address the Valley's chronic water supply shortages."
Map of Westlands Water District courtesy of
http://wwd.ca.gov/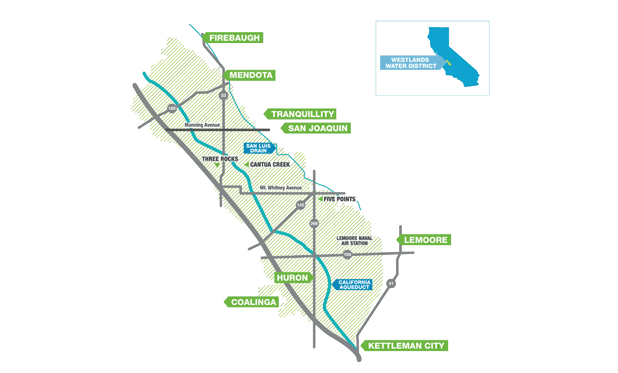 Westlands Water District hires Rep. Nunes' chief of staff
by Dan Bacher
In yet another example of the revolving door between government, corporations and water contractors that defines California politics, the powerful Westlands Water District announced on March 27 that Johnny Amaral will join Westlands' staff as Deputy General Manager for External Affairs, effective May 1, 2015.
Mr. Amaral is currently the Chief of Staff for Representative Devin Nunes, who represents California's 22nd Congressional District and is best known for sponsoring legislation to increase pumping Delta water to corporate agribusiness and to eviscerate Endangered Species Act protections for Central Valley salmon, Delta smelt and other species.
"His service as a congressional chief of staff provides him with a wealth of experience in the fields of government, public affairs, and communications," according to a statement from Westlands.
"The District is excited about Johnny joining the District's staff," said Thomas Birmingham, Westlands' General Manager. "His prior work with elected officials at all levels of government in the San Joaquin Valley and other regions of the state will be instrumental in helping to forge a unified Valley position on potential solutions to address the Valley's chronic water supply shortages."
Mr. Amaral holds a Bachelor of Arts degree in Liberal Studies from California State University, Fresno, that he received in 1997.
Westlands will pay Amaral $250,000 a year - a 50 percent increase from his current salary in the House of Representatives.
Amaral's hiring serves to illustrate the increasing collaboration between government, water contractors and corporations in the state of California under Governor Jerry Brown. Just a few of the many examples of the revolving door between corporations and state government in recent years include:
• The Department of Water Resources' hiring of Susan Ramos "on loan" from the Westlands Water District, considered by many to be the "Darth Vader" of California water politics, to serve as "a liaison between all relevant parties" surrounding the Delta Habitat Conservation and Conveyance Program (DHCCP) and provide "technical and strategic assistance" to DWR (
http://www.indybay.org/newsitems/2011/12/14/18702762.php
)
Documents obtained by this reporter under the California Public Records Act revealed that Ramos, Deputy General Manager of the Westlands Water District, was hired in an "inter-jurisdictional personal exchange agreement" between the Department of Water Resources and Westlands Water District from November 15, 2009 through December 31, 2010. The contract was extended to run through December 31, 2011 and again to continue through December 31, 2012.
• The resignation of State Senator Michael J. Rubio in February, 2013 to go work in a "government affairs" position for Chevron. Rubio, who was leading the charge to weaken the landmark California Environmental Quality Act (CEQA) and make it more friendly to corporations, claimed he resigned in order to spend more time with his family. (
http://www.dailykos.com/story/2013/02/23/1189354/-Senator-Michael-Rubio-resigns-to-take-job-with-Chevron
)
• The hijacking of "marine protection" in California by Catherine Reheis-Boyd, President of the Western States Petroleum Association (WSPA). Reheis-Boyd chaired the Marine Life Protection Act (MLPA) Initiative Blue Ribbon Task Force to create so-called "marine protected areas" in Southern California. She also served on the task forces for the Central Coast, North Central Coast and North Coast from 2004 to 2012. (
http://yubanet.com/california/Dan-Bacher-Top-Censored-Environmental-Story-of-2012-Marine-guardian-lobbies-for-offshore-oil-drilling-fracking.php
)
• Governor Jerry Brown's appointment of Laura King Moon of Woodland, a lobbyist for the state's water exporters, as chief deputy director of the California Department of Water Resources (DWR) in September 2013. Prior to that appointment, Moon was a project manager for the Bay Delta Conservation Plan since 2011 while "on loan" from the State Water Contractors, a "non-profit association" of 27 public water agencies from Northern, Central and Southern California that purchase water under contract from the State Water Project.
"This appointment is just more of the fox guarding the hen house," said Tom Stokely, Water Policy Analyst for the California Water Impact Network (C-WIN), at the time of her appointment. "We know whose interests she will represent - and it's not the taxpayers of California."
Stokely's words are equally appropriate in describing Johnny Amaral, Susan Amaral, Michael Rubio, Catherine Reheis-Boyd and others who use their past or present government positions and contacts to advocate for corporate interests and the plundering of the public trust.
We are 100% volunteer and depend on your participation to sustain our efforts!
Get Involved
If you'd like to help with maintaining or developing the website, contact us.