From the Open-Publishing Calendar
From the Open-Publishing Newswire
Indybay Feature
Community Members Continue to Protest the Sit-Lie Ban in Monterey
Individuals with Direct Action Monterey Network (DAMN) and other community members returned to Alvarado Street in Monterey on March 13 for a second sit-in. They are protesting a law that went into effect in October that makes sitting or lying on commercial sidewalks a crime from 7am until 9pm. DAMN's first demonstration against the sitting ban was held on February 13, exactly one month prior, and they say they plan to return again next month for a similar action. The idea to schedule the protests monthly was a calculated decision. The phrasing of the new law states that if an individual receives a warning from the police to stop sitting, they must not sit on the sidewalk again for one month, or they can be cited and or arrested.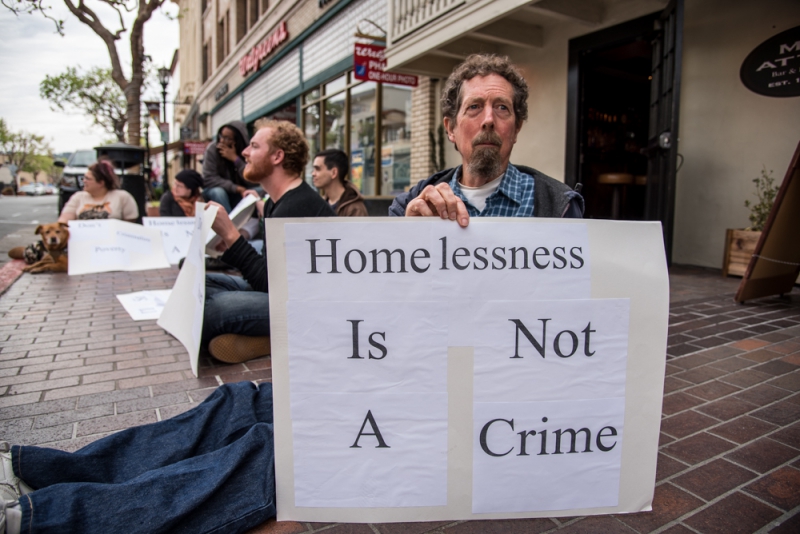 "Join us as we sit and lie in solidarity with the homeless, travelers, and all people targeted by police and their brutality," an announcement for the March 13 event read.
DAMN members are not using the word "brutality" lightly. As recently as two months ago they received a first hand account of police officers in Monterey physically beating a homeless person who had been lying on Alvarado Street's sidewalk.
Those sitting during the demonstration held protest signs, and after reading them, one of the first people to pass the group said loudly, "Next thing you know, you can't walk!"
A few minutes later Jason Coniglio, the owner of My Attic Bar & Lounge, asked them if they weren't unfairly targeting his business, since they had already demonstrated in front of it once before.
One of the demonstrators then asked him if he had spoken out against the sit-lie law, and Coniglio did not respond.
Another downtown business owner spent a good deal of time sharing his list of complaints about street people with the group of demonstrators. One of his claims was that over the years he had offered jobs to a number of different people who he had seen panhandling, and none had ever taken him up on the offer of work.
In May of 2013, when the Monterey City Council was first considering a sit-lie ban, Monterey Chief of Police Philip J. Penko authored the staff report that explained a sit-lie ban proposal was brought to them because for several months city staff had received complaints about "a decreased sense of safeness" in downtown Monterey, around Fisherman's Wharf, and long Roberts Road and Garden Road. Fred Meurer, who was City Manager at the time, told council members that the bulk of complaints came from the Old Monterey Business Association membership. The council decided at that time not to study the concept further, but increased pressure from the business community and the police led to a sit-lie ordinance being passed in 2014.
During DAMN's first sit-lie protest on February 13, there was a strong police presence on foot monitoring the group's activities, but not so for the second protest, and so far no one has been warned by police to stop sitting at the demonstrations.
The next sit-in is planned for April.
For more information about Direct Action Monterey Network, see:
https://solidaritymonterey.wordpress.com/
http://www.facebook.com/DirectActionMontereyNetwork
Alex Darocy
http://alexdarocy.blogspot.com/