From the Open-Publishing Calendar
From the Open-Publishing Newswire
Indybay Feature
Hyatt "hotel" built in residential district in California by billionaire Pritzker family
Billionaire Anthony Pritzker heir to the Hyatt Hotel family fortune built a 53,000 square foot home completely under the radar. This home which looks like a grand hotel resort and spa is actually home to him, his wife and three kids. He built his own private "Hyatt Hotel" in Bel Air, California in a residential district so he could throw huge lavish commercial events. How was he able to build this without public review? Contacts and campaign contributions.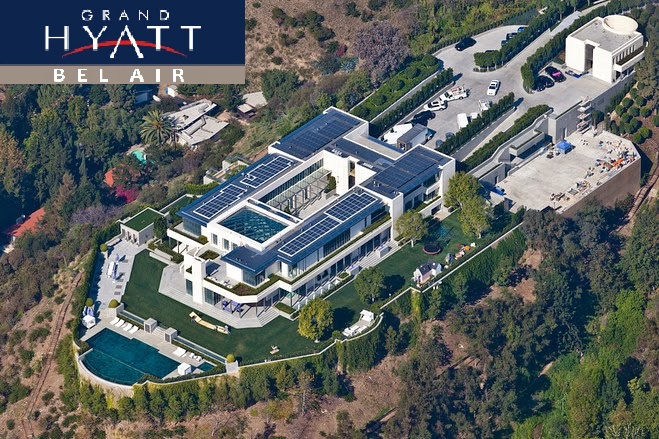 Recently an article was written about the 53,000+ sf "single family home" built at 1261 Angelo Drive, Los Angeles, California 90077. This is the second largest home in Los Angeles. It's most likely the largest because there are two basement levels which are not included in the "above ground living area."
The owner is billionaire Anthony Pritzker an heir to the Hyatt Hotel fortune. Pritzker managed to build this home that seriously looks exactly like a hotel starting in 2005 and finishing in 2012 without having to notify any of his neighbors. No one knows how this huge project was built without public notice or review.
This is not just a 53,000+ sf home. The original property was just a sliver of land, a promontory on the top of the hill. The previous stunning architectural home which was bulldozed was built by architect David Fowler in 1963. It was featured in the movie "The fast and the furious." They literally built a mountain 250' wide by about 750' long to make a pad that size built up to the top of the hill. The previous pad was about 10,000 sf maximum while the new pad is approximately 200,000 sf. The retaining walls look at least 50' tall from directly beneath the property. See attached photo.
After they spent three years building the mountain they supposedly built a "single family residence." Why does a man, wife with three children at home need a 53,000+ sf house? They don't. They actually own other homes in the area where they also live. What then is the purpose of this huge over built home which has a hair salon, bowling alley, pool, tennis court, arts and crafts room, spa center, media...?
This is not actually a single family home even though the property is zoned for only single family homes. This is actually a private hotel, resort, spa, restaurant, event/party location for their many businesses, organizations, charities, political groups they own and operate. They wanted to build their own very private hotel and resort similar to the nearby Hilton Hotel, Beverly Hills Hotel, Bel Air Hotel and Four Seasons. In fact the acreage is pretty similar to some local five star hotels. As the Pritzker family made their money by owning Hyatt Hotels it all starts to make sense now. The built a mountain then put their own private Hyatt Hotel on top of it in a residential zone.
I would bet they write off most of the home expense as business or non-profit expenses. They maybe even rent to other groups as a "donation." They actually had to get a permit to get a temporary generator for one big party they recently had. They hosted a $20,000 a plate, $50,000 a table political fundraiser at the home. They rent, use for free the nearby school Harvard Westlake grass athletic field as a parking lot for parties. They shuttle guests up the extremely narrow lane to their home. This is the same school their kids attend. In fact two teachers at the school stated they have three children in the school. They were making their own private path to get from their home directly to the school. This would be across other people's property.
This home is equipped with more than one guest house, security building, restaurant sized kitchens, professional media rooms, bowling alley, spa and much more. When they have parties the valet parkers they hire sometimes park the cars lower down on the public streets. Helicopters buzz above the home to get video of dinner parties viewed through the inner atrium. They have a full time professional staff and caretakers. This is not a single family home at all but a five star resort. Their staff park on the lower public streets and are shuttled daily to the property.
How was Anthony "Tony" Pritzker allowed to build this huge fake mountain with an out of place monster mansion known locally as the infamous Grand Hyatt Bel Air without notifying the neighbors? The recent Saudi Prince can't get his smaller home approved but this billionaire American hotel heir with his UCLA, political, architectural, planning consultant contacts could.
In a previous article it was explained how they were able to get this project approved and built under the radar by gaming, working the permit process. They basically would get one part of the building process approved at a time making sure it wouldn't trigger a public review. One could bet all those political contributions they've made over the years sure came in handy.
Below are just a few publicly covered commercial parties at this house. Most people rent a banquet room at a hotel, pool area, bar or restaurant. If you're a billionaire Hyatt heir you can just build your own private hotel in a residential neighborhood. Don't mind your neighbors with an average of 2.5 people per household, two cars per household and average sized homes of three bedroom 2,500 sf. Feel free to build a mountain with your own private hotel resort on top causing massive traffic in an already heavily traveled area not to mention taking all the street parking.
They raised $500,000 for UCLA's (don't laugh) Institute of the Environment and Sustainability at the house March 20, 2012. Their guests, friends are the Governor of California, Senators, major celebrities and people with great wealth and influence. Tony Pritzker is actually on some "green" building boards. While he used "green" building materials a 53,000+ sf home for one family is not "green" or eco-friendly especially when you consider what he did to the existing land. Building an artificial mountain does not come without consequences.
http://newsroom.ucla.edu/stories/donors-give-a-half-million-to-230853
Event September 2014. They even had a Cirque du Soleil performance. This event was paid for by others. Makes One wonder if he makes money renting out the home. An LLC corporation owns the home.
https://www.afhu.org/the-bel-air-affaire-2014-architecture-in-motion-2
May 24, 2012 political party for Mitt Romney
http://variety.com/2012/biz/opinion/romney-heads-to-southern-california-36586/
These are just a few of the events covered by the media within a few months span. There have been many more. When all street parking is gone and traffic backed up for blocks with helicopters flying above one knows they're having another "little" soiree.
When is a hotel actually a home or vice versa? It seems if you have the money and contacts, you can do anything you like regardless of your neighbors or the proper building and permit process.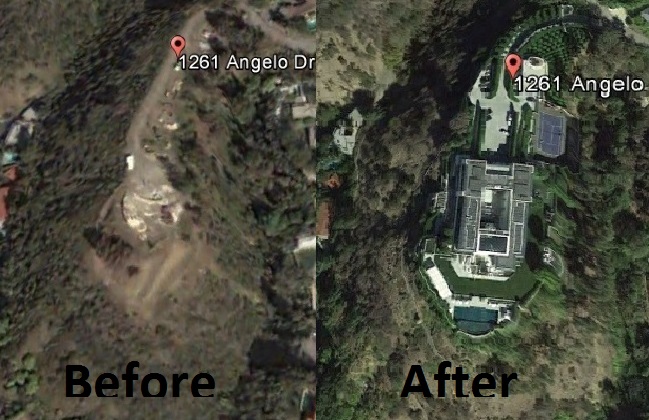 We are 100% volunteer and depend on your participation to sustain our efforts!
Get Involved
If you'd like to help with maintaining or developing the website, contact us.