From the Open-Publishing Calendar
From the Open-Publishing Newswire
Indybay Feature
Advocates Urge FDA to Halt Risky GMO Mosquito Release
Washington, D.C.— Today, the national advocacy organization Food & Water Watch urged the FDA to prevent the British biotechnology company Oxitec from releasing millions of unregulated GMO mosquitoes in the Florida Keys this spring and to require the company to submit to a formal agency review (see PDF). GMO mosquitoes are not adequately regulated, either by federal or local agencies, and may pose significant risks to human health and the environment.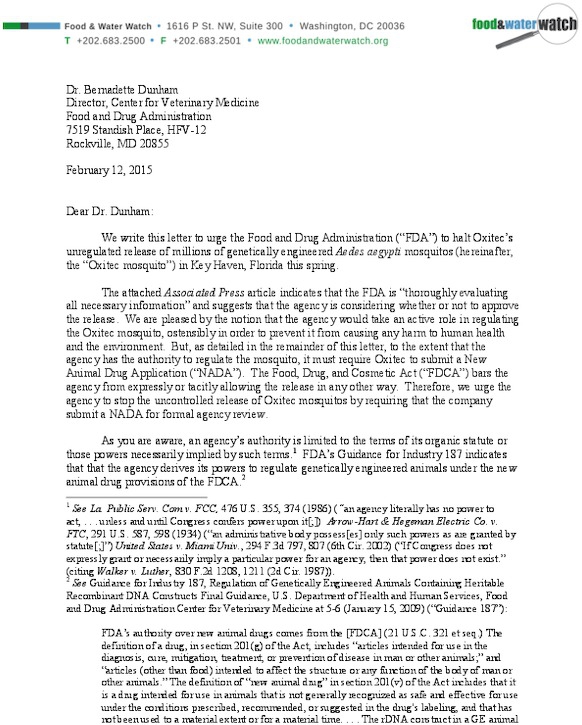 "GMO mosquitoes are nothing but a science experiment run amok," said Food & Water Watch Executive Director Wenonah Hauter. "Releasing them into the environment will not be worth the effort, expense or potential risk."
Despite growing public concern about the mosquitoes raised by residents of the Florida Keys, there is no indication that FDA or any other federal or state agency has adequately evaluated the safety of the company's plan to release genetically engineered insects. Nor does any agency seem to know who is actively responsible for considering it.
The Oxitec mosquitoes would be the first genetically engineered insect to be introduced in the United States with the intent to wipe out a wild population in the name of disease control. While they would purportedly be used to control dengue fever, it has not been proven that the engineered mosquito would be effective in controlling disease, and may even allow other types of disease-carrying mosquitoes to flourish, according to a study recently released in the peer-reviewed journal PLoS Neglected Tropical Diseases.
The study looked at the spread of the Asian Tiger Mosquito in Panama and concluded that "GM strategies might have only short-term effects on vector population sizes."
The public is also skeptical of GMO mosquitoes. Over 145,000 people have signed a petition opposing their release.
"The lack of regulatory oversight here is appalling, and it means that nobody is looking out for unintended consequences to human health or the environment," noted Hauter. "If FDA does not take action on this, Oxitec will, and we cannot allow a biotech company to police itself. FDA needs to exert some authority and regulate GMO mosquitos, rather than leaving that crucial role to a corporation."
Press Release: February 12, 2015
http://www.foodandwaterwatch.org/pressreleases/advocates-urge-fda-to-halt-risky-gmo-mosquito-release/
Food & Water Watch
http://www.foodandwaterwatch.org/
We are 100% volunteer and depend on your participation to sustain our efforts!
Get Involved
If you'd like to help with maintaining or developing the website, contact us.