From the Open-Publishing Calendar
From the Open-Publishing Newswire
Indybay Feature
New Solar Farm in Cuba Part of Socialist Solution to Global Warming
[Photo: Solar panels donated to Cuba by the People's Republic of China in Parque Fotovoltaico.]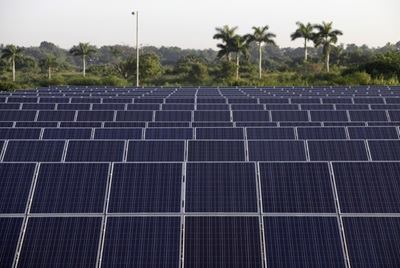 New Solar Farm in Cuba Part of Socialist Solution to Global Warming
Cuba long ago adopted efficiency measures for electricity. Other projects have provided solar electricity panels for thousands of schools, medical facilities, and community centers. In addition, since the Cuban Revolution, Cuba has also succeeded in extending electricity services to a large proportion of the population — a noteworthy achievement in a country that was super-exploited by U.S. imperialism before the Cuban Revolution and has been under U.S. economic blockade ever since. These measures are part of Cuba's overall socialist policies to make lives better for the working class and peasantry and decrease human impact on the environment. This was recognized by the World Wildlife Federation (WWF) in 2006. As the People's Daily World Reported:
"Remarkably, in 2006 the World Wildlife Federation rated Cuba as the only country that combined high human development standards as defined by high literacy and health indexes with a low ecological footprint including electricity consumed and carbon dioxide emitted per capita."
Part of what makes this possible is most of Cuba's land and economy are socially owned as part of a planned socialist economy. The capitalist class was expropriated in 1960, although there have been some openings for tightly controlled capitalist investments since as a means to gain needed foreign capital in certain sectors. Still, Cuba remains a socialist country. Through the economy being socially owned, instead of owned by capitalist stock holders, decisions on policies by the National Electric System can be made based on considerations that benefit human and environmental needs, rather than profit. This is one of the reasons why socialism is the only economic system that will be capable of saving the planet.
Cuban environmental physicist Dr. Luis Berriz, a strong advocate and developer of solar energy, says:
"From the point of view of practical existence, solar radiation could fully supply the world's energy needs indefinitely. The Cuban territory alone receives solar radiation with an energy value greater than 1 800 times the oil we consume. You know that solar energy is the primary source of wind, water, biochemistry, solar thermal, solar photovoltaic, etc. That's why we raise the following formula: Solar Energy + Technology = Energy Independence. If fossil fuels and nuclear energy sources have been of capitalism and imperialism, because with them they have dominated the world, renewable sources of energy will be those of socialism, which belong to everyone."
The following article from Cuba tells more about the latest solar project in Cuba.
-Steven Argue of the Revolutionary Tendency.
**********
Using the sun's energy
Pinar del Rio solar farm set to be integrated into the National Electric System (SEN)
by Ronald Suárez Rivas in Cuba for Granma
PINAR DEL RÍO.— The panels set to provide the first megawatts (MW) from the solar farm which has been under construction for the past few months in Vueltabajo are already installed and in the final preparation phase before their integration into the Cuban National Electric System (SEN).
According to scientist, Efren Marcos Espinosa, investment specialist at the Pinar del Rio electric company, a total of about 4,000 photovoltaic modules have been installed, manufactured in the own province, with a peak output of 250 Watts (Wp) each.
The official noted that the farm is located in an area known as Cayo Cana, in the municipality of Pinar del Río, where work is continuing in order to reach three MW at a later stage.
He added that the foundations required to reach that figure are virtually complete and that a great deal of the metal structures responsible for supporting the panels that will complete the farm have also been installed.
He highlighted that the new facility is the first step in the province aimed at diversifying energy sources, in order to reduce dependence on fossil fuels.
In this regard, he stressed that the electricity generated through solar energy produced by the 4,000 already installed panels will allow for savings of over 300 tons of fuel per year and avoid the emission of large quantities of carbon dioxide and other greenhouse gases into the atmosphere.
Given this reality, he noted that the company is currently working on engineering and geological studies aimed at identifying other areas suitable for the construction of further solar farms in Vueltabajo.
******
Also see:
Global Warming: Obama's Failures Compared to China's Real Action
by Steven Argue
https://www.indybay.org/newsitems/2014/06/03/
Revolutionary Tendency's new 4 part in-depth article (this article also refutes the bizarre attacks on Cuba for being racist coming from far right racists as of late):
Murderous Cops, Liberal Snake Oil, & Revolutionary Solutions
by Steven Argue
https://www.indybay.org/newsitems/2015/01/11/18766730.php
In Defense of the Cuban Revolution on Facebook
https://www.facebook.com/CubaGranma
Revolutionary Tendency on Facebook
https://www.facebook.com/RevolutionaryTendency
We are 100% volunteer and depend on your participation to sustain our efforts!
Get Involved
If you'd like to help with maintaining or developing the website, contact us.