From the Open-Publishing Calendar
From the Open-Publishing Newswire
Indybay Feature
#MLKSHUTITDOWN: Walmart Action Connects Economic Oppression with Police Terror
Suited and Booted - APTP Media Team
On Sunday, January 18th of #ReclaimMLK weekend, Workers Against the System held a direct action at an East Oakland Walmart.

This autonomous action was a response to the call by the Anti Police-Terror Project for 96 hours of direct action as part of the national call to Reclaim King's Legacy of radical direct action. The Anti-Police Terrorism Project is a project of the ONYX Organizing Committee that in coalition with other organizations like the Community Ready Team, the Black Power Network, Healthy Hoodz, Young Oakland, and the Alan Blueford Center for Justice is working to develop a replicable and sustainable model to end police terrorism in this country.
Organizers began the event calling out Walmart for its racist and oppressive employment practices. The event made direct calls for Walmart to offer its employees $15/hour (aka a living wage) #FightFor15 #PovertyIsViolence (photo by @violentfanon)
Organizers emphasized the links between economic oppression and state-sponsored violence framing the employment practices of Walmart as a form of "modern-day slavery," where its employees are locked into criminally low-wages and prevented from organizing for their rights. #PovertyIsViolence

Organizers specifically spoke of the young white males who shot-up a Walmart with a BB gun and escaped with a slap-on the wrist. John Crawford walks around holding a bb gun and is shot in 36 seconds, exclaiming, "THIS IS THE FACE OF WHITE SUPREMACY."(photo by @evanpmatthews)
In honor of John Crawford and the many black and brown lives taken by police-terror, a die-in was held for 4:28 seconds. This number, 428, has become a powerful symbol of state-sponsored violence as it is the amount of time Mike Brown's body was left in the middle of the street in Ferguson: four hours and twenty eight minutes. (photo by @violentfanon)
After the die-in Get Up Street Theatre did a powerful street-performance to Michael Jackson's "They Don't Really Care About Us." (photo by @violentfanon)
As stated by an organizer of the Walmart #JusticeForJohnCrawford action, these stickers are a "courtesy to Walmart shoppers of color." These stickers should be mandatory and put on all toy weapons by Walmart themselves. But, until Walmart attempts to protect their shoppers of color, activists will.

***These images were shared by thousands, across the country. But, to be clear, Workers Against the System does not take responsibility for the placement of these stickers. They were placed by an unknown, separate organization *** (photo by @violentfanon)

(photo by @violentfanon)
(photo by @violentfanon)
(photo by @violentfanon)
After the die-in a journalist was detained by Walmart Security and Oakland Police Department for taking photos of stickers warning Walmart costumers of what happened to John Crawford. The journalist was handcuffed and his person and backpack were searched for stickers. Dan Siegal was present the entire time. The journalist was charged with PC602.1 - interfering with business - for supposedly placing stickers on toy-weapons.

This charge was filed AFTER he was released in retaliation for pursuing a citizen's arrest on the Walmart security guard for assault. (photo by @DaveId)

(photo by @DaveId)
(photo by @DaveId)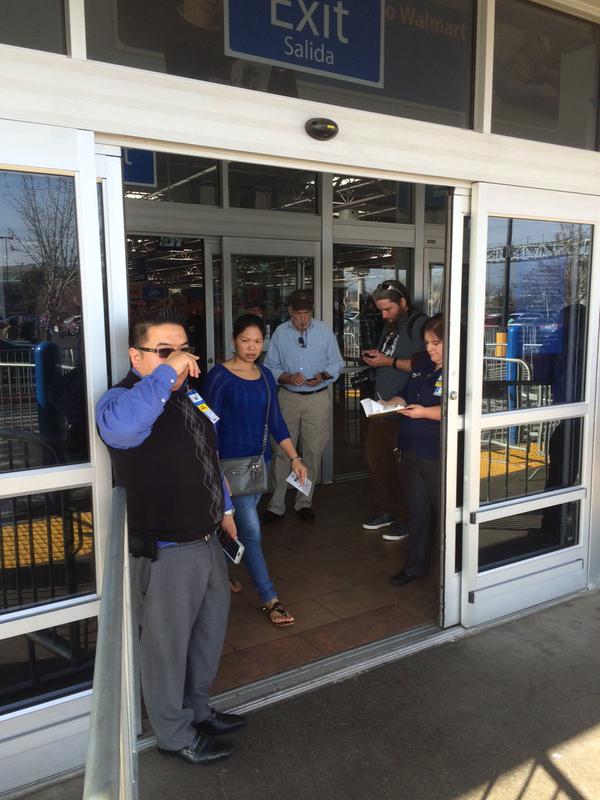 (photo by @DaveId)
We are 100% volunteer and depend on your participation to sustain our efforts!
Get Involved
If you'd like to help with maintaining or developing the website, contact us.