From the Open-Publishing Calendar
From the Open-Publishing Newswire
Indybay Feature
Stanford Students Shut Down San Mateo Bridge on MLK Day, 68 Arrested
Martin Luther King Jr. Day, 2015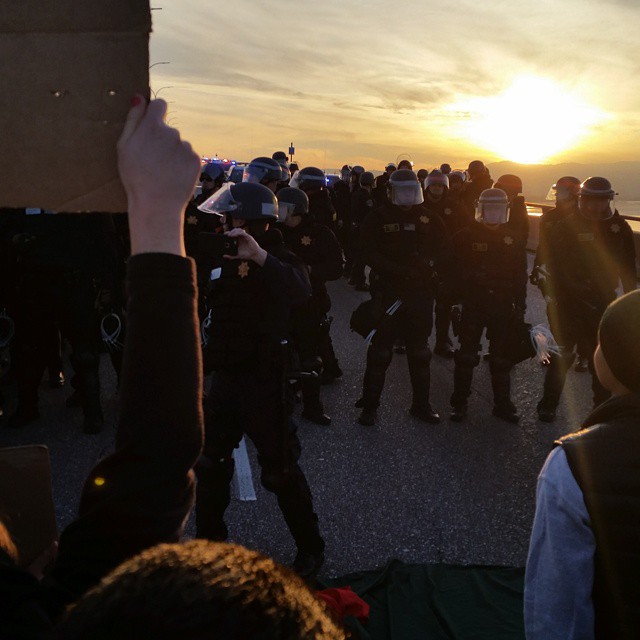 Stanford Students ARRESTED in #ReclaimMLK Shutdown
FOSTER CITY, Calif.,
This afternoon, 68 Stanford students were arrested while honoring Martin Luther King's legacy by engaging in civil disobedience. They held the westbound side of the San Mateo Bridge for 28 minutes, symbolic of the fact that, every 28 hours, a black person is killed by law enforcement or vigilantes.
Participants engaged in nonviolent civil disobedience in support of the Ferguson Action national demands, which include the demilitarization of local law enforcement and the repurposing of law enforcement funds to support community-based alternatives to incarceration. They blocked the bridge for 28 minutes to symbolize the fact that every 28 hours a Black person is killed by a police officer or vigilante.
In accordance with the Ferguson Action national pledge, organizers noted in their public statement, "this [action] is in defense of ALL black lives. We stand with Black men and women. We act when Black Queer and Trans lives are threatened. We defend the rights of our Black family when we are poor, disabled and incarcerated."
In addition to banners calling attention to the violence committed daily against Black communities, the protesters drew on King's legacy of internationalism by carrying the Palestinian and Mexican flags as an act of public solidarity with victims of state-sponsored and specifically US-sponsored violence in Mexico and Palestine.
"Combating the triplets of racism, militarism and materialism was one of the biggest legacies King left us," said participant Kristian Davis Bailey '14. "We proudly carry the Palestinian flag as we call on Stanford to divest from human rights violations in the occupation and related state violence in the US. The recent trip of Black Lives Matter and Ferguson representatives to Palestine signifies these movements are coming together on a global scale."
Manny Thompson '15 added, "Reclaiming MLK means understanding that Dr. King was killed because he made connections between racial oppression and economic oppression and the interconnectedness of struggles across the globe."
Ultimately, the students decided to reclaim MLK day because they recognized how much work remains to be done to reach racial justice: Carla Forbes '17 told organizers, "I am here because the time for my humanity and the humanity of brown and black people to be recognized is long overdue. I am here because the systemic oppression and racism of systems of law enforcement must continue to be revealed."
According to the protestors, they chose to inconvenience the weekend commute to remind Silicon Valley that it can't ignore oppression in the midst of its own comfort.
"We chose to inconvenience the weekend commute because the status quo is deadly to the black and brown peoples of this country and can no longer be tolerated," said participant Maria Diaz '17. "We are honoring MLK's legacy by forcefully reminding Silicon Valley that, decades after Martin Luther King, black lives, and brown lives, and the lives of all oppressed people, still matter."
Contact
paloaltosoe [at] gmail.com
to provide legal or bail support to the arrested students. Follow @SiliconShutdown on Twitter for information on future actions.
We are 100% volunteer and depend on your participation to sustain our efforts!
Get Involved
If you'd like to help with maintaining or developing the website, contact us.