From the Open-Publishing Calendar
From the Open-Publishing Newswire
Indybay Feature
Protest Shuts Down City Council, Urban Assault Vehicle Approved, Anti-Homeless Law Delayed
[Photo: a picture of what Santa Cruz's new armored vehicle will look like. Picture supplied by Santa Cruz activist Brent Adams. A similar photo was eventually supplied by police after the public demanded a picture at Tuesday's city council meeting.]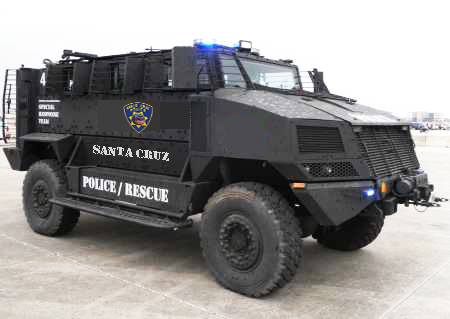 Santa Cruz City Council Approves New Armored Personnel Carrier
Protest Shuts Down City Council in Response
Shut Down Delays Passage of Worsened Anti-Homeless Law
By Steven Argue
On Tuesday, December 9th, the people of Santa Cruz were given only a day to respond to the city council's latest military acquisition from the Department of Homeland Security. It will look like the pictured fully armored personnel carrier. Similar military vehicles have been deployed against the American people in places like Ferguson as outrage over the ability of the police to murder people with absolute impunity has reached the boiling point.
This urban assault vehicle was bought with our tax dollars through a grant from the Department of Homeland Security. The total listed price is supposed to be $251,000. This is part of the federal government's current $3 billion dollar per year project to militarize local police forces through grants from the Department of Homeland Security.
This latest military acquisition fits with the Obama Administration's stated goal of militarizing police forces across the country. As austerity, low wages, racism, and foreign wars devastate much of the American working class, the U.S. ruling class is not spending money to ameliorate these problems; instead they are preparing for war on America's poor, people of color, and working class in general.
In protest, a number of people in the Santa Cruz community were mobilized on short notice. City Councilperson Don Lane pulled the acquisition of the vehicle from the consent agenda, where the purchase of the military vehicle would have been approved without discussion. With discussion opened up, one speaker after another then stood up from the community making various demands including the release of a picture of the military vehicle to the public, assurances that the vehicle wouldn't be used on protesters, and the tabling of the vote for a future city council meeting where the community would have a real opportunity to consider the purchase and respond. In addition, a large number of speakers, including this author, demanded that the purchase be voted down.
Listening to the community to some degree, City Council member Micah Posner introduced an amendment that would have supposedly given a guarantee that the militarized vehicle would not be used on peaceful protesters and that future military acquisitions would be given more time and information for public review. This extremely weak amendment was voted down 5 to 2. Micah Posner and Don Lane were the only two who voted for it. The next vote of 6 to 1 approved the purchase with only Micah Posner voting against. Micah Posner expressed the fact that he has his finger in the air and senses prevailing winds saying, "After Ferguson, let's be honest, it's a muddy time for it." Yet, he was timid in explaining his vote, clarifying that he was not voting that way because he was anti-police, he was only voting against due to the lack of any guarantees.
In response to the city council's vote, members of the public broke out into chants of: "Shame! Shame! Shame!"
Mayor Lynn Robinson then had the chambers cleared by the police. Nobody was arrested. After the chambers were cleared of the public, the City Council then continued to meet illegally under provisions of the Brown Act for at least 15 minutes. During that time they decided to table the rest of the agenda for the next meeting which will be on January 13th, 2015.
Of the "seriousness" of the protest, the Santa Cruz Sentinel reported, "Police Chief Kevin Vogel said the outbursts were the most serious he's seen since 1996, when demonstrators chained themselves to benches and light fixtures before being removed by police." This author participated in that protest as well. It was a protest against Santa Cruz anti-homeless laws. That protest was organized by the late Revolutionary Coalition. Protests did manage to eventually reduce the fines that homeless people receive for sleeping at night or covering up with a blanket outside or in a vehicle. The Santa Cruz sleeping ban was not, however, eliminated and a series of other laws have since progressively increased police harassment of homeless people.
Among the items tabled by Tuesday's shutdown of city council is the final adoption of an amendment to an existing anti-homeless ordinance. That amendment will make the existing law far worse. Both the local chapter of the American Civil Liberties Union and the Homeless Person's Legal Assistance Project have declared the law unconstitutional. Steve Pleich of the Homeless Person's Legal Assistance Project says he encourages diversity of tactics and is promoting fighting the law in court.
The existing banishment law (Section 13.08.100 Order to Vacate) gives the authority to the police and park officials to banish people from locations in much of Santa Cruz. Banishments are for minor "offenses", including being homeless. The locations where the ordinance is enforced are any that are maintained by the city's Parks and Recreation Department. This is much of Santa Cruz and includes parks, beaches, and the San Lorenzo Levee area. These banishments can be for violations of any law, no matter how minor, as well as violations of Santa Cruz's anti-homeless laws. Santa Cruz anti-homeless laws include one that makes it illegal for homeless people to sleep at night. Banishments are currently issued at the discretion police and park authorities and they are not overturned if the homeless person is found innocent in court. Violations of banishment orders are punishable by up to a year in prison and by substantial fines.
The new amended banishment law will give police and park rangers the authority to banish people for up to a year for repeated violations. The old banishment law, currently in effect, only gives them the authority to banish people for 24 hours. Banishment for up to a year on the say so of cops and park rangers will be a major violation of constitutional rights to due process. The new banishment law is also retroactive, so a large number of people will be receiving new longer banishments for past infractions.
While there tends to be no justice in the capitalist courts, this ordinance has taken us one step further away from the supposedly constitutionally protected right to due process. As Obama carries out extra-judicial executions of whole families by drone in countries exploited by U.S. and European imperialism where people's skin color brown, the local city council of Santa Cruz has likewise adopted extrajudicial punishments to be meted out on the say-so of city cops and park rangers.
While the city government and corporate media portray this worsened anti-homeless law as a needed response to terrible repeat criminals, actual statistics paint a far different picture. Raven Davis compiled data on over a thousand people cited with infractions that were eligible for banishment. These were infraction tickets from July 2013 to October 2014. All of the tickets could have been used to banish people and 52% actually were. Of the total infractions, she found that 14% were for sleeping, 20.2% for setting up bedding, 23% for setting up a campsite, 17% for smoking in a public park, 5% for the consumption of alcohol, 9% for open containers of alcoholic beverages, and 21% for limits to access violations in public parks (usually associated with trying to find a place to sleep). Nearly 100% were non-violent "offenses".
Far from being directed at problem criminals, this law is directed at homeless people. In fact, Raven Davis found that at least 69% of the citations written by park rangers were to homeless people. Also, 78.2% of infractions were directly about being homeless because they deal with homeless sleeping issues. In addition, anti-smoking laws are widely believed to be selectively enforced against people who are homeless. Public alcohol charges are also far more prevalent for people who don't have a living room and can't afford to drink in a bar. Whatever one thinks of smoking and drinking, the vast majority of citations are for sleeping, bedding, camping, and being in parks after dark.
It is entirely possible that we saved one or two or even several lives by delaying the passage of the amended banishment law on December 9th by shutting down cit council This is because people will not be banished immediately in the cold of winter from public spaces where they can set up camp in attempts to stay warm and dry while they try to get some sleep. Yes, they can still be cited for "crimes" like sleeping and be banished for 24 hours as well as forced to pay hefty fines, but they will not be facing larger banishments that will not allow them to try to survive on publicly owned land without fear of a year in jail. If the amendment to this law passes on January 13th, it will take effect thirty days after its passage, and there should be is no doubt that it will kill people.
The first reading of the amendment to the existing banishment law was passed in October with one lone vote by Micah Posner against it. As in their votes for the new urban assault vehicle, incoming Mayor Don Lane voted for worsening Santa Cruz's anti-homeless laws and so did Terrazas, Comstock, Mathews, and out going Mayor Robinson, Bryant also voted for the militarized vehicle, but was absent for the first reading on the new anti-homeless law. The same vote of 6-1 was expected in the second reading of the law, but due to the community shutting City Council down, the amended law will now not be up for final approval until January 13th.
ALL OUT JANUARY 13th TO THE DEMAND: NO TO WORSENING OF THE SANTA CRUZ BANISHMENT LAW! REPEAL THE BANISHMENT LAW, SLEEPING BAN, AND ALL OTHER ANTI-HOMELESS LAWS INSTEAD!
Meet at the Santa Cruz City Council
809 Center Street, Santa Cruz CA
January 13th, 2015
Time to be announced
Steven Argue is a member of the Revolutionary Tendency
Check us out on Facebook
https://www.facebook.com/RevolutionaryTendency
For related articles by this author see:
Do Our Protests Accomplish Nothing? A Response to a Smug Cop
https://www.indybay.org/newsitems/2014/12/10/18765373.php
Some History of Blatant Political Repression in Santa Cruz, California
http://www.indybay.org/newsitems/2012/08/05/18718924.php
Santa Cruz Protest Against Arrests For Feeding People
http://www.indybay.org/newsitems/2014/12/10/18765364.php
* This is an article of Liberation News, subscribe free:
https://lists.riseup.net/www/info/liberation_news
We are 100% volunteer and depend on your participation to sustain our efforts!
Get Involved
If you'd like to help with maintaining or developing the website, contact us.