From the Open-Publishing Calendar
From the Open-Publishing Newswire
Indybay Feature
Dan Siegel Issues Statement on Urban Shield
Mayoral Candidate and long-time civil rights activist speaks out against the return of Urban Shield to our City.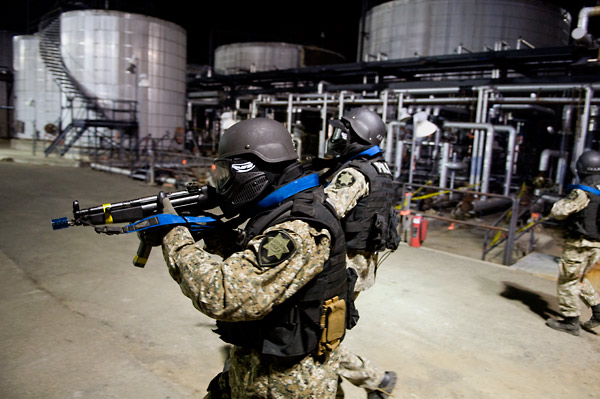 "Urban Shield continues to test regional integrated systems for prevention, protection, response and recovery in our high-threat, high-density urban area" – Urban Shield Website

Tomorrow, the City of Oakland will welcome Urban Shield for three days of "preparedness training" for law enforcement agencies. Sponsored by major weapons manufacturing companies, the conference will consist of emergency preparedness drills for first responders to earthquakes, wildlife disasters … and protestors.

And although Oakland does not usually allow gun shows within city borders, Urban Shield will host manufacturers of weapons, guns and bullets to show and sell their wares. Vendors will include Adamson Police Products, International Armored Group, Patriot Ordnance Factory Rifles and Winchester Ammunition.

The militarized response to protests in Ferguson following the murder of Mike Brown has the country questioning why local law enforcement agencies have access to – and are utilizing – weapons and technologies once reserved for battlefields. A good reason has yet to surface.

In Oakland, this is rubbing salt into fresh wounds. Given the city's disturbing history of brutal force against people of color and peaceful protestors – it is unacceptable to open our arms and welcome agencies that glorify violence, weaponry and militarized responses to the people of Oakland.

Last year, Urban Shield was met with community protest – and will be again. Oakland residents have sent a clear message: No Urban Shield in Our City.

But they are back again. Why?

Because leaders in City Government have once again approved the expenditures and reimbursements for the participation of the Oakland Police and Fire Departments in Urban Shield.

Yet, last year Councilmember Lynette Gibson-McElhaney demonstrated her disdain for the conference by pulling her support for the budget item. And Councilmember Libby Schaaf stated at a Public Safety meeting, "This is not a good fit with Oakland." Yet, the only resistance to Urban Shield has come from the people. Councilmember Rebecca Kaplan and Mayor Jean Quan have also been silent.
OPD's SWAT Entry team has competed in Urban Shield for the past seven years. Its members have all been involved in at least one officer-involved shooting, including Patrick Gonzales, who killed Gary King in 2007. Officer Fran Uu savagely beat Kayvan Sabeghi in 2011.

This is not the Oakland in which we want to raise our children. This is not an Oakland where we can feel safe. And if City leaders are actively – or passively – allowing Urban Shield into our City - this is not a city government in which we can put our faith.

The cities of San Jose and Davis just sent their "tanks" back to the Pentagon. It's time that Oakland said "No more" to participation in Urban Shield and no to the militarization of law enforcement. We are a community of families, mothers, fathers, children neighbors, teachers, activists, and business owners. We are not a "high-threat urban area". We are not a battle field. Our city government must respect us as such.

We are 100% volunteer and depend on your participation to sustain our efforts!
Get Involved
If you'd like to help with maintaining or developing the website, contact us.