From the Open-Publishing Calendar
From the Open-Publishing Newswire
Indybay Feature
Lawsuit Launched to Protect San Diego's Vanishing Wetlands From Airport Runway Project
SAN DIEGO— Conservation groups today formally notified the Federal Aviation Administration of plans to file a lawsuit to protect sensitive wetlands and endangered species at the Brown Field Municipal Airport near the San Diego border with Mexico (see PDF). The FAA is funding a runway reconstruction project and failed to include protections for rare wildlife species that live in vernal pools at the airport, such as the San Diego fairy shrimp and San Diego button-celery. A coalition of conservation and environmental justice groups filed a related lawsuit against the city of San Diego last year to protect burrowing owls and vernal pools from a large-scale redevelopment project at Brown Field Municipal Airport.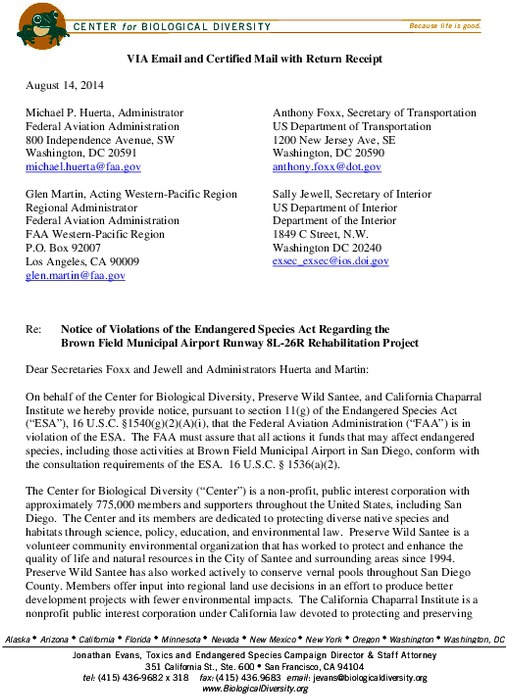 "These vanishing vernal pools are a part of Southern California's natural heritage and without action we may lose them forever," said Jonathan Evans, toxics and endangered species campaign director at the Center for Biological Diversity. "Brown Field has for decades been a home for rare vernal pool species and burrowing owls but this type of careless development threatens to wipe them out."
Vernal pools, like those found at Brown Field, are small, seasonal wetlands that support animals and plants uniquely adapted to an environment that may dry up for months or years at a time, including the endangered San Diego fairy shrimp. San Diego has lost about 98 percent of its vernal pools. Development at the airport would also drive the largest known burrowing owl colony in San Diego from their nests. Burrowing owls have already been nearly eliminated from San Diego County by urban development. Past reports have revealed the destruction and poisoning of burrowing owl homes at the Brown Field airport.
"Simple steps can be taken to protect sensitive wildlife from recklessly being paved over at the Brown Field airport," said Evans. "Unfortunately, San Diego continues to ignore policies to protect rare and vanishing wildlife and the need to fix the broken parts of its conservation program to protect wildlife for future generations."
San Diego's "multiple species conservation program" was designed to protect a range of sensitive species in southwestern San Diego, including burrowing owls and animals and plants found in vernal pools. In 2006 a federal court ruled that San Diego's multiple species conservation plan failed to protect vernal pools when it was found that the city continually developed vernal pool areas. Today's notice was provided by the Center for Biological Diversity, Preserve Wild Santee and California Chaparral Institute.
The Center for Biological Diversity is a national, nonprofit conservation organization with more than 775,000 members and online activists dedicated to the protection of endangered species and wild places.
August 14, 2014
http://www.biologicaldiversity.org/news/press_releases/2014/brown-field-municpal-airport-08-14-2014.html
Center for Biological Diversity
http://www.biologicaldiversity.org/
We are 100% volunteer and depend on your participation to sustain our efforts!
Get Involved
If you'd like to help with maintaining or developing the website, contact us.