From the Open-Publishing Calendar
From the Open-Publishing Newswire
Indybay Feature
Gilroy Garlic Festival: No More Frog Legs!
Please help us get frog legs off the menu at the internationally-acclaimed Gilroy Garlic Festival! Send the letter below to the festival's Executive Director Mr. Brian Bowe. Thank you for helping SAVE THE FROGS! and significantly diminishing the environmentally-damaging frog legs trade.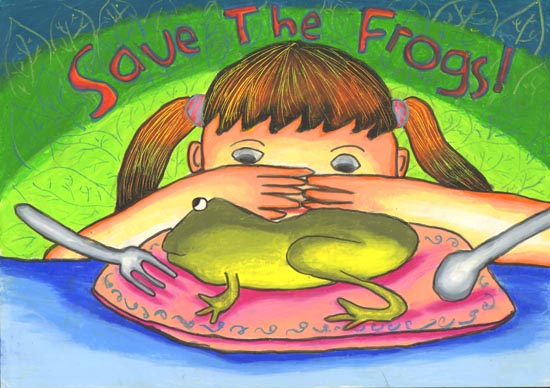 Please prohibit frog leg sales at the Gilroy Garlic Festival
Dear Mr. Brian Bowe and the Gilroy Garlic Festival,
I am writing to request you please prohibit frog leg sales at the Gilroy Garlic Festival. Frogs worldwide are rapidly disappearing and California is home to 17 endangered amphibian species. Over a billion frogs are removed from the wild each year for use as food and several hundred million frogs are farm-raised for food. Most of these farm-raised frogs are non-native American Bullfrogs, which are imported into California by the millions each year. The bullfrogs are voracious predators of California's native wildlife and have very high rates of infectious diseases, including chytridiomycosis, which is responsible for the extinction of nearly 100 amphibian species worldwide.
While people may enjoy eating frog legs, in America they are a novelty, not a necessary food item. History shows that humans eat frogs to near extinction: in France it is illegal to eat a native frog because they ate most of theirs; now they import them from Indonesia, endangering that country's amphibian populations. Gilroy was once home to large populations of California Red-Legged Frogs (our official state amphibian) but unfortunately the California gold miners nearly ate them to extinction and now that species is on the federal Endangered Species List.
Let's not have one of California's most famous festivals or its attendees be unwitting participants in the extinction of any more frog species. Please take the environmentally responsible step and place an immediate prohibition on frog leg sales at the Gilroy Garlic Festival. You can learn more about the problems with frog legs at
http://savethefrogs.com/frog-legs
and email
contact [at] savethefrogs.com
if you would like a SAVE THE FROGS! informational table set up at the festival to provide free education to garlic-loving kids and parents.
We can have both garlic and frogs, but let's have our frogs alive and in the wild for future generations to appreciate. Thank you for helping SAVE THE FROGS!
Submit letter online:
http://org2.salsalabs.com/o/6000/p/dia/action3/common/public/?action_KEY=18134#
Garlic festival contact info:
Gilroy Garlic Festival Association, Inc.
Mailing Address – PO Box 2311 . Gilroy CA 95021
Street Address – 7473 Monterey Street . Gilroy CA 95020
clove [at] gilroygarlicfestival.com
408.842.1625
408.842.7337 – fax
Frog art by Aisyah Nasywa Ula, Age 7, Indonesia
Save the Frogs
http://www.savethefrogs.com/