From the Open-Publishing Calendar
From the Open-Publishing Newswire
Indybay Feature
Related Categories:

California | Peninsula | Santa Cruz Indymedia | Environment & Forest Defense
First California Condor Observed in San Mateo County Since 1904 Traveled from Pinnacles
Condor #597, also known as "Lupine" took a trip from Pinnacles National Park on May 30, 2014 and returned just two days later. In the process, she discovered new territory. Similar to the pioneers, Condor #597 explored the landscape and expanded the current range of her kind. Fortunately, this recent excursion was recorded by a motion-activated camera on private property near the town of Pescadero, in San Mateo County, just 35 miles away from San Francisco and 6 miles from Ano Nuevo State Park, where up to 10,000 elephant seals come to breed and give birth. The property owner, who wishes to remain anonymous, sent the photo to Ventana Wildlife Society on June 10 after discovering it on his camera. Photo: Actual image of Condor #597 in San Mateo County from the motion detector.
The last verified sighting of the California condor in San Mateo County was in 1904 near Stanford University.
Excerpt from The Condor, 1904, Vol VI, pg 50.:
California Vulture in San Mateo Co., California. - One afternoon about the middle of January (1904) Prof. Harold Heath of Stanford University saw a California vulture (Gymnogyps californianus) a short distance west of the university, near a place locally known as the 'Basaltic Columns. ' What was probably the same individual was again seen a week later by Mr. Ernest Dudley, about a mile from the first station--WALTER K. FISHER, Palo Alto, Cal.
Marine mammals, such as California Sea Lions, are an important food source for condors. In the late 1800's and early 1900's, sea lions were often shot to protect dwindling salmon fisheries, and other marine mammals were persecuted for blubber to fuel oil lamps and for other purposes. Diminishing populations of marine mammals, a food source for scavenging condors, coincided with the range retraction of condors to the south and inland where the birds could survive primarily on terrestrial mammals such as livestock, deer, pigs, and ground squirrels. By the 1980's, there were only 22 condors remaining in the wild in southern California. Sea Lions and other marine mammals have been protected for decades, and their numbers are rebounding rapidly, which may mean that this area could support breeding pairs of condors. Through successful captive breeding at San Diego Zoo Global, Los Angeles Zoo, World Center for Birds of Prey, and the Oregon Zoo, condor numbers have increased substantially. In central California, the Ventana Wildlife Society and Pinnacles National Park co-manage the recovery effort and collaborate with U.S. Fish and Wildlife Service. Release programs, such as the collaborative effort in central California, enable the birds to be released to the wild and eventually recover.
"Not only is this the first sighting of a condor in San Mateo County in 110 years, but it is an exciting new range expansion into an area that could support condors in the wild", said Kelly Sorenson, Ventana Wildlife Society's executive director. This condor almost certainly traveled through Santa Cruz County given the local topography and typical flying conditions in the area. "The coast is really important for condors today because of the abundance of marine mammal carcasses for them to eat, and it will be interesting to see if additional visits by condors to San Mateo or Santa Cruz County occur in the future." Karen Bepler-Dorn, Superintendent of Pinnacles National Park said, "It is exciting to find that the condor is expanding its' range, and equally rewarding that it was our local community helping to make the discovery."
Condor #597 was released in Big Sur, California by the Ventana Wildlife Society in spring of 2013 and was hatched on April 5, 2011. Recently, "Lupine" has been spending a great deal of her time at Pinnacles National Park. There are over 60 condors in the wild in central California with three or four breeding pairs. Statewide there are over 130 condors free-flying in the wild.
Recovery of the California condor is still tenuous due to ongoing lead poisoning, primarily from spent lead ammunition. Through nonlead ammunition giveaways, ongoing outreach and new regulations banning lead ammunition, condor deaths are expected to decrease over time. Condors are also affected by DDT-induced eggshell thinning. DDT exposure can come from marine sources but this pesticide was banned in the 1970's and has decreased substantially in recent decades. Where once bald eagles, peregrine falcons and brown pelicans experienced low egg hatching success due to thinning, these species have all recovered in the wild. "While there is much to do to ensure the long term safety of condors in the wild, it is clearly possible and we're on the right track", said Sorenson.
Note: Condor sightings can be reported by sending an email to
CondorSightings [at] ventanaws.org
. Be sure to include date, time, condor numbers, photo if one exists, and any other details about the sighting.
Ventana Wildlife Society
http://www.ventanaws.org/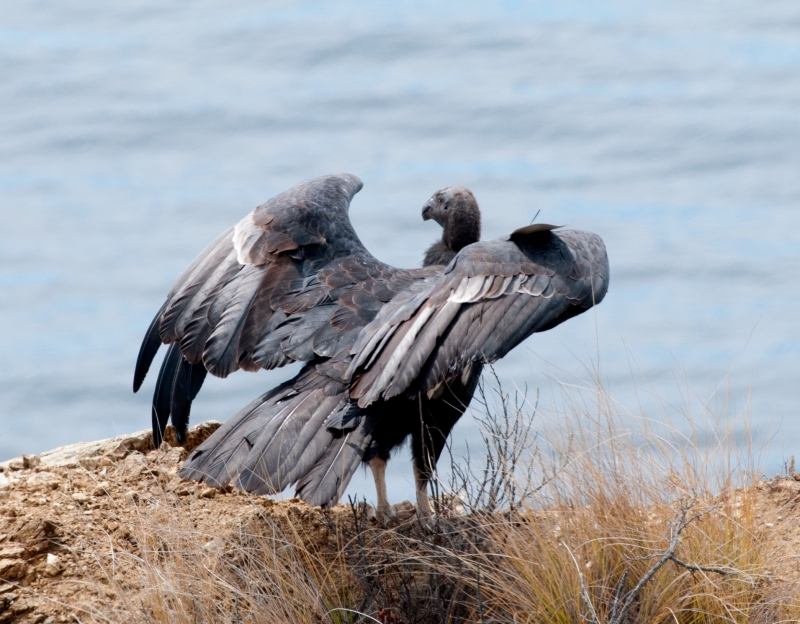 Photo by Stan Russell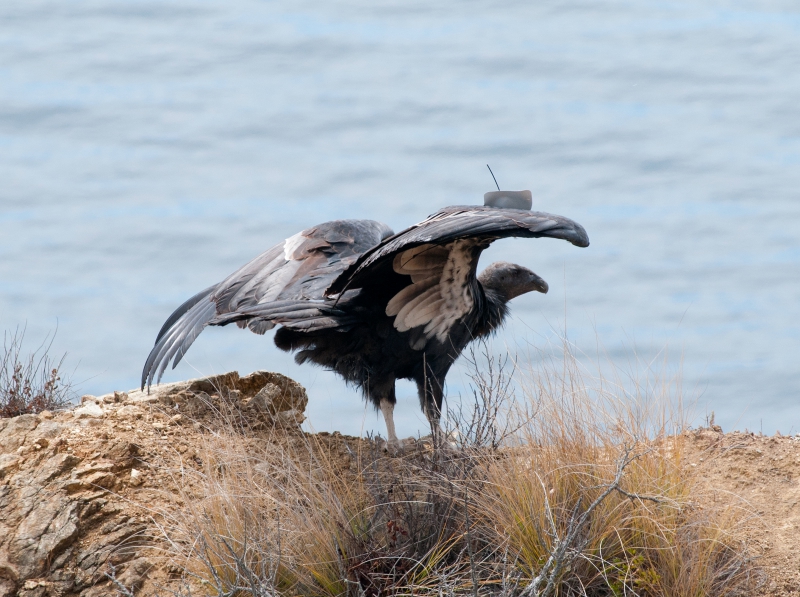 Photo by Stan Russell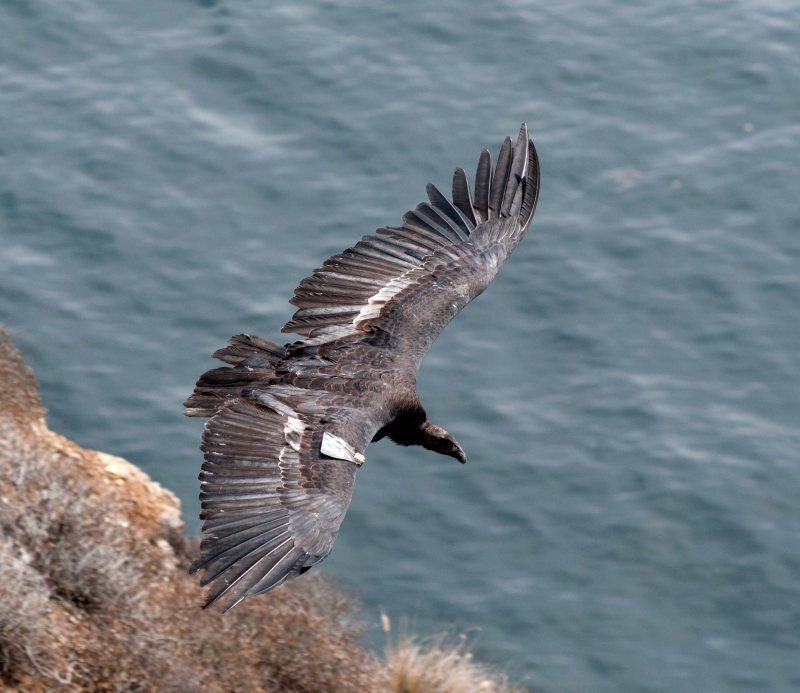 Photo by Stan Russell
We are 100% volunteer and depend on your participation to sustain our efforts!
Get Involved
If you'd like to help with maintaining or developing the website, contact us.