From the Open-Publishing Calendar
From the Open-Publishing Newswire
Indybay Feature
Claim Filed Against City Seeks Admission Salinas Police Wrongfully Killed Carlos Mejia
On May 27, attorney John Burris announced at a press conference held at Salinas City Hall that his law firm is representing the family of Carlos Mejia, who was killed by officers with the Salinas Police Department on May 20. He explained how the family would be pursuing legal action against the city as an avenue for justice. "Unless they admit to wrongfully having killed Mr. Mejia, and pay him substantial damages, we intend to file a civil rights lawsuit in the very near future," Burris said. They also hope the case will be investigated by the Department of Justice of California and the United States Department of Justice to determine whether the officers involved in the killing should be criminally prosecuted, and additionally whether a pattern exists within the SPD that "ratifies" the use of illegal deadly force and/or racially discriminatory law enforcement practices. [Top photo: José Mejia, the brother of Carlos Mejia, answers questions at the press conference.]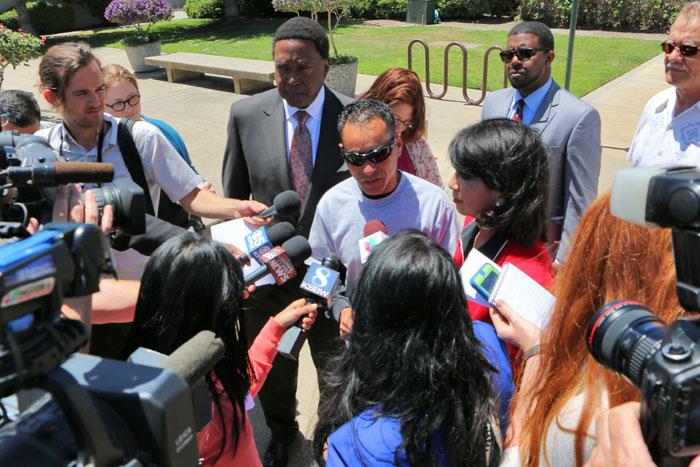 Carlos Mejia was a Salvadoran national who supported his eight-year-old daughter as a day laborer and landscaper. According to Burris, Mejia was seeking work as a grass and hedge cutter on the day of his death, and the events that lead to the police being called on him began at a house where he was seeking work. Mejia was alleged to have threatened a woman and her dog there, and when the police arrived he was defending himself from the dog, Burris said. Eventually two officers chased Mejia, tased him "unsuccessfully," and then eventually shot and killed him.
The killing of Mejia was the third killing of residents by officers with the Salinas Police Department to occur in the last three months. On May 9, SPD killed Osman Hernandez outside of a Mi Pueblo Market, and on March 20, SPD killed Angel Ruiz outside of a Wing Stop restaurant.
Burris stated that the shootings themselves raise questions about the "policies and practices" of the Salinas Police Department and, "whether or not a pattern of discriminatory law enforcement practices is occurring within this department."
He said the shooting police officers, "failed to exercise restraint," and that it was they who "created the danger," not Mejia.
Burris noted that Mejia was walking away, he had garden shears which is something that is normally used in work, he was tased, police were at a distance that was relatively safe, Mejia was walking slowly away, he was not aggressive, he was not walking towards the police, he was not jabbing at them, and he was only making slight gestures.
Burris said the police could have been safer in how they approached the situation, and that, "under the Constitution and under the state law of California, a police officer cannot put himself in harm's way through negligent conduct, and then shoot himself out of it, and then expect the constitution and the laws to protect him."
The circumstances as to why Mejia was shot multiple times is a "clear mystery," Burris said, and it raises questions whether the police officers were properly trained, and whether they were trigger happy.
"It is very clear from the videos we have seen that it is the police officers who were the aggressors here and that they are the ones who put themselves in harm's way," he said.
Burris noted that before the videos surfaced, Police Chief Kelly McMillin made statements that Mejia was the aggressor and that he had attacked the police. After the tapes surfaced, however, it was clear he had not done so, which Burris said raises the question of, "whether there was an intended cover-up before the case was even properly investigated."
Burris was also concerned by reports that after the shooting occurred, police made an effort to take away phones from people at the scene, and that other videos may have been destroyed and intentionally not kept as evidence.
Particularly egregious to Burris were reports that the uncovered body of Mejia was allowed by police to remain on the sidewalk for a long period of time after he was already determined to be dead. Burris said this was an intimidating factor to the community and that, "it gives the impression this is what could happen to you."
Burris explained why civil legal action is necessary for the Mejia family to achieve justice. If legal action isn't taken, the police will never release documents such as the police and toxicology reports and they will claim the matter is "under investigation," which can be indefinite he said.
Families do this for transparency. "Transparency occurs when documents are released sooner than later," he said.
Additionally, the District Attorney's office is not typically a place where families of those killed by police receive justice, Burris explained.
"From my point of view, having been involved in countless countless police shooting cases over my career, I give little credit to a District Attorney's office investigating these kinds of cases. My experience has been that rarely if ever would a District Attorney's office do anything other than support the police officers' conduct."
"We are not seeking the District Attorney's office to do anything," he said, adding that if the family relied on the District Attorney, all they would see is a, "whitewash of the police officers' conduct."
When Burris asked if anyone had any questions, a reporter from KSBW was the first to jump in, asking if he had reached out to the family, or if they contacted him first for representation.
Burris stated that he doesn't reach out to families first, they contact him.
José Mejia, the brother of Carlos, was present at the press conference and he also spoke briefly to reporters.
The City Attorney for Salinas was ready and waiting for Burris when the attorney arrived at the City Clerk's office to file the legal claim. Likewise, shortly after Burris concluded the press conference and left, Police Chief McMillin appeared to answer any questions the few remaining members of the press had.
Alex Darocy
http://alexdarocy.blogspot.com/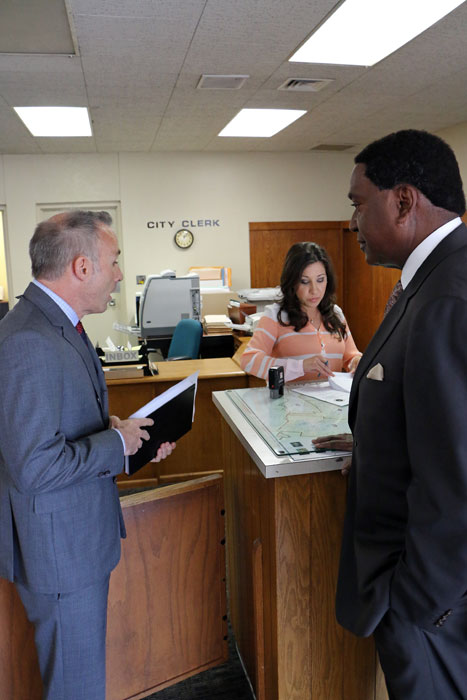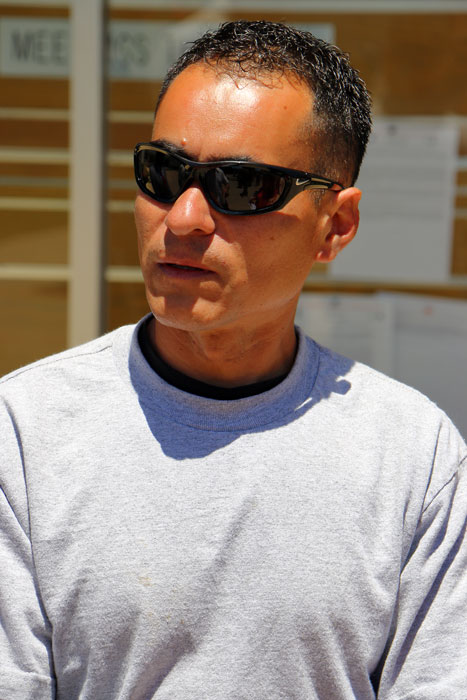 We are 100% volunteer and depend on your participation to sustain our efforts!
Get Involved
If you'd like to help with maintaining or developing the website, contact us.